How-To
Making Head Flashing
Bending metal for simple flashings requires a few basic cutting tools and a siding (or aluminum) brake.
Every window and door needs head flashing, and bending metal for these simple flashings is a gateway to the skills needed to make other wall and roof flashings. You probably already have the necessary cutting tools: a square, a utility knife, and snips. You also need hand benders and a brake (often called a siding brake or an aluminum brake).
The metal flashing used for this project is often called coil stock. It is sold in rolls in a variety of lengths, widths, thicknesses, and metals. Aluminum flashing—either bare (mill finish) or painted—is most common, followed by copper and galvanized steel. Lead-coated copper is also available and should be used when copper is placed below exposed cedar because tannins leaching from cedar corrode copper. Aluminum's thickness is measured in thousandths of an inch, with 0.019 in. and 0.024 in. being common. Heavier aluminum with thicknesses of 0.027 in. and up is often referred to as gutter coil, because it's also used to form seamless gutters. Copper's thickness is measured by weight, with 16 oz. per sq. ft. being typical. Galvanized steel is measured by gauge, with smaller numbers corresponding to thicker material.
Thicker flashing material is more durable and more resistant to buckling from thermal expansion than thinner material; however, it also is more expensive and more difficult to bend. Siding brakes typically can bend aluminum up to 0.027 in. thick, copper up to 16 oz. or 24 oz., and galvanized steel up to 26 ga. or 28 ga.
Launch the slideshow below to follow step by step.
The first step in bending metal flashing is measuring what you want to flash. To find the width of the metal needed in the case of a head flashing, I measure how far the jamb or casing protrudes from the wall sheathing. To that, I add 1⁄8 in. because the bend will consume some material width. The wall leg should extend at least 2 in. up the wall. Finally, I add something for the leg that turns down over the face of the casing or jamb. I like to extend that about 3⁄8 in. down, but because I hem that edge, I allow a total of 3⁄4 in.
Hemming is when the edge of a piece of flashing is bent back on itself and flattened. This creates a straight edge that's less likely to wrinkle. Additionally, cut edges of sheet metal are surprisingly sharp. Hemming folds the cut edge behind the face of the flashing and places the dull, folded edge out where people are most likely to be. To find the length of the metal, add 1 in. (to allow for each end to be folded) to the width of the jamb or casing. Cutting metal to length is simple. Use snips, or score the material with a sharp utility knife guided by a square, then bend along the score until it breaks.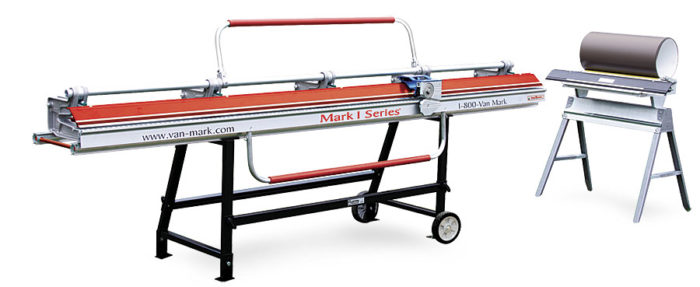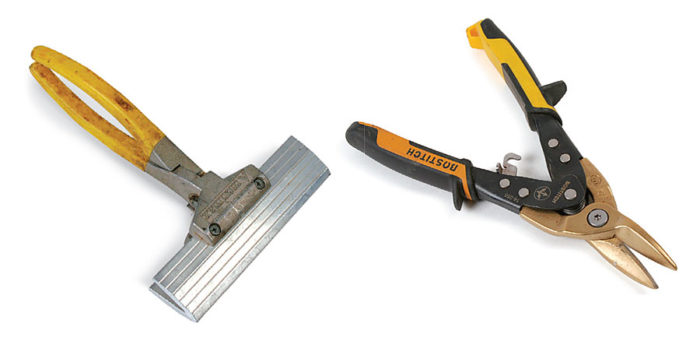 Bending and cutting tools
Siding or aluminum brakes come in lengths from 4 ft. to 101⁄2 ft. Brakes cost $1000 and up, but they can be rented for around $60 a day. Accessories are available to aid in cutting and rolling out coil stock. Hand benders cost around $20. Some models have replaceable jaws of various lengths so that they can be adapted to the job at hand. Snips come in a variety of forms. The ones shown here are common straight-cut aviation snips. Left- and right-cutting snips are also available to ease curved cuts. Snips cost about $15.
---
Andy Engel is a senior editor. Technical advice was provided by Tom Struble, a siding contractor in West Milford, N.J. Photos by Rodney Diaz, except where noted.
Previous:
Nesting Casement Window Handles
Next:
Soldering Copper Cap Flashing