How-To
Quick Door Fixes
Use this handy diagnostic chart to fix common door problems.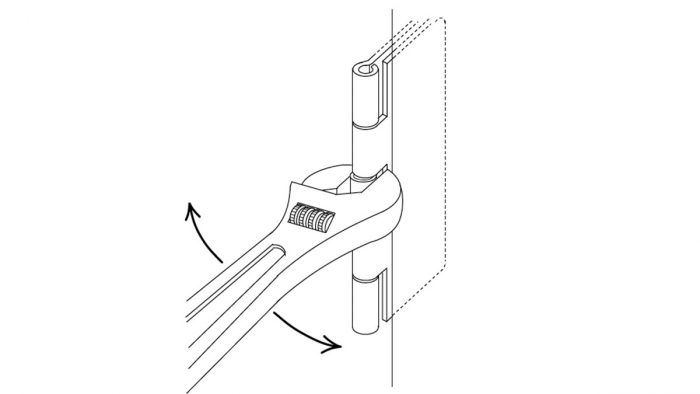 | | | |
| --- | --- | --- |
| Symptom | Cause or Significance | What To Do |
| Hinged doors, general | | |
| Door binds against top of latch jamb or scrapes floor | Loose hinges allowing door to sag into opening | Rescrew hinge to jamb, replacing inner screws with ones long enough to reach studs, if needed |
| Hinge-screw holes in jambs are stripped | Larger-diameter screws won't fit holes in hinges | Use longer screws or fill holes with wood plug glued in, let dry, and rescrew |
| Door binds along latch jamb but hinges are tight | Hinge may be bent | Use adjustable wrench to bend hinge-leaf knuckles on door |
| Door binds on latch jamb but hinges are tight; big gap seen along hinge jamb | Hinges not mortised deep enough into door or frame | Remove hinges, chisel hinge gains (recesses) deeper, and reattach hinges |
| Door binds along hinge jamb | Hinge leaves set too deep | Remove hinges, place cardboard shims under hinges, and reattach |
| Door binds because door frame is racked (out of square) | Seasonal shifting or foundation has settled | Scribe and trim door to fit skewed opening or replace old frame with squared, prehung door unit |
| Door shuts but won't latch | Strike plate is misaligned | Raise or lower strike plate |
| Pocket doors | | |
| Door slides roughly | Built-up dirt or floor wax on floor | Vacuum track thoroughly |
| Door slides roughly; floor abraded under door | Top track sagging or mechanism needs adjustment | Remove trim to expose top-hung mechanism; adjust to raise door |
| Door does not slide at all;  hard to operate | Door has fallen off track | If bottom track, lift door back onto it; if top track, remove trim and set tracking wheels up onto overhead track |
| Door drags, balking at certain points; wheels squeal | Wheels not turning freely or are rusty; track bent or broken | Remove trim, swing door out, and oil or replace wheels; use flashlight to examine track inside pocket |
| Door face abraded; door difficult to operate | Door off track or stud has bowed into pocket | Lift door onto track; if problem persists, remove finish wall on one side—may need to plane down or replace stud |
| Exterior doors | | |
| Drafts around door | Door not fitting tightly to frame | Install weatherstripping or new threshold |
| Water damage to wood doorsill, finish floors, and subfloor | Water collecting around doorsill area, soaking wood | Replace damaged materials; install overhang outside and water-return threshold beneath door |
| Water stains on interior walls, especially around top of door | Absent or poorly installed cap flashing on exterior | Remove siding above top of door frame and retrofit head flashing |
| Heavy condensation on metal sliding door; floor is water damaged | Metal frames conduct cold; moisture condenses on them | Replace with clad door unit with better insulating properties |
| Door frame not square; casing tilts; large diagonal cracks at corners of doors or windows | Possible foundation settlement | Have structural engineer check foundation |
For additional quick-diagnostic charts such as this one, see House Check: Finding and Fixing Common House Problems by Michael Litchfield with Roger Robinson (The Taunton Press, 2003).
---
Excerpted from Renovation, 5th Edition (The Taunton Press, 2019) by Michael Litchfield and Chip Harley
Available in the Taunton Store and at Amazon.com.
Previous:
Installing a Mortise Lockset
Next:
First Aid for Doors