How-To
Refurbishing Old Double-Hung Windows
Follow these steps to restore a classic wood window.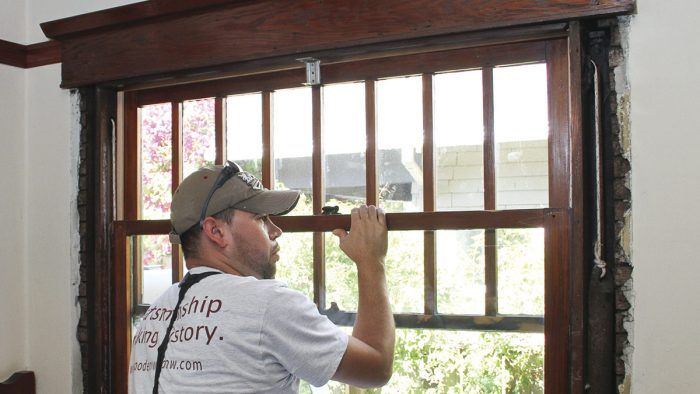 Windows built 50 to 100 years ago often were constructed from fine-grained, rot-resistant fir, cypress, or redwood, woods that are no longer available. For that reason alone, it makes sense to refurbish rather than replace them when they get tired and don't work so well.
To undertake this task, here are a few common-sense suggestions to supplement the techniques shown in the photo sequence below.
Dress for the job. Sturdy gloves with rubberized palms are essential to avoid cuts and to provide a secure grip on heavy window sashes. Safety glasses with wraparound lenses will protect your eyes from glass shards, irritating dust, and dangerous projectiles should a power tool strike a hidden nail or screw. Because older windows often contain lead-based paint, a HEPA-rated respirator and a HEPA vacuum to capture dust are must-haves.
If children live in the house, it's especially important to follow the EPA Lead Renovation, Repair, and Painting Rule (RRP Rule). Old windows are a major source of flaking lead-based paint; lead poisoning can devastate a child's neurological development.
Be methodical. It might make sense, say, to remove and repair all sashes at the same time but only if you've carefully noted the location of all trim pieces and sashes beforehand. Also, if there are people in residence, move cutting and sanding operations outside whenever possible, lay tarps to protect finish floors, and vacuum periodically to minimize dust indoors.
| | |
| --- | --- |
| Refurbishing starts with detective work. Note what's working and what's not and figure out why. After removing the parting stops and the bottom sash of a double-hung window, move the upper sash to see why it's sticking. Here, the sash had swollen and was too wide for the frame. | If there's not an access panel in the jambs, remove the casing carefully to get at sash weights. In general, pulling finish nails through the casing causes less damage than pulling nails from the front. |
| The pros weigh sashes to ascertain how much weight is needed to offset them. Ideally, weights should weigh about the same as the sash they counterbalance so that the sash will stay at the height you set it. | Sash cords should be long enough to knot at both ends—one knot around the sash weight, the other inserted into the side of the sash—yet short enough to keep the weight from touching the bottom of the cavity. Weights that hit bottom can jam. |
| If sashes are swollen or out of square, they can be trimmed accurately by using a Festool system, which features a guide rail that clamps to the sash and a circular saw whose base is keyed to rail channels. | Remove loose or built-up finishes from the sash before priming and painting it. If there's cracked glass or tired glazing compound, attend to it now. This scraper's debris never becomes airborne because the tool is attached to a HEPA vacuum. |
| To add weatherstripping to movable sashes, use a router to cut two slots along each sash stile; set back slots 1⁄4 in. to 3⁄8 in. from stile edges. | Most weatherstripping friction-fits into slots. This type has a "barbed" neoprene side that resists pulling out, whereas its other side is a feathery nylon brush that slides smoothly. |
| Prime all bare wood surfaces before returning sashes to their frames. If you have time, paint them now, too. | Before reattaching sash cords, lubricate pulley wheels so they won't squeal. |
| As you replace each sash, make sure it glides smoothly and weights rise and fall freely. | Once sashes and weights are moving well, close up the wall cavities. If that means renailing interior casing, first pull old nails through the casing. Fill nail holes with color-matched wood putty, and use a tiny paintbrush to apply finish just to puttied spots. |
PRO TIP: If double-hung sashes require too much effort to operate after you've reattached sash weights, the weights may be too small.
Finally, three tips. First, for operable sashes, there should be a 3⁄16-in. space between the sash and jamb on each side—3⁄8 in. total—so there's room for weatherstripping as well as movement. Second, refurbish jambs, too. Pull any old nails or screws sticking out, sand jambs smooth, prime all bare wood, and then, when the paint is dry, rub paraffin—a candle stub will do—along the jambs to allow windows to move easily. Do the same with the sides of refurbished sashes. Lastly, coating jamb channels with a high-gloss marine enamel works almost as well. If you're looking for a wide choice of airtight seals for old windows, visit www.conservationtechnology.com.
---
Excerpted from Renovation, 5th Edition (The Taunton Press, 2019) by Michael Litchfield and Chip Harley
Available in the Taunton Store and at Amazon.com.
Previous:
New Life for Old Double-Hung Windows
Next:
Fit New Sashes in Old Jambs