How-To
Replacing an Entry Door: Door Installation
The final steps are to hang the door, complete the air-sealing, and patch the siding.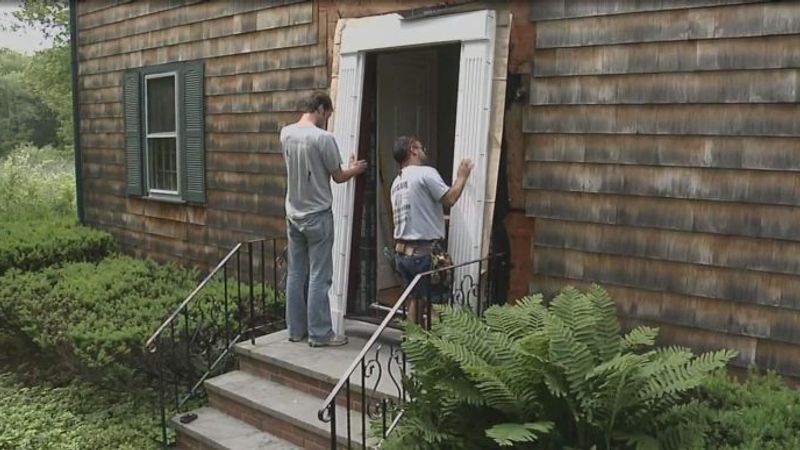 I've done so much work to get ready to install the door that this ends up being the quickest part of the process. But I do have one last bit of weatherization to do at the sill before I cover it up for good.
I place a rolled-up piece of flexible to keep water and air from seeping between the bottom of the threshold and the sill. A few beads of caulk across the width of the sill aid in sealing and keep the threshold from squeaking.
With the door frame in the opening, I check one last time that it is plumb and square to the opening and plumb to the house. When everything looks good, I peel back the weather stripping and drives fasteners where they won't be visible. I put screws above and below the locations of the shim screws that he used to plumb the opening. I also drive screws through the casing and plugs the holes.
Before I go any further, I hang the door to make sure it swings properly. Looks good, let's finish the flashing and wrap this up.
Starting at the bottom of the door and working toward the top, I peel away the paper backing on the back-flashing, and stick the house wrap to it, making sure that each piece is lapped over the piece below it. The back-flashing, which is sealed to the pediment, is woven into the house wrap, eliminating the need for metal cap-flashing.
I install one more round of flexible flashing lapped up and around the door to seal the joint between the house wrap and the back-flashing. It's completely overkill—but I consider it cheap insurance.
After reinstalling the siding outside, I go inside to finish the job. Before casing the new door, I run a bead of spary foam between the jamb and framing to keep air out.
That's it. It's a lot of flashing but I'm confident that this installation is weather and water proof and that this door will be looking good for a long time.
Previous:
Replacing an Entry Door: Getting Ready for Door Installation
Next:
A Fast, Foolproof Method for Fitting Doors