Chip Collection for Handheld Routing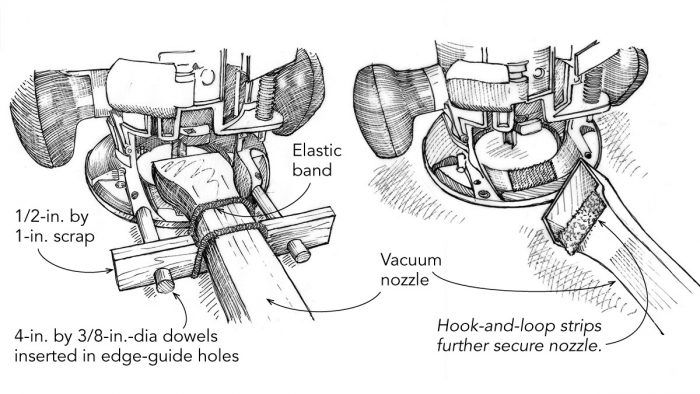 A router can make a lot of dust and chips. I had a big routing job coming up, but I didn't own a commercial dust-collection system to contain the mess. In previous instances, I stopped periodically to run the shop vacuum. This time, however, I thought that there must be a better way. I noticed the two holes in the router base used to hold an edge guide. The holes were about 3/8 in. dia., so I cut two 4-in. lengths of 3/8-in. dowel and, after tapering them a bit with sandpaper, tapped the dowels into the holes. Then I drilled two 3/8-in. holes into a 6-in. piece of 1/2-in. by 1-in. scrap, making sure to space the holes so that they would slide over the dowels. Next, I cut a semicircular recess into the scrap so that one of my small vacuum nozzles would fit snugly, and I secured the nozzle with an elastic band. Finally, as shown in the drawing (bottom left), I added mating hook-and-loop strips on the router base and the bottom of the vacuum nozzle to make sure that the nozzle would not advance toward the bit.
This collector places the vacuum exactly where it is needed, right above the router bit. I operate the router from the other side so that the vacuum nozzle does not block my view. No more dust and chips, and made at no cost.
Bill Wells, Olympia, WA
Edited and Illustrated by Charles Miller
From Fine Homebuilding #228