Design
A Marvel of a Mudroom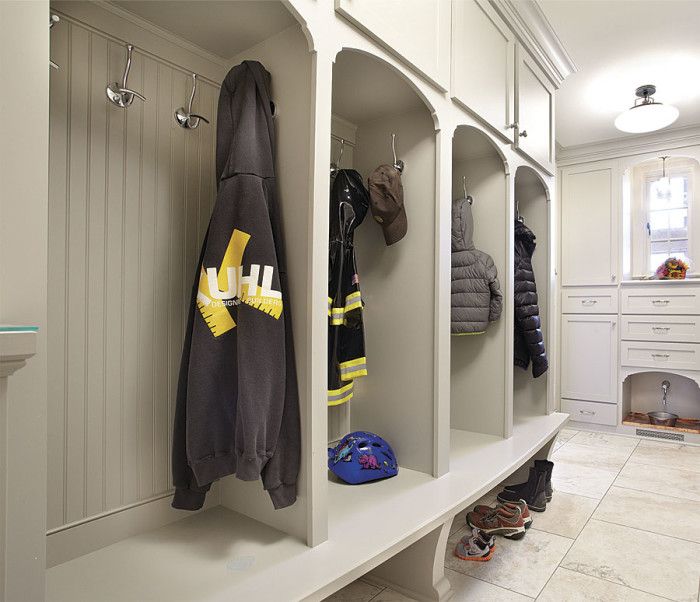 Steve Kuhl has been designing, building, and renovating houses since he started his business, Kuhl Design & Build, in 1999. He has incorporated some pretty interesting elements into many of these homes, perhaps most notably a pirate ship–themed bedroom he designed and built for his nephew. When the time came for Kuhl to design and build the home he now shares with his family, he had a long list of fanciful yet functional touches to infuse it with whimsy and wonder.
Since just about every trip in or out of the house, especially when it includes young children and pets, involves some kind of baggage (and probably some dirt), Kuhl designed his mudroom to be a durable and well-organized repository for shoes, boots, coats, and backpacks. But he didn't stop there. He also designed a mail-sorting station (which includes hidden mail cubbies and a file drawer for storing larger pieces of mail), a dog-watering station with two control valves, and a hidden dog-food drawer to keep the dish out of sight when not in use.
Such features make the mudroom functional, but where is the fanciful? You can't see it when standing in the mudroom, but hidden behind a secret door is access to a twisting and turning 21-ft. tunnel slide to the basement. Not only do the children enjoy the quick trip from the mudroom to the lower-level playroom, but Kuhl says that they have also discovered it's the quickest way to clear the mudroom of shoes.
Check out the slide show below…
Designer Steve Kuhl, Kuhl
Design & Build, Hopkins, Minn., kuhldesignbuild.com
Builder Kuhl Design & Build
Photographs and drawings courtesy of Kuhl Design & Build