Podcast Episode 100: ONE HUNDRED SHOWS!
Bathroom electricals, roof vents, adhesive guns, appliances and kitchen cabinets, and tablesaw safety.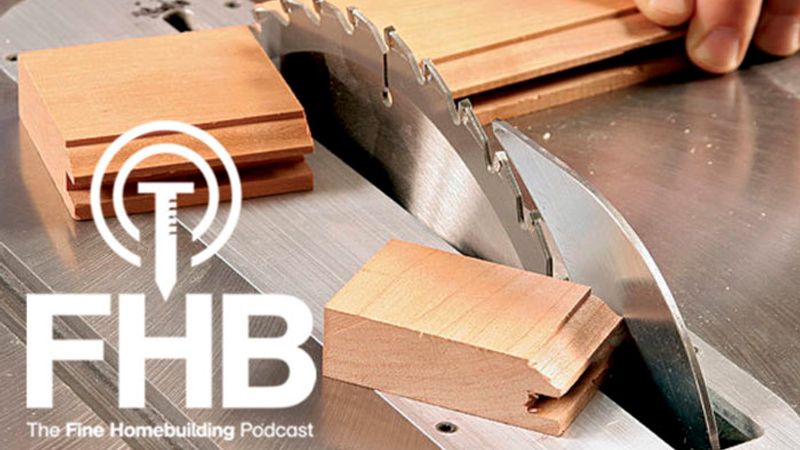 For our 100th episode, four lucky winners took home some great tools. Click to see the guys show off the prizes on Instagram:
This milestone episode featured the give-away, with the great prizes listed above. That reminds Brian that he loves getting free stuff … hint hint!
Justin wants us to be around for another hundred episodes, and to get there he wants all you listeners to feel guilty. If you have not yet done so — and face it, you haven't — go to the iTunes or Google Play stores and write us good reviews! That's what the suits in the front office love to see, so save our jobs, enjoy our free episodes and prizes, and spread some love for your favorite podcast.
And if you want even more great chances to win, click on over to our HOUSES Readers' Choice Contest! Enter your info, vote for the house you like best, and you'll be entered to win a $500 shopping spree at the Taunton Store. And you can come back every day to vote again, too. The three top house designs, of the ten submitted by our readers, will be featured in the magazine.
So don't say we never give you anything nice!
Getting to the home building part of the episode, Rob, Justin, and Brian talk about lighting, seeing as Rob has an electrician coming to work on his in-progress bathroom remodel; he's leaning toward sconces. The conversation also covers bath fans and ventilation.
Podcast listener Adam writes in with a question about keeping a four-gang electrical box in plane with the wall. Justin has a singular take on this problem, and Brian, who has personal experience with this situation, has more to say.
Listener Nate has a video question! Thanks for sending that in. He's turning a loft above a garage into an apartment, but it has no roof venting. Should he put some in? You can watch his question in the video at the top of this post or in the Episode 100 video on the Fine Homebuilding YouTube Channel. That's Nate and the roof of the apartment-to-be in a still from his video. The guys mention that some shingle makers require venting before they will honor a warranty. They talk it over and come up with two solutions: putting in vents and insulation yourself, or bringing in a guy to put in closed-cell spray foam.
Chris has a question about a spray-foam adhesive gun from Huber Advantech.
Paul wants to fit new appliances into his existing kitchen. Maybe you can lower the appliance. Or you may have to deconstruct the space, for example, by removing or reconstructing cabinets.
John asks about splitters and riving knives. The guys explain tablesaw kickback and how a splitter is not as good as a riving knife for keeping you safe.
This episode of the podcast is brought to you by Benjamin Obdyke.
Benjamin Obdyke would like to use the special occasion of their 150th anniversary to thank the nuisances that builders and homeowners despise. Their premium products protect from those pesky things like rain, snow, humidity, and the neighbor's sprinkler system. Take HydroGap, a drainable housewrap that eliminates moisture from your wall assembly. Or Cedar Breather, an underlayment for wood roofing that allows continuous airflow behind shingles or shakes. One man's headache is another man's successful business. To build better with Benjamin Obdyke, visit benjaminobdyke.com.
We hope you will take advantage of a great offer for our podcast listeners: A special 20% off discounted rate to subscribe to the Fine Homebuilding print magazine. That link goes to finehomebuilding.com/podoffer.
The show is driven by our listeners, so please subscribe and rate us on iTunes or Google Play, and if you have any questions you would like us to dig into for a future show, shoot an email our way: [email protected]. Also, be sure to follow Justin Fink, Rob Yagid, and Fine Homebuilding on Instagram — and "like" the magazine on Facebook. Note that you can watch the show above, or on YouTube at the Fine Homebuilding YouTube Channel.
The Fine Homebuilding Podcast embodies Fine Homebuilding magazine's commitment to the preservation of craftsmanship and the advancement of home performance in residential construction. The show is an informal but vigorous conversation about the techniques and principles that allow listeners to master their design and building challenges.
Airtight recessed can light articles:
Other links related to this episode: