Wide-Plank Flooring
Floors that will record the story of our house.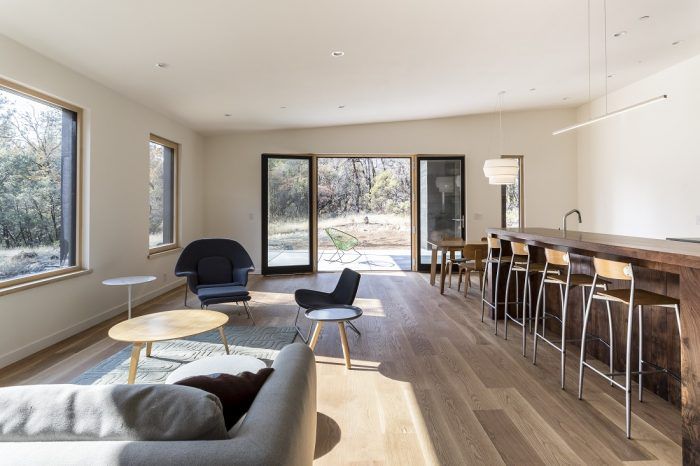 My appreciation of wood is a gift my father has given me. One of his barns is filled high with stickered stacks of wood slabs he has collected or milled himself over the years – and in each board and turn of grain I see the potential to make something beautiful. So, when the flooring for our house arrived from BuildDirect and we brought it inside to acclimate, it was with great pleasure that my dad, Dave, and I stacked the wide plank boards of white oak from the Appalachian Mountains.
Our goal is to use locally sourced wood as much as possible and when a wood product doesn't come from our region, we choose domestic wood (or salvaged wood for tight old-growth grain). If we had more time for our project, we might have milled wide-plank pine floors (because Ponderosa Pine grows so well in our region), although my preference was for Hardy Oak flooring.
We chose to use wood flooring throughout the house, except in the bathrooms and mudroom/laundry, as a way to unify the spaces and add the warmth of wood to the modern architectural form. Even though I am biased toward modern architectural forms, I am a sucker for the feeling of an old farmhouse wood floor.
How many of us have been delighted during a remodel to pull up layers of flooring and discover the treasure of wood floors buried beneath? The miner's cottage that Dave and I fixed up as our first project together, 20 years ago, had a wide-plank fir subfloor that became the main floor. All the dings and scratches etched into it had a history and story that started in 1890 that we added a few lines to! When thinking about the kind of "legacy" building I wanted to create it included solid wood floors that hopefully will age well with time. There are already a couple dings in the floor — they happened during construction despite our best effort — and I will think of those imperfections as part of our story! (I don't know if I will be able to use that line on a client, though, so better floor protection is always a goal.)
Supplied by BuildDirect and milled by Middle Tennessee Lumber Company, the select-grade 8-in.-wide flooring that we were able to use is stunning. There were predominately long boards in the order and it all is truly select-grade flooring. Check out Middle Tennessee Lumber Company's video, http://www.midtnlumber.com/lumber; it is well done. They have a line in the video which speaks to me: "Hardwood is meant to be permanent, to get better with time. Well-worn floors become part of you; your history is etched in the grain."
Our flooring installer, J & J Flooring, used Rubio Monocoat to finish the floor. We choose an oil finish for the floor because it allowed for a quick dry time, but also because it is a healthy finish. According to Rubio, the oil adheres within a couple of minutes to the upper microns in the wood by a strong molecular bonding. It is easy to apply (and fix if need be), it has 0% VOC's. The finish has a matte look which I like, and we choose their "pure color" to allow the oak to be fully itself. We will see how the finish holds up over time — it does require some maintenance (and water left on it for a time does spot the floor) — but hopefully it just enhances the floor's patina; and if we decide we don't want a particular ding or spill to become part of this house's history, at least it will be easy to fix.