Tools & Materials
Shop-Accurate On-Site Setup
Best for high-level production work, the Cut Hub work system yields accurate cuts and increased productivity with components built to last.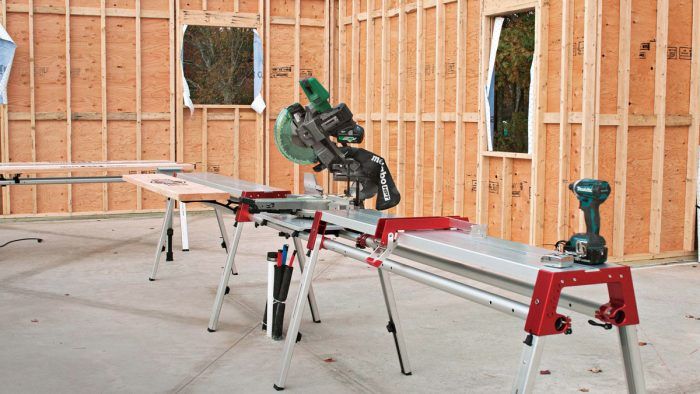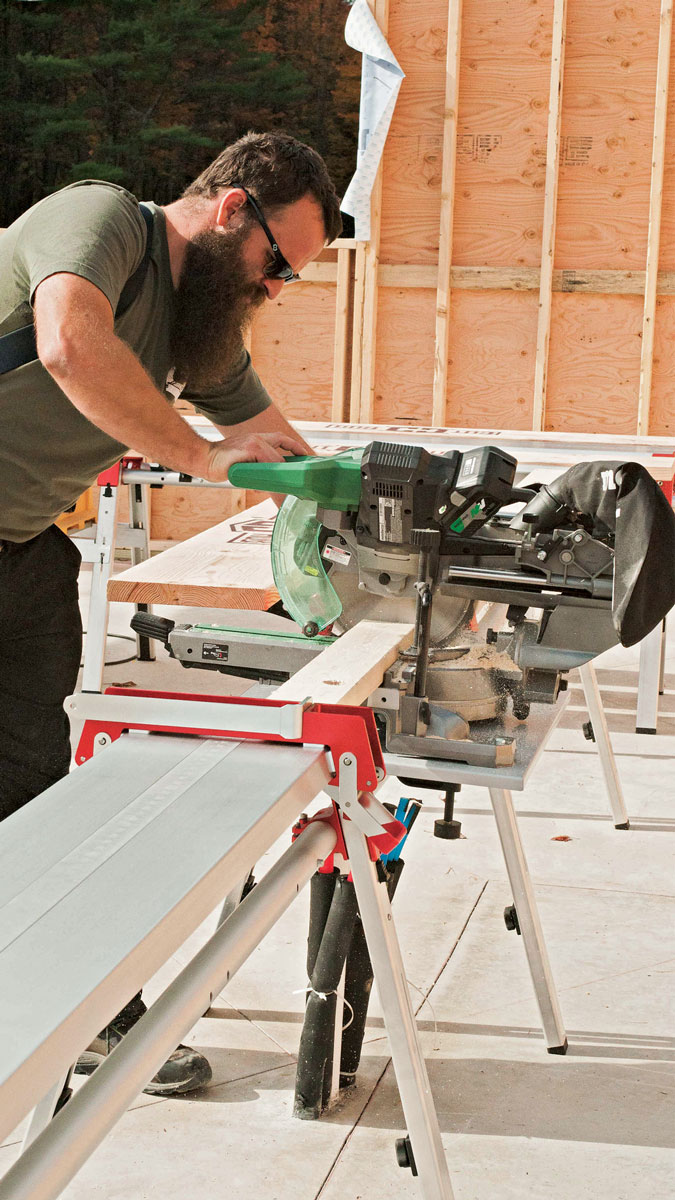 When it comes to chop-saw and tablesaw stands, I'm pretty sure I've used them all. I've yet to find one that can handle both the abuses of framing and the tight tolerances of finish work, but the Cut Hub seems promising. We used it for several months on a build and it took the full brunt of the Maine elements­—sun, rain, snow, and ice. Aside from some minor wear on the surface, it's the same as when I set it up for the first time. Constructed of aircraft-grade aluminum with stainless-steel fasteners, the core of the system is, for lack of a better term, folding sawhorses.
They have a wide aluminum top, with a built-in tape measure that works with the adjustable stop. Two of these sawhorse modules connect with telescoping aluminum rails to create a mount for a miter saw. A tablesaw can be mounted on the end and a third module can provide longer outfeed support or another workstation. The system includes brackets that accept 2x material to make wider work surfaces, and the legs adjust easily for uneven ground. Now that I'm familiar with it, I can have the whole thing assembled, leveled, and ready for work in a couple of minutes.
The setup can be arranged in different ways to match your work style or project. The best feature is the stop system, which allows the greenest person on the crew to batch out piles of accurate pieces with very little instruction. One minor complaint is that the saw location must be adjusted slightly when moving the stop from one side of the saw to the other. It's a minor issue as we're usually feeding from one side, but it would be nice to have it work on both sides of the saw without an adjustment.
This is by far the best-built work system I've ever seen, and as you'd expect, it comes with a substantial price tag­—starting at $1600 up to $4600 depending on customization. I'd say it's probably too expensive for occasional use, but if you're doing high-level production work where time is critical, the Cut Hub is impossible to beat compared to any other off-the-shelf option. You get accurate cuts and increased productivity, and the components are built to last for years.
Ben Bogie, project manager for BPC Green Builders of Wilton, Conn.
Photos: Scott Gibson
From Fine Homebuilding #300
---
RELATED LINK