Podcast 410: The Best of the Fine Homebuilding Podcast, Volume 2
Hear highlights from past episodes in this compilation of some of our favorite discussions and listener questions.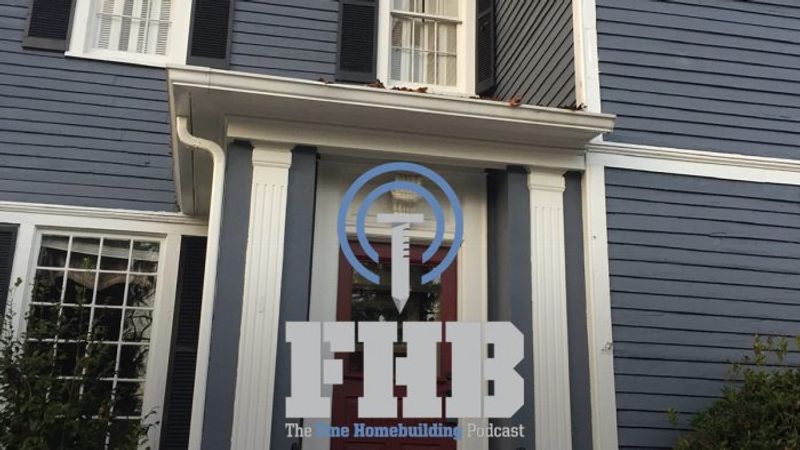 ---
Follow the Fine Homebuilding Podcast on your favorite app. Subscribe now and don't miss an episode:
Help us make better episodes and enter for a chance to win an FHB Podcast T-shirt:
www.finehomebuilding.com/podcastsurvey
The editors discuss how to retrofit an air barrier, favorite tools, how to build in earthquake country, how to buy old houses, and much more in these clips from episodes 145-149.
---
Question from Episode 149: Wall insulation options?
Eric writes: Hi,  I own a 120-year-old farmhouse in farm country outside of Asheville, NC that has had a few additions over the year. The oldest areas of the house do not have any insulation in the walls. You can feel the wind across the entire front if the house.
We are removing the original old beat up beadboard and putting up nickel gap shiplap in its place. So I figured this would be a good opportunity to insulate.
The walls are true 2×4 studs- full 4 inches. The exterior "sheathing" is the original board and batten  running vertically – approximately 10 inches wide x 1 inch thick boards on average with significant gaps between boards. Then there are layers of asphalt siding followed by aluminum siding.
Question 1 – Even though the gaps between boards are covered by wood strips on exterior side should I fill those gaps with an expanding foam like Great Stuff? I suspect those gaps are where most of the wind is getting through.
Question 2 – How should I fill the wall cavities? Since insulation in the big box stores are made for either 2×4 or 2×6 dimensional lumber and mine are in between, should I go with 1/2 inch rigid foam followed by standard 2×4 insulation or should I just use the 2×6 insulation or just 2×4 alone… I might be over thinking it
Question 3 – Are there any moisture/air flow issues I should look out for when insulating a wall this old? Basically, how would you guys handle this type of insulation job? Thanks for any help.
Also, I can send some photos if they are needed. Sorry in advance for not giving enough information.
Related Links:
5 1/2-in. insulation is ordinarily 21, but according to Allison's chart you can expect
---
Question from Episode 148: What are the best tool purchases you've ever made?
Patrick saw the following question on a Facebook page for professional builders that he regularly follows: What are the tools you've bought where you immediately thought, "I can't believe I waited so long?"
Related Links:
---
Question from Episode 145: Where can I find advice for building a disaster-resistant home to resist earthquakes?
Lloyd Brown from Utah writes: Hey, guys. Great discussion in Episode 142 about resources for building houses that are resilient in the face of hurricanes, storm surge, etc.
Where I live in central Utah, we're extremely close to a major seismic fault line, and have been warned for years about being "overdue" for a big earthquake, though of course it's impossible to predict when that would happen.
So, here's the question. If you were building a new home in an earthquake zone like this, what would you do to try to minimize the damage from a significant quake? Are there learning resources beyond FEMA and the IBHS, that you referenced already?
Thanks, and keep up the good work.
Thoughts about building to resist seismic activity
Wood frame is better than masonry
Lightweight roofing vs. tile or concrete tile
Create continuous load paths with anchor bolts and metal connectors between levels
Avoid narrow walls adjacent to garage doors
Secure appliances and furniture
Avoid masonry chimneys
Related Links:
---

Question from Episode 149: What should I look for when purchasing an old house?
Nate writes: Hey guys, my wife and I love old houses. Our first home was a single story 1915 craftsman that had already been renovated. We are looking at selling that home and purchasing what appears to be a late 1800's two story. I'm confident, (maybe overly confident) in my renovation abilities but would like your advice. What should I look for when purchasing an old house? The trim profiles are really shallow so I'm assuming that the plaster was covered with drywall at some point. The floors aren't level and in one location the floor drops about 1 1/2 – 2in over about 3 feet. There is some rot below a toilet that I can see in the crawl space, but it's not so much the visible things that scare me. Any advice that you have on purchasing an old house would be greatly appreciated.
The attached pictures are of the shallow trim, rotted subfloor, hardwoods around a toilet that seem to have been wet at some point, and a very interesting flashing detail.
Related Links:
---
Question from Episode 148: Sheathing in Ontario
I'm planning on building my own house next year, having gained experience from building a small shed. For the big house, everything has to be up to code and make the inspector happy. I have some doubts that maybe you guys can help me with:
1. I'm in Ontario, Canada. According to our code, I should be using 2-in. or longer nails for 1/2-in. or thicker sheathing. I plan to use 1/2-in. plywood. Should I go with the code minimum of 2 in. or use 2-3/8 in.? Because a traditional hand-driven 2-in. or 6-penny nail is thicker than nail gun ones, going with a slightly longer one won't do any harm, right? Besides, there are some good discounts on 2-3/8-in. nails, and it's a good time to stock up on them when Black Friday is approaching. I plan to buy HG nails just to make the sheathing look good after raining. I own a DeWalt cordless framing gun that works super well—no jams, no fuss, and paper-tape nails mean no plastic garbage.
2. Now for sheathing, I understand that an expansion gap of 1/8 in. has to be left. Do I need to account for this growth when laying out studs? 2 in. on centre doesn't work anymore after a few laps; the centre would be off more and more.
3. Sheath the wall first, then raise, or the other way around? I get mixed opinions on this. For me, the problem is that we only have two people, so putting on sheathing first would make the walls hard to lift, though I'm aware of products that aid in the raising of the wall, by use of poles and ropes. I guess putting on the sheathing afterwards is good in the sense that you can speed up the framing process and get the roof done first, avoiding rain damage.
4. How to sheath the 2nd floor? Yeah, it's gonna be a two-story house. So how am I supposed to carry a heavy piece of 4×8 up there when I struggle to drag it on the ground? Scaffold? Scissor Jack? Anyone got some tricks for dealing with this?
Related Links:
---
Question from Episode 149: Combined vent pipe?
Doug sends in a video question: If you were building a new home (in zone 4), what would your ideal roof assembly look like? If the idea were to route the HVAC system through the attic (I don't like the look of minisplits), and so you wanted the attic to be in the conditioned envelope, what's the best way of insulating the roof and preventing worry about insulation, water, and roof sheathing drying appropriately?
Related Links:
---
Check out our new 2021 FHB Houses:
Visit the Taunton Store  •  Magazine Index  •  Online Archive   •  Our First Issues   •  All Access
---
Help us make better episodes and enter for a chance to win an FHB Podcast T-shirt: www.finehomebuilding.com/podcastsurvey
---
If you have any questions you would like us to dig into for a future show, shoot an email our way:

[email protected]

.
If we use your question we'll send you a FHB Podcast sticker!
---
FHB Podcast T-shirts!
Represent your favorite podcast! Available in several styles and colors. Made from 100% cotton. Find the Podcast t-shirt and more cool products in the Fine Homebuilding Store.
---
Fine Homebuilding podcast listeners can now get 20% off anything in the Taunton store, including Insulate & Weatherize.
Use the discount code FHBPODCAST to take advantage of this special offer.
---
We hope you will take advantage of a great offer for our podcast listeners: A special 20% off the discounted rate to subscribe to the Fine Homebuilding print magazine. That link goes to finehomebuilding.com/podoffer.
The show is driven by our listeners, so please subscribe and rate us on iTunes or Google Play, and if you have any questions you would like us to dig into for a future show, shoot an email our way: [email protected]. Also, be sure to follow Fine Homebuilding on Instagram, and "like" us on Facebook. Note that you can watch the show above, or on YouTube at the Fine Homebuilding YouTube Channel.
The Fine Homebuilding Podcast embodies Fine Homebuilding magazine's commitment to the preservation of craftsmanship and the advancement of home performance in residential construction. The show is an informal but vigorous conversation about the techniques and principles that allow listeners to master their design and building challenges.
Other related links