How-To
Prepping a Bathroom for Tile
Schluter waterproofing and uncoupling membranes cover nearly every surface of this master bathroom before the tile goes down.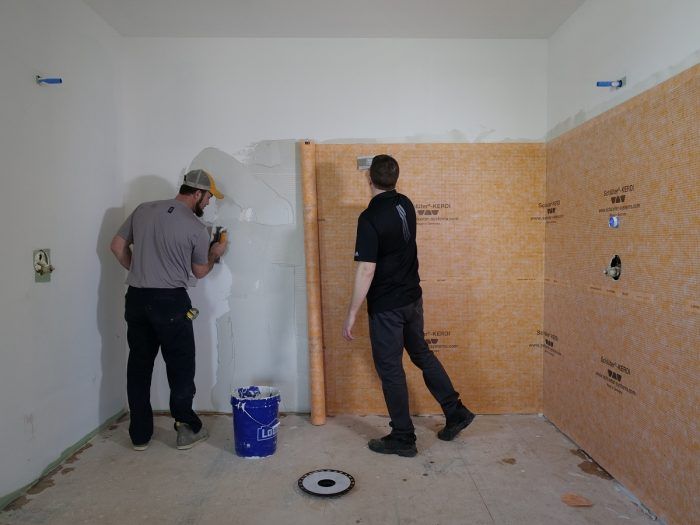 When it comes to the interior of the FHB House, I wanted to make the master bathroom something of a showpiece—a luxurious, spa-like space for the future homeowner. Before getting to tile and fixtures, though, we need to prep for the finishes. The bathroom will have a large wet room, and we'll be installing large-format tile as well, so we prepped the walls and floor to be waterproof and to isolate the tile from any movement in the framing.
The wet room is fairly large as it will contain two showerheads—one at each end of the shower, plus a rain head in the center, and a bathtub. To slope the floor to the central drain we decided the best way was a traditional mortar bed. We waterproofed the entire shower enclosure with Schluter-Kerdi. This fleece-backed, modified polyethylene membrane is adhered with thinset. We started with the walls and wrapped the three vertical surfaces to be tiled. The shower base was covered with a single piece of Kerdi integrating it with the drain flange and flashing the floor-to-wall intersection with Kerdi-Band; a 5 -in.-wide strip of Kerdi used for flashing.
Outside the shower area we installed Schluter-Ditra. The Ditra is an uncoupling membrane that allows the floor system to move independently of the tile so that tile and grout is much less likely to crack over time.
Previous:
Sound-Dampening Ceramic Tile over a Concrete Floor
Next:
Backsplash Repair and Prep