How-To
Subpanel Installation: Connecting Circuits and Breakers
Good planning, organization, and labeling will make this task, and any future electrical work, much easier.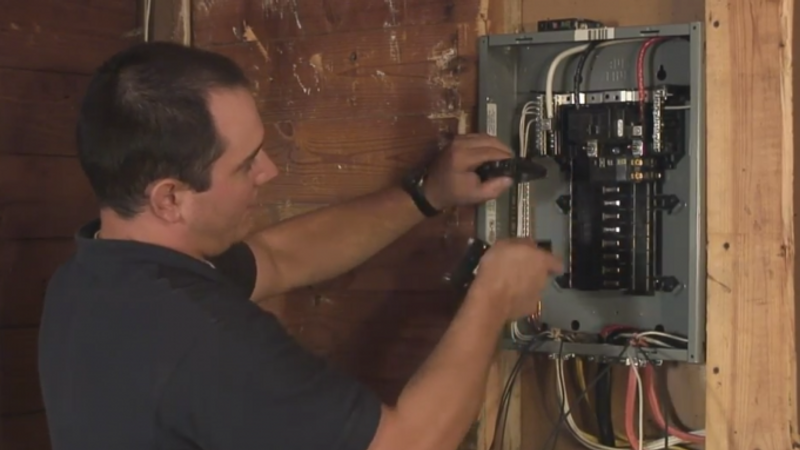 Video transcript:
At this point, I've finished installing the wires in the subpanel coming from the main panel. So, now I'll go ahead and install the cable clamps to the individual branch circuits. I use the metal type of cable clamp with a threaded retaining ring; it tends to give a more secure connection. Working in logical order will save you a bit of frustration. I put the two in the back first, run the wire through them, and tighten them down before I do the two in the front. Try to keep everything you bring in from now on in front of the stuff you've done already. That'll keep you a little more organized. Again, when you tighten these down, you want to make sure the cable is lying in there nice and flat so that you don't damage it.
Now that all the wires are in the box, I start preparing to strip the sheathing and expose all the conductors on the inside that I need to hook up to all the various bus bars and circuit breakers. Before I cut off any of the sheathing on the wires in the panel, I make labels using scraps of sheathing for every individual circuit; then I can just put them on as I go along—that makes it faster and easier. Now I score and strip all of these.
When you're running circuits on a two-pole breaker for 240 volts, if you can get the label around both of the conductors that are going to get hooked up, it'll be less confusing later on.
With regard to wire size, there are minimums, but there's not really a maximum. Your only constraint with wire size when you go bigger than what's required is the size of the connector you're terminating the wire to. I'll shorten these up if I can; I'm going to clip them both, but I'm going to hold onto this one knowing it was labeled lighting circuit number one. I'll strip it and label it first, and do the same with these.
So now that I've got a giant mess, I'm going to clean it up. The least likely wire to be reconfigured or disconnected in this particular case is the ground wire, so I start with those first. What I generally do is situate everything in one corner from the get-go. To get all the grounds in one corner you may have to weave them through or move wires around. There's nothing wrong with making gentle radius bends. This is where neat and clean can really pay dividends in the perception of the quality of your work. The panel is typically where the building inspector will take the hardest look at what you've done. Cleaner work inspires more confidence in what you've done throughout the entire house.
Now that the grounds are over to one side, and everything is tucked into one corner, that's really when I start to bundle it all up. I use a couple of zip ties. You can bundle it with the ground from the feed if you want; that's not going to bother anything. It's a stiffer wire, so it may actually help hold them in place. I've got six ground wires I need to connect, so I'll loosen up six of these all at once. When you're making the ground connections, or any connection really, it makes sense to get them as close to the point of connection from the main feeder as you can. Same is true for up here on the neutral bar. It doesn't make a whole lot of difference, but if a fault were to go from the top to the bottom, the shorter the distance, the faster the breaker can trip. With each of these successive ground wires, I come up just a little bit higher. I make the bend at the bottom, and when I get close to where I want it up here, I'll fold it over 90 degrees and clip it off to about an inch. Then I can just tuck it in, nice and neat.
I do the same for the neutrals on the neutral bus. Since they're all pretty well bundled together and they're all going to the same place, I start bending them successively lower to make it a little quicker, and then I clip them all off. Since I stripped them all at once, I'll try to feed them into the bus all at one time just to keep it nice and neat. You may have to adjust them a little bit to get them to line up, but for the most part, you can just slide them in and tighten them down. Those are all the neutrals on this side. I have one left to do on the other side, but I'm going to leave it separate because it may end up becoming a 240-volt feed, and it'll be a lot easier to get to on that side. It's pretty common for neutral buses to be set up a little different on one side than on the other. This one has slightly larger lugs, so if you were to run larger equipment—No. 10, No. 8, No. 6 wire, something like that—you'd have a bigger screw hole to fit it into.
Now all I have left to do is install the breakers and hook everything up.
This is a two-pole breaker that I'll install for a ceiling heater. It has a little clip on the back that sits on this rail, and these two stabs clip onto the bus bars that run down the middle. One side is connected to the red leg of the 240-volt feeder, and the other side is connected to the black leg. You can tell which side by how they're oriented. With a two-pole breaker, it actually makes a connection to both of these, simultaneously. I'm trying to even out the loads on both poles so that they're relatively the same. It can be tricky, but the lighting load is split up more or less in half, and the receptacles I'll be using are more or less split up in half. So, I'll try to distribute that load evenly by varying where I put the breakers for those separate loads. I start off with a receptacle on the first pole. The next one down is going to be the opposite pole, so I can put them in together. It looks nice when they're even, but when you put them in the same position horizontally, they're only feeding from this one side. So what I'll do to get them to feed evenly is put the first one here and put the next one right up underneath it.
Now the breakers are clipped in, I can connect the hot wires. So that I don't forget what I'm looking at when it comes time to make the breaker schedule for the panel cover, once I get that wire where I want it, I just take the label and slide it over. I keep it where it is and clip off the excess, strip what I need, and make the connection. You can keep the label in place so that you can run down and make a list without having to go back for anything.
This No. 10 is a 240-volt connection for a ceiling heater. I'll use both the white and the black, and run those at the same time. If you know you're at the right length, you can pop the breaker out and make the connection. It might be a little easier. Then you can just pop it right back into place.
This is the last connection I'll make for what I've run so far. This will feed the tablesaw.
The last thing to do before I call this a finished job is to label the cover and install it. Based on the labels I left on the wires, I can just fill it out. I pull out the appropriate knockouts, or twist-outs in this case, so that the cover fits over what I've already done. I use a screwdriver. For these I need four, and then three on that side. Since there's no drywall yet, the cover will remain a little bit proud of the face of the panel.
View the other videos in this members-only video series:
Connecting Circuits and Breakers
Previous:
Subpanel Installation: Running and Connecting the Power Feed
Next:
Electrical Subpanel Safety Tips: What You Can and Can't Touch When Installing Circuit Breakers