How-To
Basement Ceilings: Drywall or a Drop Ceiling?
Your choice between these two options will be based on looks, mechanicals, and access to the ceiling.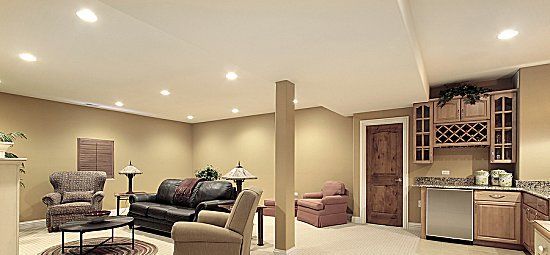 I've remodeled a lot of basements over the years, and one of the most important decisions I face on every job is how to handle the ceiling. You've got two basic choices: install a drop ceiling (sometimes called dropped ceiling, suspended ceiling, or paneled ceiling), or install drywall (commonly referred to as Sheetrock, which is one brand of drywall).
The choice you make will be based on mechanicals, desire for access to the ceiling, and the look you want to achieve. Here are some things to consider:
Looks
Never underestimate the amount of hassle that people are willing to go through in order to make things look nice. Ceiling tiles are the go-to choice for commercial buildings, but they usually have higher ceilings. Somehow the lower ceiling height of a typical basement makes that drop ceiling feel just a bit too close for my comfort.
To me (and maybe I'm alone in this?) it's pretty hard to spend much time in a finished basement living space that has ceiling tiles and not see them as a constant reminder that you're in a portion of the house that isn't being treated the same way as the rest of your above-ground living space.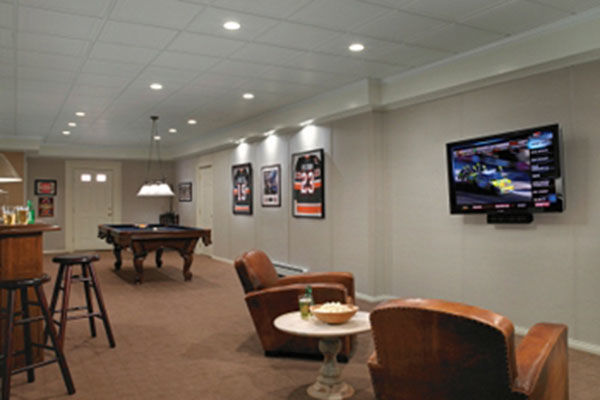 Mechanicals
Unless they're told otherwise, mechanical contractors don't always bother to group ducts, electrical cables, and plumbing assemblies into neat groupings that are easy to enclose. Can you blame them? If the basement wasn't originally intended as living space – and for most houses they aren't, at least not at the building stage – why would the subcontractors all try to cram their installations across the same beam, or bother to drill holes through the joists when it's faster to run across the bottom of them?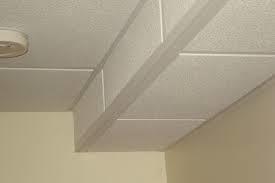 So you have to ask yourself whether it's easier to box in all of the different mechanical components with dropped ceiling track and panels, or spend time framing them, covering them with drywall, and working on all of those corners that each soffit will create.
Keep in mind, most drywall installers will up the cost of a job based on how much corner work they have to deal with – for them, it means more time and labor. Now, for me, the effort is worth the payoff (see argument for "looks", above), but the scale can start to tip the other way if you think you'll need access to the things hidden behind those soffits.
Access
Building inspectors will require you to leave access to any shut off valves (plumbing or heating/cooling), electrical panels, and plumbing drain cleanouts. With a drop ceiling, the access is built right in. Now, this can be done with a drywall ceiling by adding access panels – simple metal or plastic doors that get integrated with the drywall – but if you anticipate the need for more serious access than drywall might not be your best bet.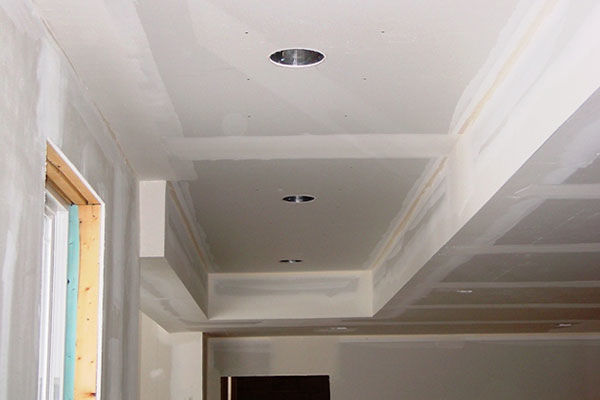 What qualifies as a good reason to anticipate more serious access? …Plumbing, electrical, or ductwork that is approaching the time when the cost of repairs might start to outweigh the cost of full replacement. The last thing you want to do is cover your basement ceiling with drywall and then upgrade your furnace and be told that it's time to tackle the ductwork, too. When in doubt, ask an inspector to give you an assessment of your systems.
Previous:
Estimating Materials
Next:
Planning Access for Materials