How-To
Installing a Sump Pump
Follow these guidelines to set up a basement sump pump.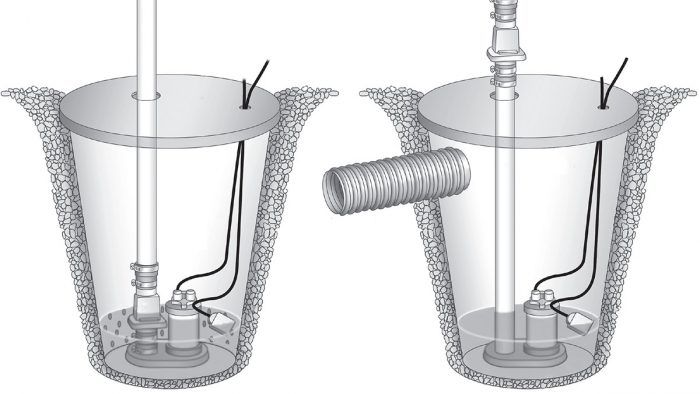 A sump pump draws groundwater from beneath a basement floor's surface and sends it outside through a pipe. This may not solve all your basement moisture problems, but if sized correctly, it can eliminate puddles and keep a basement pretty dry, even during heavy rainfalls.
If a basement slab has buried perforated drainage pipe or clay tile running around its perimeter a few inches below the floor surface, then the drainage pipe should be inserted into the sump pump's tank (as shown on these pages) so water can collect there. If there is no buried drainage pipe, the tank may be simply set in a hole at a low point. (Basement floors are usually slightly sloped.) Water under the concrete floor will slowly percolate through holes in the tank.
When the tank fills to a certain level, it raises the sump pump's float, which turns on the motor. Water is directed up through a pipe, and then through a hole in the house's rim joist, and finally out onto the lawn. Most sump pumps today are the submersible type. "Pedestal" sump pumps, with motors above the floor, are less expensive but are also noisy.
SUMP PUMP SETUPS
A sump pump's liner may have a drainage pipe running into it, or it may be perforated so groundwater can seep in. A check valve may be installed onto the pump or in the standpipe. The water may be ejected into drainage pipes or simply routed outdoors.
TIP: In the situation shown here, much of the basement floor's concrete has been removed. If your basement floor is generally in good shape, you may choose instead to cut away and remove concrete only for the sump pump, or cut around the perimeter of the basement in order to run the drainage pipe.
Another Sump Setup
Here's another way to install a sump pump: The check valve is installed above the floor in the standpipe, and the drain line runs outside, so pumped water will flow away from the house.
TIP: Make sure you will be able to access the sump pump for ­future servicing. In the example shown here (see Step 5), the lid can be raised high enough so the pump can be reached easily.
---
Excerpted from Plumbing (The Taunton Press, 2016) by Steve Cory.
Previous:
Sump-Pump Options
Next:
The Laundry Wall Laundry List