Easy-release Hole Saw
Learn how solid copper wire can make your life a little bit easier.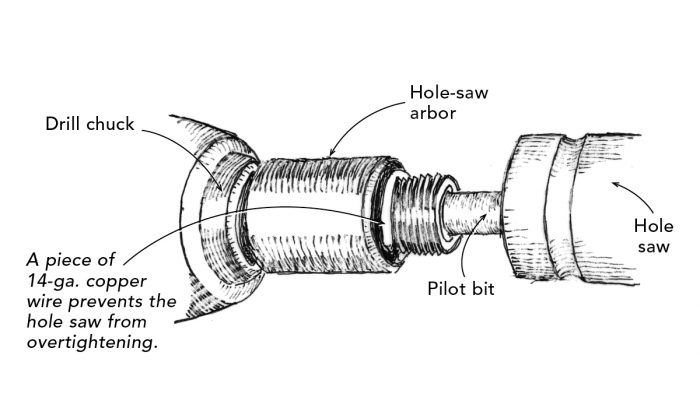 I'm a low-voltage electrician and use hole saws all the time. My larger hole saws attach to an arbor that has a collar with two drive pins that prevent the saw from over tightening to the arbor while spinning. That's not the case with my smaller hole saws, which screw onto the arbor tighter and tighter as they spin—so that when I'm done using them, I need to employ Herculean force to separate the saw from the arbor.
Years ago, a seasoned technician saw me struggling to loosen a saw from the arbor and shared some of his wisdom. He told me to wrap a small section of solid copper wire (14 ga. to 18 ga.) around the arbor before attaching the saw. It creates a sort of soft, irregular-shaped washer that won't allow the two components to stick together. I just leave it in place until it disintegrates and then replace it with another. One word of warning: Make sure that neither end of the wire is protruding out past the arbor, or you might end up with a torn glove or gouged finger. I may or may not have learned this the hard way.
—Colton Nolan, Montrose, Minn.
Edited and illustrated by Charles Miller. From Fine Homebuilding #314