Tools & Materials
Drywall Sanding Tools and Materials
You can sand joint compound with a piece of folded sandpaper, but there are a number of tools that help make this unpleasant task a little more efficient.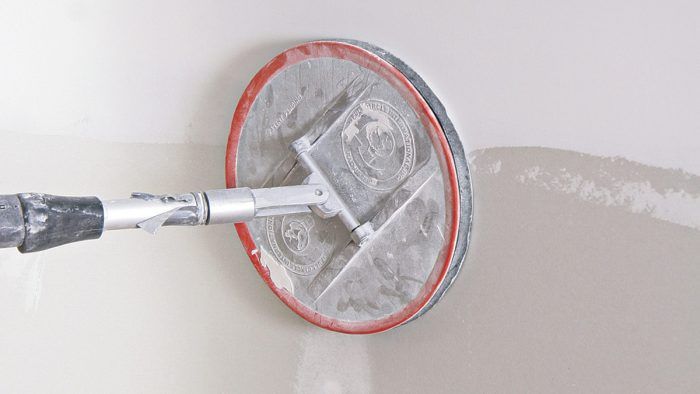 Sanders
Sanding is the final stage in the drywalling process.
I use a pole sander for most sanding work. It has a pivoting head designed to hold precut sanding screens or drywall sandpaper. The 4-ft.-long handle helps you reach along the top edge of a wall or near the floor without having to stretch or bend too much. Most low ceilings can also be reached with a pole sander. Grasp the handle with both hands for better leverage.
For areas that are easy to reach or that are too tight for a pole sander, a hand sander is a good alternative. It's the same size as a rectangle-shaped pole sander (with a 4-in. by 8-in. head) but without the pole. In addition, I recently purchased a triangular sander with a replaceable sandpaper pad that I use as a hand sander or as an attachment for a pole sander. Its pointed shape and beveled edges allow me to get into tight spaces that nothing other than folded sandpaper can reach.
For the extra-fine sanding work that is necessary after sanding with a pole or a hand sander, I like to use a dry sanding sponge. The small, dense sponge, which is 1 in. thick and coated with grit, is available in sizes ranging from 3 in. by 4 in. to 4 in. by 8 in. Dry sanding sponges are available in fine, medium, and coarse grit; I prefer the fine grit for touch-up sanding. Don't confuse this sanding sponge with the drywall sponge that is used wet.
To get into tight spots that even a sanding sponge can't reach, use a folded piece of sandpaper. Sandpaper allows the best control of any sanding method and works especially well for touching up inside corners.
For jobs where clouds of dust are unacceptable, a wet drywall sponge is the answer. The sponge shown in the top photo on the facing page is a high-density polyurethane sponge that is soft and nonabrasive. These sponges are good for blending the edges of taped areas and for smoothing small defects, but they are not as effective for sanding ridges or built-up areas. You can also use an all-purpose household sponge or even a smooth, soft cloth for wet sanding small areas. However, if you intend to finish-sand with a wet sponge, you really must do a good taping job.
Sanding materials
You can sand joint compound with regular sandpaper, but sanding materials specifically made for drywall are more effective. (The problem with regular sandpaper is that the fine, dusty white powder quickly fills up the grit of the paper, making it ineffective.) Drywall-specific sanding materials usually come precut to fit drywall sanding tools.
Drywall sandpaper, which has a paper back and a black carbide-grit surface, is available in 80 to 220 grit. The higher the grit number, the finer the sandpaper (and the smoother the finish). The 220 grit provides the smoothest finish, but it takes longer to sand down high areas or ridges. A good, universal sandpaper is the 120 grit. The only time I use the 80 or 100 grit is for rough sanding between second and third coats of joint compound (see Chapter 4).
Sanding screens, sometimes referred to as sanding cloths, are an alternative to sandpaper. Both sides of the screen are covered with carbide-grit-coated fiberglass mesh. When one side gets dull, the screen can be turned over and used again. Because of the holes in the screen, dust buildup is seldom a problem.
Sanding screens are available in grits from 120 to 200. The 120 grit is a good all-around screen; 150 and finer grits work well for finish sanding. Sanding screens are usually more expensive than sandpaper, but you get more life out of them. Also, a screen cuts through joint compound faster than sandpaper does.
High-tech alternative
If you finish drywall on a regular basis and you're willing to invest in more expensive equipment, you might consider buying a dust-extraction-type drywall sander like the Festool Planex drywall sanding system. Just be aware that you will also need a dust-extraction system or high quality shop vac to run a sander like this, but it will help you to keep your job site virtually dust free, saving time on cleanup.
Previous:
Painless Drywall Mud Mixing
Next:
Radius 360 Pole Sander Review