How-To
Layering Drywall
Try these decorating effects when you want to go beyond plain, flat drywall.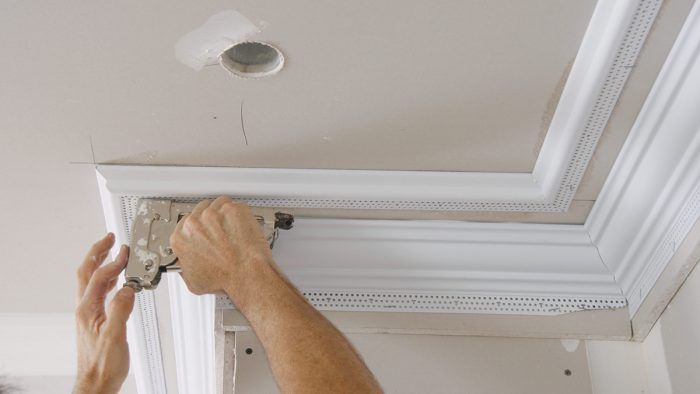 Finished drywall is usually thought of as a smooth or textured wall or ceiling. But over the past few years a number of products—including many of the beads discussed earlier—have helped make drywall work a larger part of the decorating process. With L-beads, arched and flexible L-beads, bullnose, and chamfer stops, drywall can be layered and trimmed to achieve an endless array of designs. There is even drywall available with an embossed surface that looks like wainscoting or a raised panel when finished.
| | |
| --- | --- |
| A dramatic effect: Soffits needed to conceal ductwork and plumbing were covered with layers of drywall and capped with chamfer bead to create a unique ceiling. | Buy wainscoting premade: This unique type of drywall has an embossed pattern. When installed, it creates a raised-panel design on walls and ceilings. |
Creating Layered Ceilings
Drywall can be cut to various sizes and shapes, then attached over the first layer of drywall to create an endless combination of styles.
| | |
| --- | --- |
| Lay on the layers: Drywall can be applied in multiple layers to whatever pattern you choose. Edges should be covered in L-bead. | The finished ceiling: When painted with slightly different shades of paint color, the layers are brought to life. |
To layer drywall, begin by hanging the walls and ceilings in the conventional manner. Attach subsequent layers of drywall using screws and drywall adhesive. Because the outer edges of the layers will be covered with L-bead, each layer has to be tight against the underlying layer. In some cases temporary screws may be needed until the adhesive sets up. You can use either a vinyl or a tape-on bead. The vinyl is available in a wider variety of styles and adhesive and staples make for easy attachment. For a professional-looking job, it's important that you install the drywall layers and bead to a snapped line. With a little savvy and a few simple techniques, there's almost no limit to the looks you can achieve with drywall.
Make your own wainscoting
With regular drywall, L-bead, and some finishing work, you can create a raised-panel look for more formal rooms.
| | |
| --- | --- |
| Trim the edges: The edges are covered with an L-bead. In this case a chamfer-style edge bead was used. | Finish it out: A solid wood top cap creates an elegant finished look. |
Previous:
Building Soundproof Walls
Next:
Elegant Wainscot From Drywall Scraps