How-To
Prepare the Backing Material for Drywall
Follow these guidelines whether you're installing drywall over wood framing or a solid backing.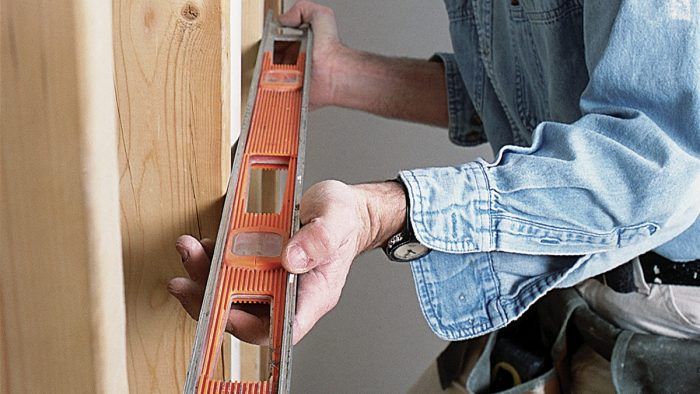 For a quality finish, drywall must be attached to a flat, stable surface. There's not much structural strength in drywall, so if the framing or backing is weak or of poor quality, the drywall will probably crack or come loose. Drywall can be attached over most surfaces, but it's most commonly applied over wood or metal framing.
Wood framing
When installing drywall over wood framing, make sure that the framing members are aligned in a straight plane. A visual inspection is usually enough to detect badly bowed or twisted studs, though you can hold a straightedge across the studs, if you prefer. If a framing member is bowed or twisted more than 1/4 in., it should be straightened or replaced (see "Straightening a Bowed Stud" below). Renailing sometimes straightens out twisted framing. If a lot of studs are warped or crooked, the job of straightening framing may be a bigger job (see the article Straightening Framed Walls).
THINK AHEAD: Before any work starts, the temperature and humidity in the house have to be right. This applies not only to the air but also to the framing and drywall. Bring the drywall in a couple of days before you hang so that it has time to acclimate.
A bowed ceiling joist may have to be replaced, but wavy or irregular ceilings can be straightened using 1×3 furring strips nailed across the joists. Make minor adjustments with shims driven between the joists and the furring.
It's very important that the framing lumber be dry. If you're working in a cold climate, make sure the framing has been in a heated environment long enough to get the dampness out of the wood.
If you need to level an entire bowed ceiling, sistering the joists with steel framing is another efficient way to do it (see: Using Metal Studs to Level a Sloping Ceiling)
Solid backing
On remodeling jobs, I often attach drywall directly over old plaster or paneling. If you're drywalling over a solid backing, be sure to use fasteners that are long enough to provide firm attachment to the framing. Using drywall adhesive helps reduce the number of screws needed . Drywall can also be hung over rigid urethane insulation. On ceilings with rigid insulation, add 1×3 furring strips before hanging drywall. From experience, I know that the insulation can expand a little over time, especially with the high temperatures common in attics. Expanding insulation will cause the fasteners to dimple—they'll probably still be tight, but they will need to be recoated with joint compound.
Next:
Install and Finish Drywall: 7 Fixes Before Delivery