How to Finish Drywall and Not Make a Total Mess
One person spreads compound and the other smooths it out with a MagicTrowel to leave an even skim-coated surface.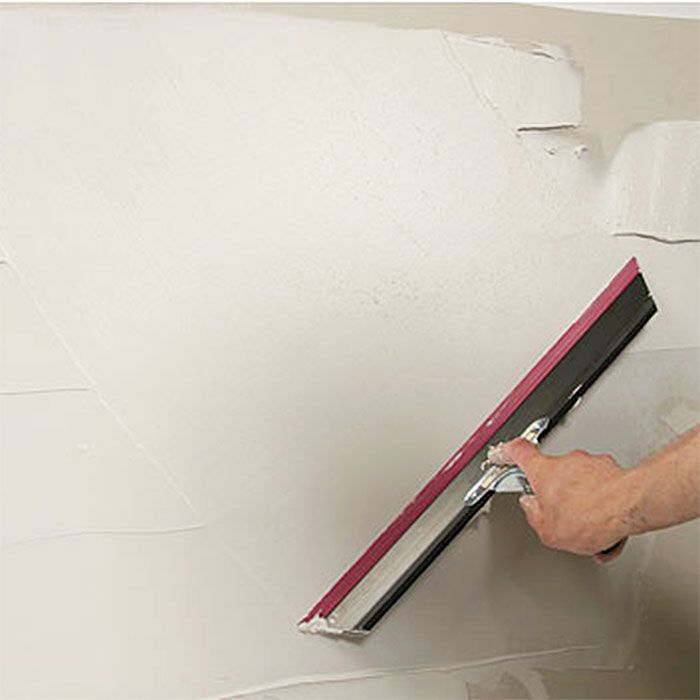 Like most Fine Homebuilding editors, my house is a work in progress. One of the reasons it's not finished is that I hired the world's worst drywall contractor. By the time I realized just how bad a job they were doing, I was completely jammed for time. The lease on the house we were renting while we were building had expired, and the landlord had sold the place. There simply wasn't time to fire that contractor, then find and hire another. Faced with eviction and a choice between homelessness, finding and moving into another rental (with a short-term lease), or doing the bare minimum to get a certificate of occupancy and move into the house, my wife and I chose to move in.
Spreading Mud
I'm pretty good at most aspects of construction. A fair hand with a backhoe, I'm also a competent plumber, electrician, and a damn good carpenter. I can finish concrete fairly well, lay block, and build a chimney. I've even got a steady hand with a paint brush. What I am not very good at is drywall finishing. That is, I can do a decent job, but I'm slower than 13 innings of baseball. I'd rather spend an hour in the dentist's chair than an hour spreading mud.
Every room in my house needs the drywall that I paid to have finished badly to be recoated. So, progress on the house is slow, because to trim and paint a room, I first have to deal with the drywall. Which I hate. But it's moving a little faster now. A few years back, when I was whining about finishing drywall, Myron Ferguson turned me onto the MagicTrowel. The short version is this: The MagicTrowel is essentially a glorified window-washer's squeegee. My wife works ahead of me, spreading slightly thinned drywall compound onto the wall or ceiling with a 3/4 in. knap paint roller. I follow behind with the MagicTrowel, smoothing out the compound, and we get a skim-coated surface both of us like.
MagicTrowel
Now, there is a learning curve, and the MagicTrowel is not as easy to use as the YouTube video suggests. Nonetheless, every time I use it, I get better. Still, I leave some ridges where the edge of the squeegee drags. To get an even texture, I need to sand the entire surface, most of it lightly. This is actually easier than sanding seams, because I rarely sand through the skim coat to the paper. If you like a slightly rustic finish, you could probably skip the sanding. I find that the MagicTrowel is hard to wield in corners, so I end up having to touch them up with a 4 in. taping knife. Work quickly, don't let the compound dry out, and don't skimp on the amount of mud you roll on the wall. You shouldn't be able to see the paper through the rolled-on joint compound. MagicTrowel recommends thinning the compound with 8 oz. of water per 5 gal. of mud. I end up using almost twice that much water. Play with it and see what ratio works best for you.
There's a second factor to my accelerated progress. One huge disincentive to working with drywall in an occupied house is the dust, particularly with the amount of sanding I do. Right now, we're working on the foyer of our house – A centrally located space that's hard to isolate, so there's a real possibility of spreading sanding dust throughout the entire house. Myron also recommended USG's Lightweight Joint Compound with Dust Control. It's noticeably more expensive than regular joint compound – 3.5 gal. sells for a little more than 5 gal. of regular compound. I don't care. It's well worth the money. According to the company, the fine dust particles bind together, forming heavier particles that drop to the floor. That seems to be true. I sanded for over an hour last night, and the dust all stayed in the room I was working in. Win.
As a final note, after more than 30 years with a beard, I shaved a couple of months ago. Dust masks actually work now.
---
For more information on taping and finishing, read Myron's article: Taping and Finishing Drywall Corners.
Previous:
Levels of Drywall Finishing
Next:
Build Like a Pro: Taping Drywall Seams