How-To
Mechanical Taping
If you're planning on doing a lot of drywall taping, automatic tools are worth considering—either to buy or rent.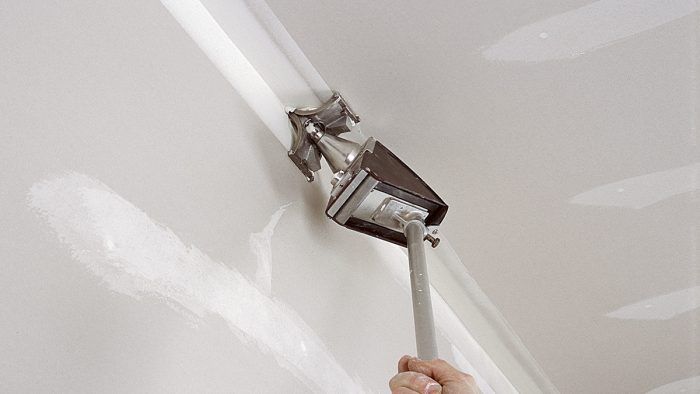 In my early years as a drywaller, I preferred hand taping to using mechanical taping tools. Times change and so have the tools and my opinions on using them. Now I'm really hooked on mechanical taping tools because they speed up the work and produce a quality application with a consistency that hand taping cannot match.
Mechanical tools are available for each step in the taping process. Here, I'll briefly describe how each mechanical taping tool is used. If you want more information, many manufacturers offer classes on how to use their products. In some cases, you can rent the tools to get the feel for them and to see if you like them.
Don't expect these tools to turn you into a master taper overnight. They are quite heavy, and it will take some time to get used to them. In most cases, the taper must push the tool along the seam and use manual pressure to force the compound through the tool.
Mechanical vs. Hand Taping
The pros and cons of each taping method are listed here.
Mechanical Taping
Produces consistent uniform results.
Once mastered (usually only a day or two), is faster than hand taping, especially on larger jobs.
Often requires a class to learn proper use.
Requires only some of the tools. For example, you can use only boxes for finishing seams.
Requires tools that are quite expensive to rent or purchase; need to use them on a regular basis to offset the cost.
Requires less sanding than hand-taped jobs.
Doesn't require an entire set of tools for each person. Two or three people can stay busy with only one set.
Hand Taping
Is always necessary for difficult sections and areas that need special attention, such as crowned seams.
Takes quite a while to master.
Doesn't require a large investment to obtain a complete set of tools.
The basic tool is the automatic taper, which applies the tape and the proper amount of joint compound simultaneously as the tool head is rolled along the seam or inside corner. After the tape and compound are applied, a corner roller is used to embed the tape in the inside corners. A 3-in. adjustable corner finisher is used to clean and feather the compound after the corner roller embeds the tape. The corner finisher can also apply and smooth the finish coat on the inside corners; to do this, joint compound must flow into the finisher and then onto the corner.
An angle applicator is essentially a box attached to the corner finisher and filled with joint compound. The joint compound is forced out of the box and through the corner finisher, which in turn smoothes and feathers the joint compound.
Flat boxes, also known as mud boxes, are used to apply and smooth joint compound over taped joints during the second and third coats. What I like most about them is the uniform results they produce. Flat boxes come in three widths—7 in., 10 in., and 12 in. I use a combination of 10-in. and 12-in. boxes. The box width determines the seam width, but you can adjust the blade trowel edge to achieve a precise crown on the compound.
Joint-compound loading pumps (or mud pumps) are designed for the many tools that need to be filled with joint compound. The pump comes with different attachments that fill the automatic taper and the mud boxes. The drywall pump that I use is lightweight, stable, and easy to clean, and it has a reversible handle for left- or right-handed pumping.
For those people who like the idea of automatic tools but don't want to spend so much money, or simply can't justify buying an automatic taper because it isn't always the best choice of tools, there are less expensive, more basic tools available. With these, a long tube is filled with thinned compound and then a special mud shoe (they come in various styles for different jobs) is attached to the end. As the compound is forced out of the tube through the mud shoe the proper amount of compound is applied to the seam or inside corner. The tape is then applied and embedded by hand.
Mechanical Taping Tools
The basis of mechanical taping tools is the mud pump, which has a variety of nozzles for fitting different taping tools: from an automatic taper, which applies both the tape and the proper amount of compound in a single pass, to flat boxes and angle boxes.
| | |
| --- | --- |
| Tape and mud in one pass: An automatic taper simultaneously applies tape and joint compound to a joint. | Embed the tape: After the tape and compound are applied to an inside corner with an automatic taper, a corner roller is used to embed the tape. |
| Smooth the walls: A flat box applies joint compound over taped seams: 7-in., 10-in., and 12-in. boxes are available. | Clean up the corners: A corner finisher is designed to follow a corner roller. It smoothes excess compound left during the embedding process. |
Hand-Powered Compound Tubes
More economical than mud pumps are simple automatic tools that use hand pressure to force compound out of a tube and through a mud shoe attachment. When using these tools, tape is usually still applied and embedded the old fashioned way—by hand. But there are tools available to apply and embed the tape.
Previous:
One-Day Taping
Next:
What Can Go Wrong with Your Drywall Taping