How-To
A Remodeler's Approach to Replicating Plaster Moldings
Foam backer and a few jigs are the keys to reproducing this traditional cornice detail.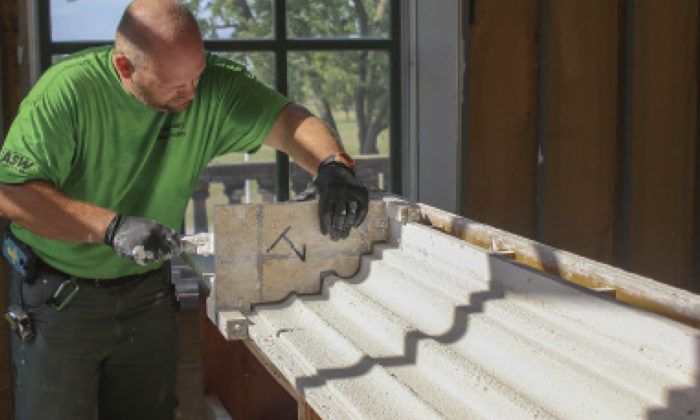 Synopsis: In this article, remodeler Joseph James walks through the process of replicating plaster moldings, a typical detail in older homes. He begins by making two knives out of metal flashing, cutting the profiles of the existing molding into the blades. He uses a jig to create the new moldings, adding plaster before running the knives over the table jig. He then shows the installation of a replicated cornice.
In the time leading up to the mid-1900s, plaster was a much more common building material than it is today. Walls and ceilings were often finished with plaster; many homes had plaster moldings. Cornices, at the junction of walls and ceilings, were typically plaster.
For over a year now, I've been involved in the restoration of a historic building in Yankton, S.D., that will soon become the Mead Cultural Education Center. Inside the building, there are miles of plaster cornice to replicate and repair.
Retired master plasterer Roger Huntley and my predecessor Gregg Homstad developed the first iteration of this technique for making plaster moldings. I refined the process as the work went on. There are a few significant differences between the way these moldings were originally made and how we chose to tackle the work. Traditionally, plaster moldings were made in place. We make ours on a bench. Originally they were made of plaster all the way through. Ours have a foam backer. They used to take many layers of plaster to complete. Ours are done in just two coats.
Having now completed the cornice restoration on this job, we can confidently say that our system works well and that anyone with basic carpentry skills could do this work. And because the building had a few different cornice profiles to replicate and repair, we know that this approach is easily adaptable, too.
Click here to watch a video demonstrating James' Modern Approach to a Plaster Cornice.
For more information and photos, click the View PDF button below.
View PDF
Previous:
Modern Approach to a Plaster Cornice
Next:
Making Plaster Molding