Closed-Cell Foam between Studs Is a Waste
What really matters is the R-value of the whole wall, not just that of the insulation.

Open-cell spray foam has an R-value of about R-3.7 per inch, while closed-cell spray foam has an R-value that may be as high as R-6.5 per inch. If you want to install spray foam in a stud wall, and price is no object, then it would seem to make sense to specify closed-cell spray foam, right? Well, not necessarily. Both walls are affected by thermal bridging — the loss of heat through the wood framing — but there's more to it than that.
What really matters is the R-value of the whole wall, not just that of the insulation. There isn't much difference in the whole-wall R-value between a wall insulated with open-cell spray foam and one insulated with closed-cell spray foam.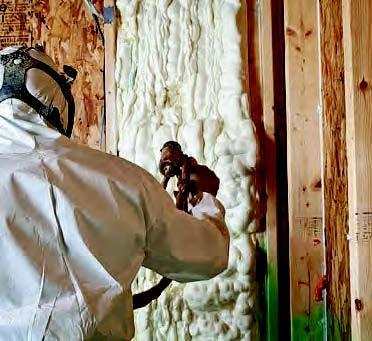 To understand why, we need to start by understanding the "trimmability" of cured foam. Closed-cell foam is so dense that it is difficult to trim. To avoid having to trim closed-cell foam in a 2×4 wall, the installer will usually stop at a maximum depth of about 3 in., instead of the full 3-1⁄2 in. depth of the stud cavity. This leaves the typically bumpy surface of cured foam and about a 1⁄2-in. gap to the back of the drywall. Open-cell spray foam isn't as dense, so it's easy to trim. Installers of open-cell spray foam will fill a 3-1⁄2-in.-deep cavity completely, allowing the foam to expand until it is proud of the studs. Once cured, the soft foam is easily trimmed flush with the studs.
Whole-wall R-values
To calculate the whole-wall R-value of a wall, we have to divide it into areas, each with distinct R-values. For example, a 2×4 wall without any windows can be divided into two areas: insulated stud bays and wood framing. A typical wood-framed wall has a "framing factor" of 25%. That means that about 25% of the wall area consists of studs, plates, and headers. The remaining 75% of the wall consists of either stud bays filled with insulation or openings for windows or doors.
To calculate whole-wall R-value, you first need to calculate the whole-wall U-factor. (U-factor is the reciprocal of R-value: U=1/R.) Let's call the U-factor of the insulation "UI," and the U-factor of the framing "UF." Here's how we calculate whole-wall U-factor for a wall without any windows or doors:
Whole-wall U-factor =
(UI x % area devoted to insulation) +
(UF x % area devoted to framing)
When stud bays are partially filled with closed-cell spray foam, the exposed portion of the studs reduces their R-value in comparison to a wall that is totally filled with open-cell spray foam. For example, if a 2×4 wall has 3 in. of closed-cell foam insulation, the R-value of the studs is based on a stud depth of 3 in., not 3-1⁄2 in. (because the exposed portions of the studs are basically "indoors" and not part of the insulated wall assembly). As a result, the heat loss due to thermal bridging through the framing is greater in a wall with closed-cell foam than it would be in a wall with open-cell foam.
Consequently, if you install a closed-cell foam insulation with a high R-value per inch between your studs, you don't really get the full value of your investment. Closed-cell spray foam is expensive, and the incremental cost is mostly money down the drain. There are more cost-effective energy upgrades, such as exterior rigid foam or mineral-wool insulation, as I point out below. It's also worth considering an even more important issue: Most brands of closed-cell spray foam are more injurious to the atmosphere than open-cell spray foams, since most closed-cell spray foam is manufactured with a blowing agent that has a high global-­warming potential.
The examples aren't perfect
I'm aware that the whole-wall R-value calculations in the table are simplified versions of actual whole-wall R-value calculations. I haven't included the R-value of the exterior OSB sheathing, the interior drywall, or the associated air films. Moreover, the table doesn't reflect the entire range of framing factors of different buildings.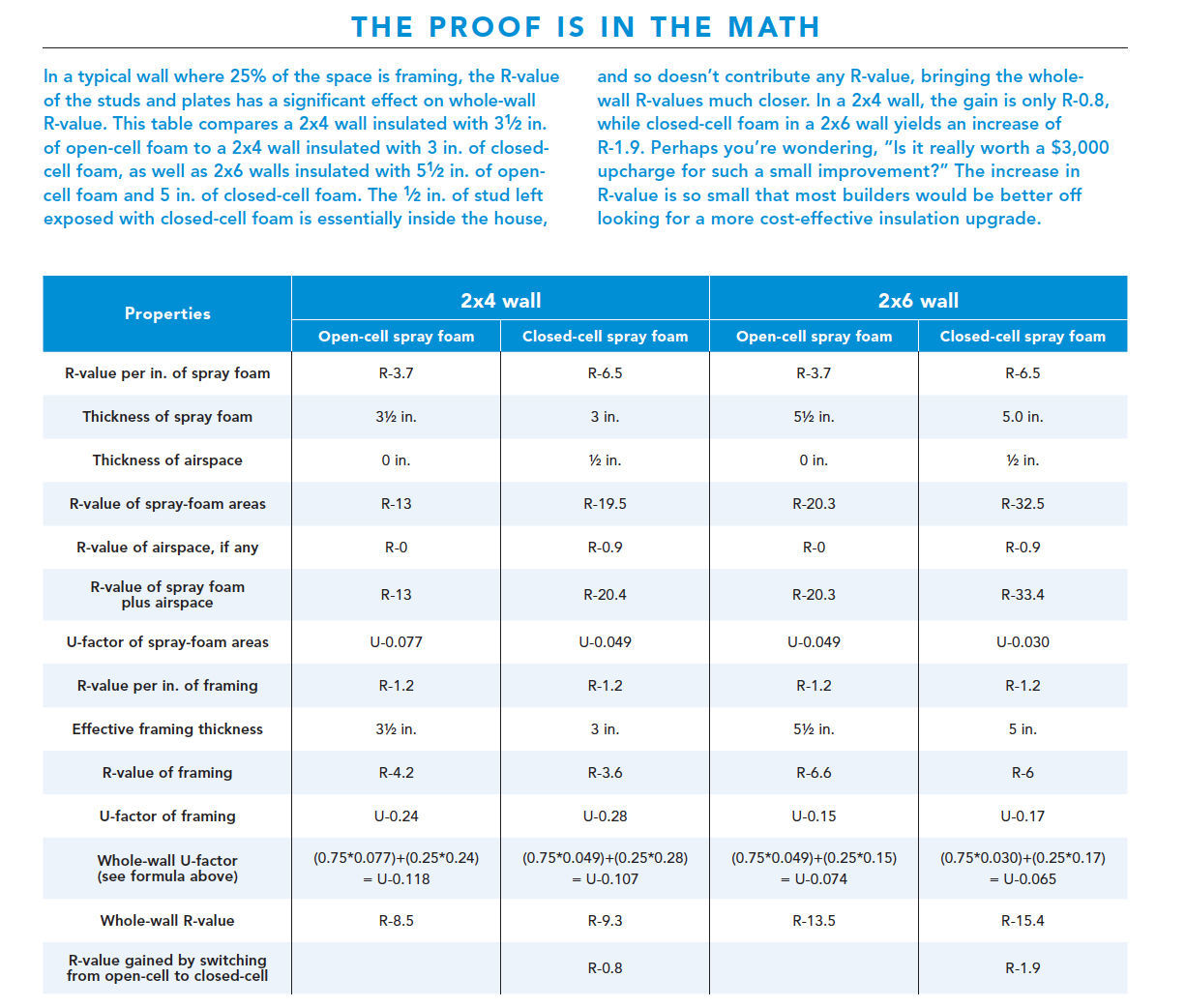 That said, the table is useful. It demonstrates the calculation method and does a good job of estimating the incremental R-value attributable to an upgrade from open-cell to closed-cell foam. While it's true that actual whole-wall R-values will usually be higher than the values shown in the table (due to the R-values of the sheathing, drywall, and air-barrier membranes), both types of wall (open-cell and closed-cell) benefit equally from these additional R-values.
While I've focused on walls, the same analysis applies to cathedral ceiling assemblies. If rafter bays are completely filled with fluffy insulation (except for a ventilation channel directly below the sheathing), thermal bridging through the rafters will be less significant than when 4 in. of each rafter protrudes inward beyond the depth of a skimpy application of spray foam.
So what's the solution?
At this point, we need to consider the use of exterior rigid foam. The calculations for adding thicker continuous insulation on the exterior side of the wall sheathing are much more favorable to incremental investments than the calculations for insulation installed between studs.
If you install a high R-value continuous rigid insulation on the exterior side of the sheathing—for example, rigid foam or mineral wool—all of the insulation's R-value contributes to the whole-wall R-value (except, of course, for areas taken up by windows and doors). (One word of caution: it's important to calculate the thickness of exterior insulation correctly so that moisture doesn't accumulate on the interior face of the sheathing in cold weather.)
Unlike between-studs insulation, exterior high R-value insulation helps to minimize the thermal bridging effect of the studs. Used properly, it also reduces the need for a vapor retarder by keeping the sheathing warmer than the dew point. Even though exterior rigid insulation requires extra detailing around windows and doors, it still offers excellent value for your money.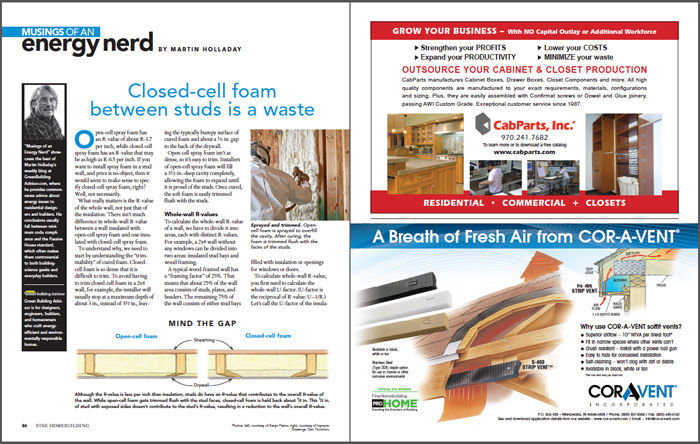 For more photos, drawings, and details, click the View PDF button below:
---
The Decarbonizing Homes Course begins 11/8/23:
---
View PDF
Previous:
Open-Cell vs. Closed-Cell Foam Insulation
Next:
Replace Cellulose with Spray Foam