Design
What's the Science Behind a Code-Built Wall?
Building scientist Christine Williamson and Brian Pontolilo discuss how wall assemblies work and break down the four control layers.
Sponsored by ZIP System Building Enclosures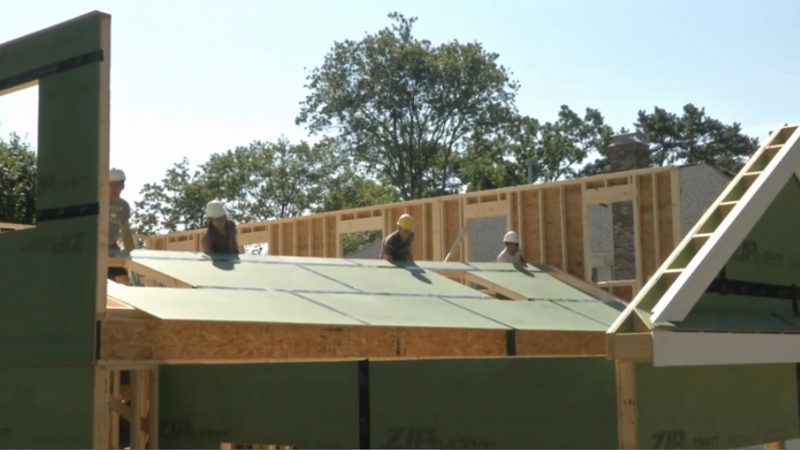 Common walls are built using four control layers: water, air, vapor, and thermal control. Christine Williamson, building scientist and founder of Building Science Fight Club, joins Brian Pontolilo to break down how each of these layers are designed to protect the home. Before getting into details, it's first important to understand what builders are trying to achieve with their building assemblies.
Christine describes buildings as environmental separators, meaning what builders are trying to do is to create a set of interior environmental conditions that may vary from environmental conditions outside. To do that, you need to separate the inside from the outside, ideally in a way that is durable and low maintenance.
BP: Can you tell us about a common wall and how the four control layers are used?
CW: The outermost material is the cladding. And a lot of times people don't consider cladding to be part of the control layers—and technically they're not when we're speaking in theory. But the cladding actually has a really important role in terms of the function that we want to achieve in that it protects everything else behind it—particularly from impact and UV, but it's also water shedding, which is super important in that it reduces the amount of water that our water-control layer, which is located behind it, actually sees. So in between the two, we usually like to include an air space for drainage and also for ventilation and drying. And those two things are super important. It is the single most effective, least expensive way of ensuring that your control layer, particularly your water-control layer, performs as designed and as intended.
BP: At Fine Homebuilding, we refer to that as a rainscreen gap or a ventilation space, and that can be created with furring strips or battens spacing your siding off your wall, or a three-dimensional drainage mat. So, the big reveal: What's the water-control layer?
CW: So we have some sort of material that we're going to want to include (and in fact the code mandates that we have some sort of provision for water control), and its job is to protect all of the moisture-sensitive materials behind it from excessive wetting. Now what's kind of crazy is that its job is not to prevent all of the materials from any wetting. We're really in the water-management business, not the water-blocking business. So that's important when we start to consider what kind of water-control layer we want to use and how we wanted to detail it. I think it's important to note that in North American construction, it is usually most helpful for us to use the same material that we use to control water to also be the air-control layer. So when we're talking about our water-control layer, typically it's not just our water control layer, it's our water-and-air-control layer.
There are basically three categories of product that we can use to accomplish this. The first are the standard mechanically attached membranes and the classic is 15-lb. felt or 30-lb. felt (now #15 felt or #30 felt), but those membranes are mechanically attached. So there are a lot of holes in them. And we put even more holes in those when we attach our cladding, which is fine from a water-management perspective, but if we puncture a lot of holes in something and it's not fully bonded to the sheathing that's behind it, what might work great as a water-control layer doesn't work as well as an air-control layer. Even if these products are technically marketed as air barriers, the second you put a bunch of holes and things, it reduces their effectiveness.
There are two other categories of water-and-air-control membrane that tend to perform much better from an air-control perspective while still serving that water-management function, and those are fluid membranes and self-adhered membranes. Those are applied directly onto the face of the sheathing and are fully bonded to the sheathing. They still have faster penetrations, and you still have to attach the cladding, but because they're fully bonded, it's not like one fastener connection has an air connection to another one 16 in. away—they're fully bonded to the substrate. And that's really significant when it comes to air control.
The third category of product are these integral products in which you have sheathing that is coated in the factory with a water-and-air-protective coating, but it's the same material. So you've got an integral sheathing plus water-and-air-control material and all that needed in the field is taping the seams. The most common example of this type of integral product is ZIP System, but there are commercial examples as well that are gypsum-based, not wood-based. But typically in houses, we see OSB-based integral materials.
BP: So if builders want to get great air control and they're using a mechanically fastened membrane for their water control, they can tape the sheathing seams and then apply the mechanically fastened water-control layer. Is there anything wrong with that other than the extra steps?
CW: No. And it really depends on what your preferences are. Sometimes we're not in a new-construction setting, we're in a retrofit setting; we might have a system that's working fine from a water-management perspective, but we want to improve air control and we don't have the luxury of doing that on the exterior. So you can try to achieve air control on the interior by taping your drywall, or you can use spray foam. I mentioned that it's usually most convenient when the water and air control are coming from the same material, but you're absolutely right, it doesn't have to be that way. You can get your air control from something else. So taping the sheathing joints would be one, spray foam would be another, interior drywall would be another. But the most common approach is to use the same material for both. And we get the most performance out of the second two categories of material, so not the mechanically attached membranes, but either the fluid-applied, the self-adhered, or the integral-type products.
BP: So we still have two layers to get to in this wall. Let's talk about thermal control.
CW: So the next step in our typical standard 2×6-cavity insulated wall is the insulation. The insulation is provided in between the studs and we can use all kinds of materials to insulate. Fiberglass batts are very common choice. With fiberglass batts, we have found that the gap between typical installation and perfect installation can be very big.
There are other types of products that tend to fill that gap a little bit better and insulate as a result a little bit better. Blown cellulose, for example, tends to fill the cavity a little bit better, but you can also use spray foams. You can use mineral wool. There are lots and lots of options with respect to the thermal-control layer. But most of the time, the place we put it in a standard wall is in that cavity. Obviously, we've got some discontinuity in it. It's interrupted by the studs. An alternate that improves performance would be to include exterior insulation in addition to this cavity insulation. And typically that insulation goes outboard of our air-control layer and our water-control layer. So we've got cladding, air space, exterior insulation, water-and-air control, sheathing, and then cavity insulation.
BP: The last layer in this wall would be on the interior and it would be a vapor-control layer.
CW: Correct. So a lot of times our interior painted drywall serves double-duty. It's our interior finished material, but it's also our vapor-control layer, meaning it reduces the likelihood that warm, interior moisture-latent air will travel through our assembly and hit our cold sheathing—assuming we're in a cold climate—and cause condensation to occur. Having painted interior drywall reduces that likelihood just to keep us out of trouble, and the exterior drying through the sheathing and through our water-and-air-control membrane gets us the rest of the way there. So we limit wetting and we provide enough drying to where we don't have any problems. In some places, even that's not enough, right? If it's very, very cold, we can't provide enough drying, so we either need to use exterior insulation or we need to do something more robust on the interior to limit interior moisture and reduce how much interior moisture can reach that surface.
BP: And the most common example of that is polyethylene, but that's also a very rigid vapor retarder that maybe is best used only in the most extremely cold climates. So what are some other options for interior vapor control that fall somewhere between your painted drywall and polyethylene?
CW: In any building that's air conditioned, you want to avoid polyethylene. If you're not air conditioning in the summer, this may be a moot point and you can use polyethylene. But if you're air conditioning your building, you end up creating the reverse problem, right? The polyethylene is completely impermeable and it's cold in summer. So you get warm exterior air that goes through your wall and condensation will occur on your polyethylene. And because it's completely impermeable, zero drying occurs. So you are much best served finding an alternative to that approach if your building is air conditioned. Now, fortunately we have lots of alternatives. If your code will accept painted drywall, use painted drywall. Don't do anything else. If your code does not accept painted drywall, kraft-faced batts work just fine. They're inexpensive and work great.
Alternately, you could use a smart membrane in that location. These are developed specifically for this purpose and they still permit interior drying in the summer while limiting wetting in the winter. So they solve our wintertime problem without creating a new summertime problem.
BP: So it sounds like the average code-built wall is pretty good.
CW: Yes, a standard 2×6 cavity-insulated wall is a thing of beauty in a lot of ways. Just stay away from interior polyethylene in any building that you are air conditioning, and make provisions to provide drainage and ventilation between your cladding and your water-and air-control membrane.
---
Learn more about control layers:
Webinar: Walls That Work, an Introduction to the Four Control Layers– Watch Brian Pontolilo present a webinar about the building envelope details that make homes durable, comfortable, and energy efficient.
Why Do We Need Control Layers? – Understand the different roles of air barriers, vapor barriers, water-resistive barriers, and insulation.
Successful Vapor Control – Vapor drive isn't as obvious as air or water leaks, but leaves real potential for rot or mold. Determine the best vapor-control layer for your assembly and climate zone.
Previous:
What Is a Home Energy Audit?
Next:
Conditioning an Attached Garage