How to Remove and Replace a Section of Vinyl Siding
With a few simple tools and the right technique, you can replace a vinyl siding panel in minutes.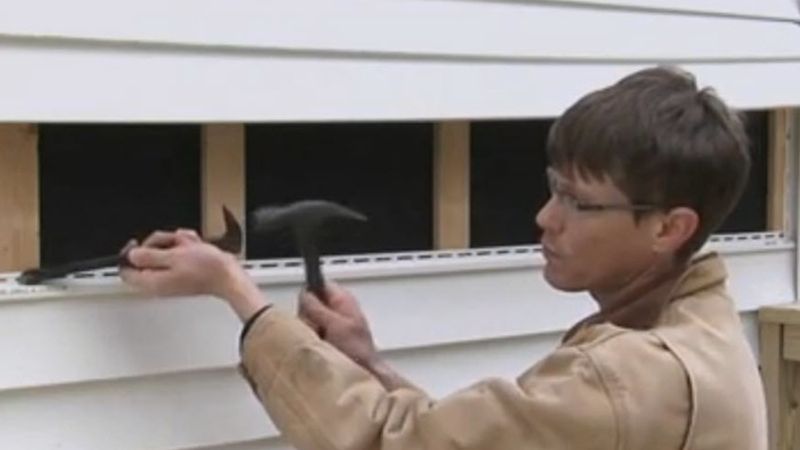 All it takes is a few minutes and a few simple tools to get access for repairs or modifications to a wall covered with this popular cladding. Watch this Building Skills video to see the entire process.
Here are the basic steps:
Look for a horizontal seam between two courses of vinyl siding.
Insert the siding-removal tool where the panels overlap and pull down and out.
Pull the piece of vinyl siding downward to disengage it from the course below it.
If either end of the siding is captured by a door or window channel, gently bend the siding to clear the channel as you remove it.
Repeat steps 3-5 for any additional courses of siding that you need to remove.
When it's time to put the siding back on the wall, just reverse the process: slide and snap the pieces of siding onto the courses below and replace the nails you removed. You may want to drive the nails in new locations to ensure that they have good purchase. It can be a little tricky to snap the last piece into the groove of the piece above that wasn't removed, but a little care, patience, and perseverance will get the job done.
For more information, read the companion Building Skills article: Removing Vinyl Siding
More on Siding
How to Install a Ventilated Rain Screen – Letting some air behind siding keeps the moisture out.
Making Common Siding Repairs – Whether you're replacing wood, fiber cement, or vinyl, choose the right tools and minimize the collateral damage.
Siding to Last a Lifetime – Rainscreen details that improve the durability of any lap-siding installation.
Doing Siding Right — Whatever your feelings about vinyl siding, changes are you'll be working with it sooner or later. Here's a guide on installing it correctly.
Seamless Vinyl Siding – Those vertical seams between panels are a dead giveaway that a house is sided with vinyl. Long panels can eliminate the problem.
Previous:
Repairing Damaged Siding: Vinyl Siding Repair
Next:
How to Patch Cracked and Crumbling Stucco