What's the Difference: Demolition Tools
Pry bars and nail pullers
Pulling nails isn't nearly as fun as driving them, and separating two pieces of wood nailed together can be a chore, but whether you're a building professional or a DIYer, you've undoubtedly had to do both plenty of times. For situations where nail heads are above the wood's surface, using your hammer's claw to pull the nails may work just fine. Likewise, the hammer claw may be all you need to pry apart two boards. Sometimes, though, you need to dig below the wood's surface to grab onto a nail or slide a tool delicately between a piece of molding and the wall. In these situations, you need a specialty tool. Although pulling nails and prying apart boards are different tasks, the tool used for both is often the same: some variation of a bar with one end designed for pulling nails and the other end designed for prying (and perhaps also for pulling nails). The vocabulary for this category of tools isn't precise, and manufacturers mix and match certain features on their nail-pulling and prying tools, but there are enough common characteristics that it's possible to put these tools into the groups described here. If you do demolition work of all sorts, you likely can put tools in all five groups to good use. If you only occasionally need to pry and pull, you may get all the power and finesse you need from just a couple of these tools.
Wrecking Bar
With a name like "wrecking bar," this tool is clearly not for delicate work. It's got a nail puller on one end and a prying wedge on the other. Big enough to handle extracting nails larger than 16d, it can also pry apart nailed pieces of framing lumber. Most wrecking bars are made from hexagonal stock for a more secure grip. Many refer to wrecking bars as crowbars, but crowbars are larger and may or may not include a nail puller.
Best uses: Heavy prying, removing large nails
Shown: True Temper, 30 in., $13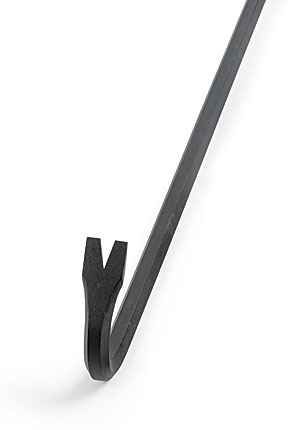 Ripping Chisel
Don't confuse this with the upholstery tool of the same name. A job-site ripping chisel resembles a wrecking bar, but with some key differences. A ripping chisel widens and flattens out at the chisel end, making it able to slide easily under a loose board or piece of siding. This flat area also provides a place for the same type of teardrop-shape nail puller found on flat bars. Finally, the offset design provides more leverage when twist-prying.
Best uses: Sliding under and removing loose boards, twist-prying
Shown: Stanley, 17 in., $8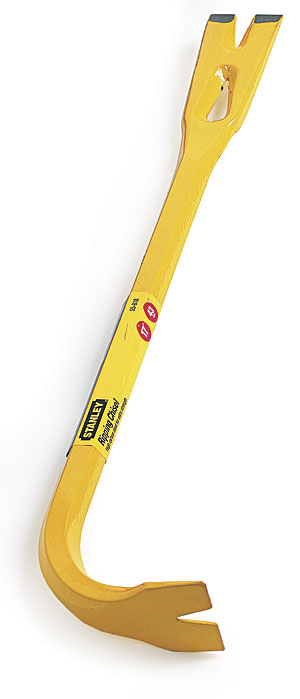 Claw Bar
Claw bar Also called a cat's paw, a claw bar is a great tool for digging out embedded nails. Using a claw bar damages the wood around the nail, so you only want to use this tool in places where surface damage doesn't matter or can be repaired. One end has a curved claw with beveled edges designed to slide just under the head of an embedded nail when struck with a hammer. On a Japanese-style tool (shown), this claw is at a right angle to the handle, and the surface to be struck by the hammer is flat. The claw's sharp, beveled edges groove the nail's shank, providing extra purchase as well as a way of extracting finish nails and nails whose heads have popped off. The other end can have a simple beveled wedge for prying or another claw at a lower angle that allows for more-delicate nail removal; either way, it can be used for prying. This second claw is usually offset by 90° relative to the other claw to provide a wider surface for pushing. Claw-bar sizes vary, but most of them are able to handle digging out nails up to 16d. Some claw bars have a nail puller on one end and a rubber grip on the other. These are meant only for removing nails and not for prying.
Best uses: Removing embedded nails, light prying
Shown: Estwing, 12 in., $18
Flat Bar
A flat bar is perhaps the most useful demolition tool. It can't dig out embedded nails like a claw bar, but it's meant for prying and for pulling all types of nails. In addition to being able to remove nails whose heads are at least slightly above the wood's surface, it's a great tool for removing plywood and clapboard siding. The design of the flat bar provides space for a nail puller of a different sort: a teardrop-shape opening near one end of the bar that grabs a nail and allows it to be removed by pulling up rather than pushing down.
Best uses: Removing small to medium nails, light to medium prying, removing plywood and siding
Shown: Stanley Wonder Bar, 12 in., $10
Molding Bar
When a flat bar is still too fat to get behind a piece of trim without damaging it, you need a molding bar. The molding bar's prying end is especially thin and wide. The thin edge allows the tool to get behind a piece of trim without damaging it, and the wide surface spreads out the prying force, making it less likely that the piece will snap. There is often a slot at the end, which can be used to pull nails from the surface of the molding. The claw at the other end is usually similar to the distinctive claw on a Japanese-style cat's paw. Its flat edge provides a suitable striking surface.
Best uses: Separating trim from walls and siding, removing embedded nails
Shown: DeWalt, 10 in., $18
Photos: Rodney Diaz