Tools & Materials
Choosing Fiber-Cement Sawblades
Tool tester Andy Beasley rates blades for cutting fiber-cement siding based on durability and cost-effectiveness.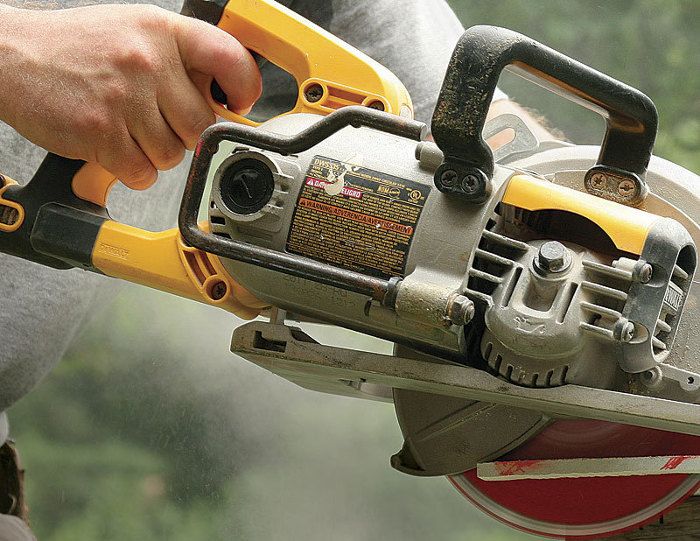 Synopsis: Cutting fiber-cement siding with a circular saw requires special sawblades, which can be expensive. Veteran tool tester Andy Beasley cut thousands of feet of HardiePlank siding using 21 different blades to find out which one delivers the best value. Photo: Patricia Steed
It's hardly surprising that fiber-cement siding is popular. The material is fire resistant, distasteful to bugs, and extremely durable. But let's face it: Fiber cement is a drag to cut with a circular saw. There's that whining racket that comes from milling a cement-based product, and the resulting cloud of silica dust is a health hazard. You can ease the process and save some money by using the right blade. There are swarms of 7 1⁄4-in. fiber-cement blades on the market and just as many promises of superior performance. How do you decide which blade to buy? Clearly, you need someone gullible enough to test a boatload of blades on miles of siding to find out. That's where I come in. I dulled 21 commonly available fiber-cement blades and ripped through nearly 12,000 lin. ft. of Hardie Plank HZ5 siding to size up the competition.
When you shop for fiber-cement blades, don't be confused by the wide variety of tooth counts, gullet styles, tip types, and price points. Most blades share some common characteristics: deep gullets for clearing away sawn material, a small number of teeth (a mere four is common), and cutting tips hardened with polycrystalline diamond material. A handful of blades still feature the traditional carbide tips that are the norm in woodcutting, but they fared poorly when faced with a fiber-cement product that's more earth than tree. Prices are scattered all over the map, and neither the most expensive nor the least expensive blades could match the value of the mid-priced options.
Torturing the blades
We designed this review to answer the questions we all have about any sawblade. How well does it cut? How much does it cost? Will it last long enough to justify its price tag? The simple question of cost was probably the hardest to deal with. The time I spent researching websites and visiting stores only reinforced the maxim that you have to shop around to get the best deal. The prices I've listed represent the lower reaches of each blade's price range.
I evaluated each blade's best possible cut by making an out-ofthe-package crosscut of a single fiber-cement plank. I carefully examined the freshly sawn edges for smoothness, saw marks, and chipping before rating each cut. Given that the planks are designed to cover a house and not to craft fine furniture, all 21 blades performed adequately or better.
For more photos and details, click the View PDF button below:
View PDF
Previous:
Cutting Fiber-Cement Siding with a Circular Saw
Next:
Cutting Fiber Cement with Shears