Tools & Materials
Entry Door Essentials
Choosing an entry door is a trade-off of style, durability, maintenance, price, and energy efficiency.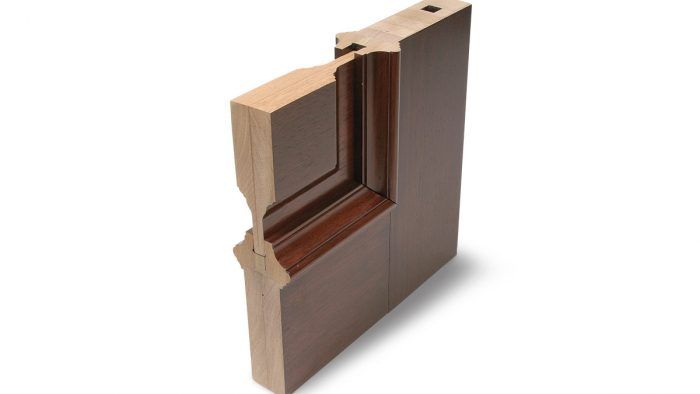 Start by selecting an entry door whose architectural style fits your house. Then refine your choices by considering climate, the orientation of the door toward prevailing winds or strongest sun (south and west), and to what extent the entry is protected by, say, a porch roof or eave. As a rule of thumb, wood door makers recommend that an overhang stick out from the house an amount equal to at least half the distance from the doorsill to the underside of the eave. If the depth of the overhang is less than that, a fiberglass or steel door may be a more durable choice for that location.
Materials
Aesthetics aside, picking an entry door is a trade-off of durability, maintenance, price, and energy efficiency. Long term, a cheap, leaky door will cost you plenty.
Wood. Quality wood doors feature panel-and-frame construction, with mortise-and-tenon joints at the corners for greater durability. Traditionally, panels have floated free within the frame to allow for expansion and contraction; today's energy-efficient models also add elastic sealants around the perimeter of the panel to cut air leaks and moisture penetration. To minimize warping, many panels have engineered-wood cores with 1⁄16-in.-thick veneers, whereas their frames have solid stave cores of the same hardwood species—mahogany is a favorite because it wears well. Wood doors can be clear-finished, stained, or painted. Our advice: Get a factory finish with an exterior-grade, oil-based varnish or polyurethane with UV-protection.
Energy profile: On average, wood doors have an R-2 value, although more efficient ones achieve R-5. Interestingly, doors with low-e glass have higher R-values than wood doors without glazing.
Fiberglass. Spurred by energy efficiency and surface details that are almost indistinguishable from wood, fiberglass doors have been gaining market share for the last decade. Typically, fiberglass skins are applied to a wood-composite, laminated veneer lumber (LVL) or steel frame to lend rigidity; the core of the door is then filled with insulating foam. Fiberglass doors are dimensionally stable and surprisingly sturdy. Better-quality models look very much like wood because they were created from molds taken from actual wood doors—including period moldings and wood grain. Once painted, they'd stump an expert, and several manufacturers offer unfinished fiberglass doors that can be stained.
Energy efficiency: Among the best doors, expect R-8 or higher. As fiberglass expands and contracts at the same rate as glass, glazing seals are especially stable in such doors.
Steel. Steel entry doors are economical, durable, energy-efficient, and easy to maintain. The knock is that they don't look like wood, and so they look out of place on older homes. But that's not a negative on a newer house with sleek lines. Most residential steel doors are made from 24-gauge steel skins over an engineered-wood or steel frame; internal cavities are filled with an expanding foam, typically polyurethane. Where houses are located in a fire zone, codes will specify the core insulation, the thickness of the steel skin, and so on. Steel doors need repainting every three to five years. If the steel skin begins to rust, it can go fast.
Energy profile: Not quite as good as fiberglass but close. Some models hit R-8.
Weatherstripping and Thresholds
For best results, buy an entry door system with integral weatherstripping, in which a kerf (slot) is milled into the door frame. Integral systems have close tolerances, tight fits, and nylon-jacketed foam stripping that can be compressed repeatedly without deforming or losing its resilience.
There are many sill-threshold combinations to choose from. First, examine the existing sill because, especially in older houses, there's a lot of variation in how sills were detailed. If your present sill is nonstandard, take photos of it and share them with the lumberyard person who's selling you a replacement door. Ideally, you can find a sill/threshold combination that will not only be weathertight but also relatively easy to install. On outswing doors, a bumper threshold has a built-up curb; the door closes against a weatherstripped section to seal against air infiltration and moisture.
Sweep gaskets seal the bottom of the door, typically with a neoprene gasket in a metal channel that screws to the bottom door rail. The sweep also may be mated to a gasketed channel in a threshold. Better-quality sweeps are adjustable and have replaceable gaskets, as they become abraded in time. In general, avoid bristle-type sweeps because they don't block air or water as successfully and aren't durable.
Entry Door Hardware
There's a plethora of door hardware, but apart from finishes, styles, and other aesthetic considerations, hardware choices can be boiled down to a few essential differences between hinges and lock assemblies.
Hinges. Any prehung door you buy from a reputable supplier should have hinges matched to the weight and width of the door. Modestly priced exterior doors usually come with standard 4-in. by 4-in. butt hinges. However, if your entry door is oversize or wood (which tends to be heavier than fiberglass or steel doors), consider paying a bit more for 4 1⁄2-in. or 5-in. ball-bearing hinges. You can also get adjustable hinges, which are mortised into the edge of the door and can accommodate vertical and horizontal adjustments—rather like the "German hinges" used in good-quality cabinets. Adjustable hinges seem like a good idea for houses subject to seasonal shifting, such as those built on adobe soil.
Lock assemblies. Exterior locksets are most often cylinder locks, which require a 2 1⁄8-in. hole drilled through the face of the door, or a mortise lock, which is housed in a rectangular mortise cut into the latch edge of the door. For a modest bump in price, you can add a dead bolt and a reinforced strike plate, which can't be dislodged by a kick—the preferred method of entry by breaking-and-entering men. If you are ordering good-quality, factory-built doors, multi-point locking systems (which secure two sides of the entry door to the door frame) are often a standard option. If you purchase a lockset -separately, give its specifications to the factory so it can machine the door specifically for that lockset.
Ordering exterior doors
When ordering an exterior door, measure the rough opening carefully—noting also if the opening is racked or corners are out of square. Discuss those measurements with the exterior-door factory salesperson, because all door sills and -thresholds will add to the height of the door assembly. You want to make sure that the door will fit in the opening you have, whether rough opening or existing doorway. Ask the salesperson for details of construction for the door unit, including jambs, sill, door shoe, and so on. Older houses often have low head heights, so the factory or door shop may need to cut down its door stock to fit. So, again, you must be concise about the size of the opening you have.
---
Excerpted from Renovation, 5th Edition (The Taunton Press, 2019) by Michael Litchfield and Chip Harley
Available in the Taunton Store and at Amazon.com.
Previous:
The Ins and Outs of Exterior Doors
Next:
Designing Doors for Large Openings