Tools & Materials
Understanding Window Efficiency
Read the NFRC label to understand the energy-efficiency ratings of windows, doors, and skylights.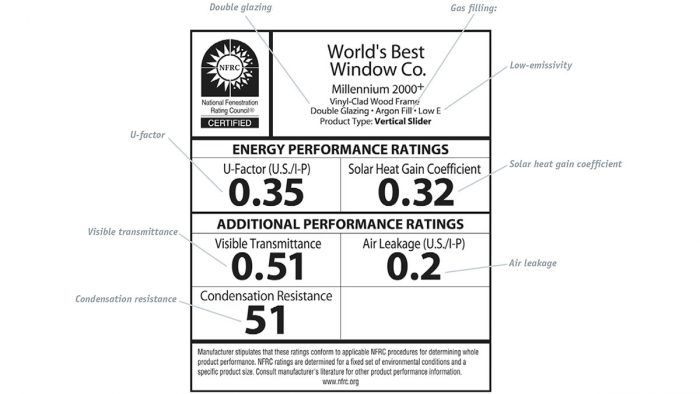 R-value, the ability of a material to resist heat flow through it, became a household word in the 1970s, when soaring energy costs led to a boom in home insulation. The higher the R-value, the better, we learned. Given the push to make houses ever more energy-efficient, the next frontier was windows because single-pane glass is a terrible insulator. Shortly, there was a blizzard of energy-saving technologies applied to windows, doors, and skylights—and a flurry of new terms to describe them.
Chief among this thicket of terms is the U-factor, an aggregate measure of how well nonsolar heat flows through a window's glazing and frame. Simply put, U-factor is the inverse of R-value (1 divided by the R-value), so the lower the U-factor, the better. The U-factor is a rough measure of conductive heat loss and gain. But the more elaborate window science became, the more crowded labels grew—as you can see in the drawing below. This information is all good, but to figure out which window features make economic sense for your region, have a look at www.efficientwindows.org.
Well, that will get you started. And, of course, there's a wealth of professionals, from architects to energy consultants, who can help you balance the competing claims of cost, performance, and a plethora of features that there's no room for here—including impact-resistant glazing that's required in storm-prone areas, acoustic windows whose ability to reduce noise is rated with a sound transmission coefficient (STC), and even "self-cleaning" coatings that claim to slow the buildup of dirt on glass.
Energy-Efficient Ratings
Reading the NFRC label on a window is an education in itself. NFRC, for starters, is the National Fenestration Rating Council, a nonprofit organization that independently rates the energy efficiency of windows, doors, and skylights. Here's what the label is telling you.
Double glazing: Today's standard insulated glass unit, consisting of two glass panes separated by spacers, with a sealed, airtight space between them. Triple glazing is often specified for cold climates. Glazing, by the way, is the fancy name for glass panes, the space between them, their airtight seals, and the putty or caulk that seats them in the frame.
Gas filling: Clear, inert, nontoxic gas that insulates between panes. Argon and krypton, for example, are less conductive than air and hence better insulators.
Low-emissivity (low-e) coatings: Thin, nearly invisible window coatings that selectively reflect heat back into a room (to conserve energy) or block sunlight to reduce solar gain. Low-e coatings also filter damaging UV rays.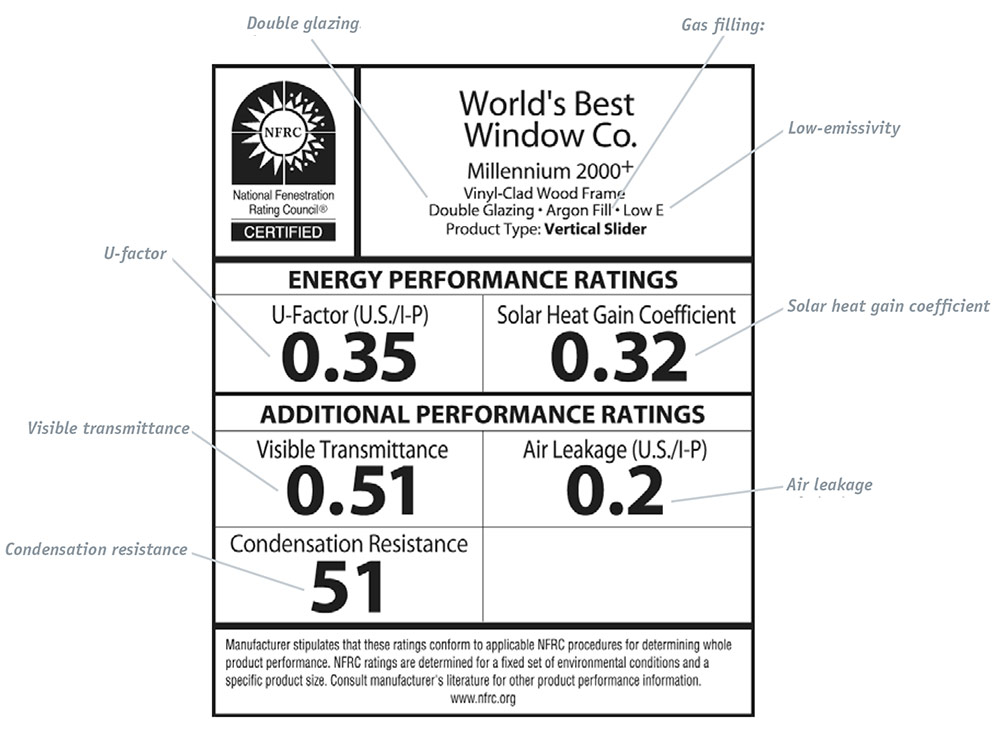 U-factor: The sum of a window's insulating values, drawn from all its parts (glazing, frame, sashes). Measuring nonsolar heat flow, the smaller a U-factor number, the better.
Solar heat gain coefficient (SHGC): The percentage of solar heat that passes through the glazing. Higher SHGC numbers indicate greater passive solar gain—desirable in cold regions. Conversely, lower SHGC numbers mean lower air-conditioning bills in hot climates.
Visible transmittance (VT): The amount of visible light that enters. Values range from 0 to 1; higher is better. Wide sashes and frames block light, lowering VT numbers.
Air leakage (AL): The movement of air through a window system, measured in cu. ft./sq. ft. Lower is better; <0.03 is optimal.
Condensation resistance (CR): Higher ratings (from 0 to 100) predict less condensation.
---
More About Energy-Efficient Windows
| | |
| --- | --- |
| Insulating Glass Keeps Getting Better – Windows are still a weak link in a home's thermal envelope, but innovative insulating glass units promise better performance in the future. | |
| Low-E Glass – Low-emissivity glass is the go-to choice for energy-efficient windows. | |
---
Excerpted from Renovation, 5th Edition (The Taunton Press, 2019) by Michael Litchfield and Chip Harley
Available in the Taunton Store and at Amazon.com.
Previous:
A Beginner's Guide to High-Performance Windows
Next:
Should I Replace My Old Windows?