How-To
Replacing an Entry Door: How to Remove the Old Door, Trim, and Siding
In the first episode of this video series, watch builder Manny Silva take out the old door.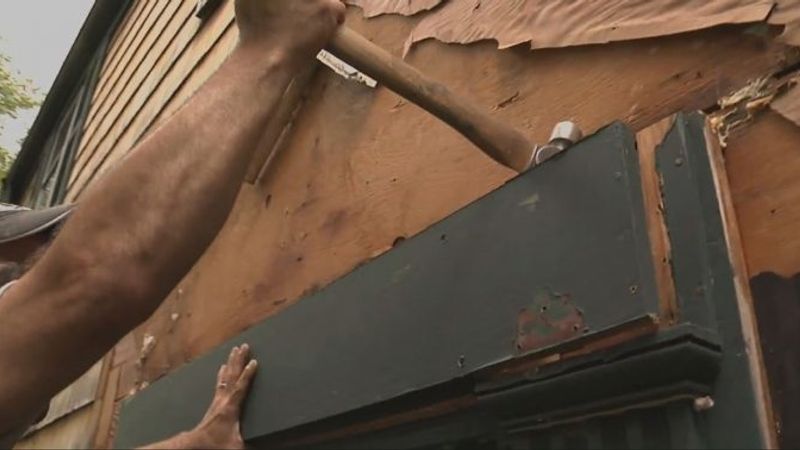 Manny Silva has replaced dozens of rotten entry doors in his time as a carpenter. Unfortunately, most of those rotten doors never had a chance in the first place. The single largest cause of failing doors is improper installation and flashing. This door looks weathered, is not operating properly, and is very drafty. But you never know what you are really dealing with until you get the old door out and get a good look at the rough opening. In this gem from the Fine Homebuilding Video Vault, Manny shares his process for carefully removing the existing siding, trim, and the door as the first step of an entry door replacement.
Manny says:
I take the door off the hinges and then begin to pry off the interior and exterior casing with a small flat bar.
I am going to be making new exterior casing for the door, but I hope to re-use the traditional pediment above the door, so I am particularly careful not to damage it as I take it down.
To do a proper job flashing the sill, I have to remove the riser below the door as well.
With a reciprocating saw and a demolition blade I cut the fasteners holding the door jamb to the framing and then cut the jamb into pieces. Using the lower pieces of the jamb as a lever, I peel the threshold from the sill.
Before removing the siding, I number each shingle that I plan to reuse. I remove the siding from the top down, the opposite of how it is installed.
With the rough opening exposed, I can get a good look at the condition of the framing and inspect for rot. If I find any damage, I'll have to repair the framing before I move on to the first steps of flashing which happen before the door is installed.
Previous:
How to Install a New Door Jamb in an Old Doorway
Next:
Replacing an Entry Door: How to Flash the Rough Opening