How-To
Aluminum Windows
Understand the difference between painted and anodized finishes.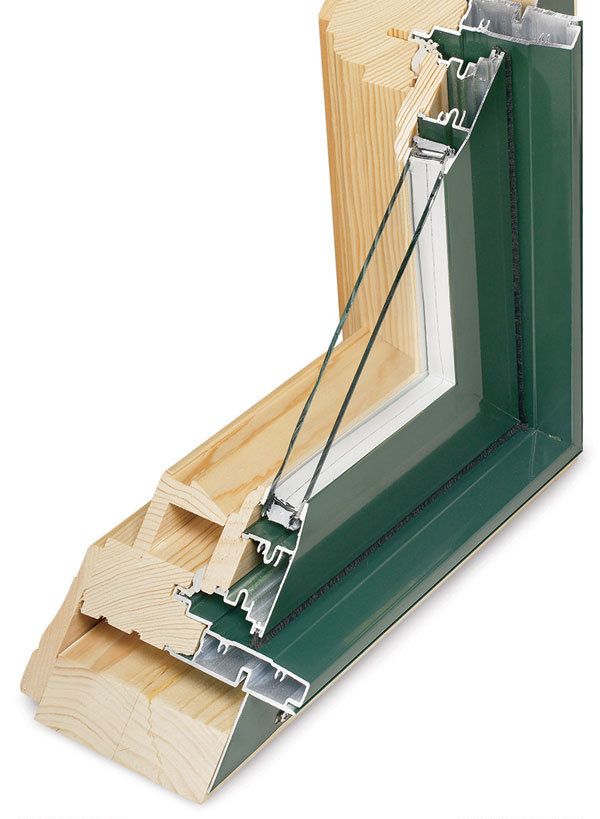 Most aluminum products used in the construction of a home need to be finished to look good and to resist corrosion. Manufacturers typically finish products like aluminum-clad windows, railings, fences, and gutters with one of two finishing treatments: painting or anodizing.
These finishes aren't exclusively reserved for the building industry. You'll find these finishes applied to a host of items, from sports equipment to car parts.
Paint can be sprayed in liquid or powder form
Aluminum is often painted with either automatic or handheld spray guns. Spray-painted products are baked in a convection oven after being coated so the finish can cure.
Powder-coating is simply paint applied in a dry form. Dry pigment and resin particles are electrostatically charged, then sprayed onto aluminum that is electrically grounded. In a curing oven, the particles melt and fuse together to create a cohesive protective coating.
Both liquid-painted and powder-coated products have the same performance qualities, but powder-coating is more environmentally friendly.
Anodizing creates a harder surface than paint
This type of finish is based on the same natural oxidation process that causes iron to rust. The oxidized film that develops on aluminum is porous in structure but protects the underlying metal to a small degree. Anodizing artificially expedites oxidation in a controlled setting. The result is an oxidized film that is thick, uniform, and nearly as hard as a diamond. The anodic coating is then sealed to prevent further oxidation.
Pros: Painting aluminum offers a limitless choice of colors, and scratches are easy to touch up. Powder-coating is more environmentally friendly because it doesn't use solvents and because oversprayed particles can be reused.
Anodized products are extremely hard and scratch-resistant. Also, instead of having to be recoated to renew its surface, an anodized finish needs only to be cleaned and lightly buffed. Anodizing aluminum also helps to maintain a metallic look, which is often lost on painted surfaces.
Cons: A painted surface isn't as durable as an anodized surface, and although the paint won't peel or bubble if applied properly, it will scratch. Paint is susceptible to chalking and fading over time.
If damage occurs to an anodized surface, repair is extremely difficult, and replacement of the product is often the only option. Although anodized products are resistant to weather, they're more susceptible to corrosion from acid rain and coastal environments than properly painted materials.
Costs: Manufacturers typically price finishes based on the percentage of the material's surface that's coated. If the size of the surface area is the same, painting and powder-coating are the more-expensive finishes. Painted products are rarely coated completely. Instead, the finish is applied only to a material's visible faces. Anodizing requires 100% of the product's surface to be treated, which could lead to higher costs.
Previous:
Window Styles
Next:
Popular Period Windows Styles