Design
Window Styles
Consider the pros and cons of the various styles when selecting new or replacement windows.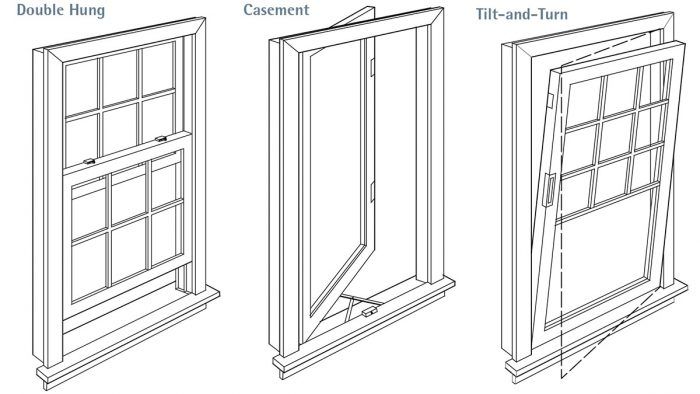 In general, choose new or replacement windows that match the style already on the house, especially on the facade that faces the street. Likewise, choose frame and sash materials that have the same approximate thickness. Keep in mind when you make your selection that not all frame materials can be painted.
Double-hung windows are the traditional choice, with two sashes that slide up and down; if the top sash is fixed, it's a single-hung window.
Pros: Double-hung windows offer the widest choice of sash patterns, from single pane to tiny four-over-four arrays separated by delicate muntins. Snap-in muntins enable affordable double-glazing and easy cleaning, but they won't fool an experienced eye.
Cons: Sliding sashes are tough to weatherproof well, and old sashes rattle and leak air; if sash ropes break, windows cease to function reliably. Meeting rails between the sashes have two faces exposed to outside air, which hastens heat loss, convection, and condensation. And only half the window area offers ventilation.
Casement windows are side hinged and swing outward, usually operated by a crank. There are also push-out casement windows, which use friction to hold their position.
Pros: A single large pane of glass maximizes solar gain, a tight compression seal minimizes air leaks, and the whole area ventilates when open. It's an excellent choice for egress.
Cons: A casement opening onto a deck or walkway is hazardous to those walking by.
Tilt-and-turn windows are hybrids that swing like a casement or bottom-tilt like a hopper.
Pros: This type of window is easy to clean, is a good choice for an egress, has a tight compression seal, and has a good energy profile.
Cons: Two moving parts mean two things that can break or jam. Roller shades and curtains can interfere with the window's operation.
Fixed windows don't open.
Pros: A fixed window can't be beat for being airtight, and it's less expensive than an operable window of the same design. With acoustic glazing, it's the best choice to reduce outside noise.
Cons: It offers no ventilation and no egress. You can't wash the outside from the inside.
Horizontal slider windows are like miniature patio doors; sashes slide in tracks.
Pros: This is a great choice for egress, and because there are no muntins, it has good solar gain.
Cons: Sliding sashes are tough to weatherstrip, crud collecting in tracks can impede operation, and only half of a window's area offers ventilation.
Hopper windows, which tilt from the bottom, are like upside-down awning windows.
Pros: It has the same energy profile and compression seal as casement and awning windows.
Cons: It's hazardous if it swings down at head height, and it's a poor choice for egress.
Awning windows are hinged at the top, and the bottom swings outward.
Pros: A single large pane of glass maximizes solar gain, and you can leave the window open for ventilation even when it's raining—the window acts as an awning.
Cons: A sash that swings onto a deck or walkway is hazardous, and the screen is on the inside.
Factory-built vs. Custom Windows
If you need doors and windows that exactly match the architectural details of existing house elements, a custom shop will probably have greater flexibility to match that style. That said, factory-built windows are generally tighter, better insulated, come with better locks, and are rigorously tested to meet state and federal energy-conservation standards. Custom windows and doors may be good quality, but they probably won't have NFRC labels and may cost more than an equivalent factory window. Finally, custom-built windows rarely come with cladding, so you'll be buying windows that you'll have to paint.
---
Excerpted from Renovation, 5th Edition (The Taunton Press, 2019) by Michael Litchfield and Chip Harley
Available in the Taunton Store and at Amazon.com.
Previous:
Will Vinyl Windows Last?
Next:
Aluminum Windows