Sponsored Post
Tools & Materials
New Range of Jig Saw Blades Introduced by Lenox®
Unique blade designs and manufacturing processes create blades that last longer, cut faster, and are easier to use.
Sponsored by Lenox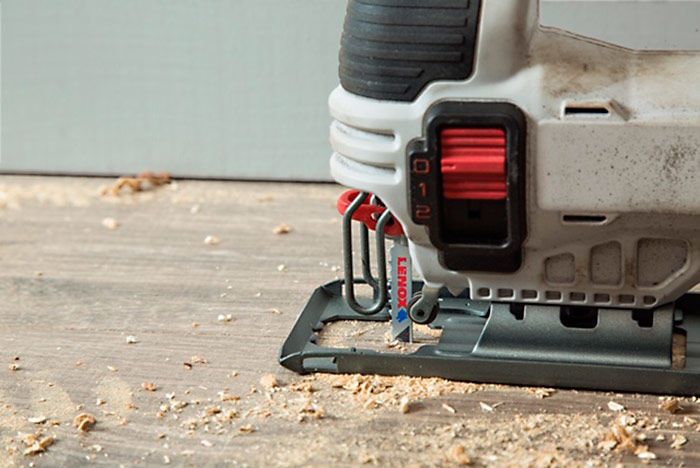 When end-users were asked what they look for in a blade, clean cuts, long blade life and durability were their top priorities. The new LENOX Jig Saw range delivers on those needs and offers additional benefits in the form of versatility and straight cutting. For wood-based applications, LENOX Jig Saw Blades feature POWER BLAST TECHNOLOGY®, a high-speed blasting process that strengthens the blade to reduce breaks. Proven to be extremely effective on the LENOX range of reciprocating saw blades and industrial band saw blades, this technology delivers enhanced durability to jig saw users as well. The wood cutting range is further strengthened with precision ground teeth to provide the smooth finish users expect.
For common metal cutting applications, such as sheet metal or steel tubing, LENOX Bi-Metal Jig Saw Blades feature the same POWER BLAST TECHNOLOGY® as well as proprietary T2 Technology™ to provide fast, efficient cutting in a range of applications. For the toughest metal cutting applications, such as steel plate or stainless steel, the updated offering features LENOX POWER ARC® Curved Jig Saw Blades. The curved profile of the blade optimizes the angle of attack for fast cutting and provides up to two times longer life than the previous generation when cutting metal.
| | |
| --- | --- |
| | |
LENOX® blades deliver high performance and are guaranteed to cut through tough materials. With over a century of cutting expertise and category breakthroughs, LENOX has become the gold standard in power tool accessories, hand tools, and band saw blades, helping users deliver work that is sure to stand out and be recognized on the job. LENOX provides the cutting performance and support that allows you to get your job done right the first time, every time.