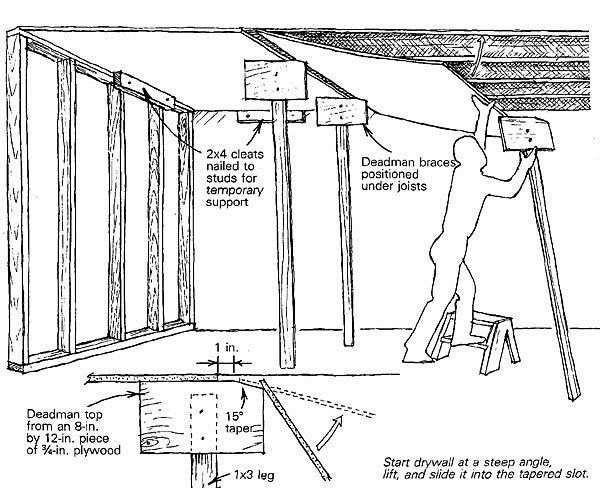 If you can lift a sheet of drywall, you can install it on a ceiling by yourself with the help of three deadmen, a couple of cleats and a stepladder.
If you start hanging a ceiling from a wall, use a 2×4 cleat tacked to the studs to support the edge of the drywall. If you start in a corner, use a pair of cleats, as shown in the drawing. Leave about an inch of space between the top of the cleat and the bottoms of the joists to allow the drywall to be easily inserted and adjusted for position. Start with the edge of the drywall leaning against the cleat, swing the sheet upward until it encounters the joists and reach for the deadman that you've thoughtfully placed within arm's reach. The deadman is a 1×3 brace with a rectangular top made of 3/4-in. plywood. Its length is determined by the height of the ceiling. You want it to be long enough to hold the drywall snug against the joists. If your floor is uneven, some wooden wedges can be useful for adjusting its height.
To install drywall without the help of a wall cleat, position a pair of deadmen as shown in the drawing. They should be placed under joists, with the tapered sides facing you. Lift the drywall against the joists, prop it up with the third deadman and you're ready to make minor positioning adjustments before you nail or screw it in place.
Henry A. Jorgensen, Silver Springs, MD