What's the Difference: Toilet Bowl Gaskets
The use of plastic and rubber rings for the crucial seal between the toilet and the waste line ameliorates problems presented by traditional wax rings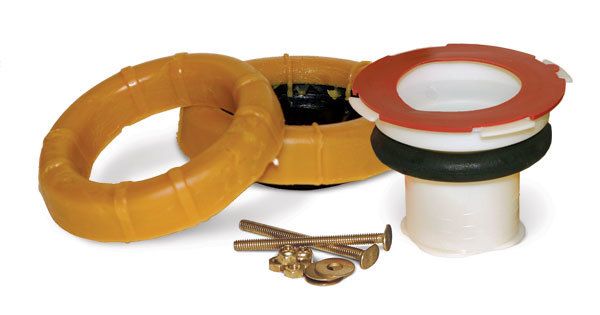 Wax vs. wax-free
The weakest link in any toilet installation is the seal between the "horn" on the underside of the toilet and the waste line that comes up through the floor. This union, which is susceptible to leaking water and sewer gases, must be sealed flawlessly.
The traditional sealing solution is to set a wax ring atop the toilet flange and carefully lower the toilet over the flange bolts, with the horn aligned over the wax ring. Designed to mold into unseen nooks and crannies, the ring is packed into place with downward pressure.
If the ring is installed unevenly or off center, the result can be a poor seal or a partially blocked drain. But even if it's installed properly, the wax ring still can be messy to put in and even messier to replace.
With these limitations, it's no surprise that plumbers have started to use wax rings that are reinforced with urethane, or even waxless rings that are made with plastic and neoprene rubber. These ring upgrades are stiffer, and they're designed to create a snug fit between the toilet and the drainpipe, which means there's less chance of misalignment.
The newest solution is the wax-free gasket (Fernco; www.fernco.com Wax-Free Bowl Gasket; www.fluidmaster.com). This gasket has a rubber seal as well as an O-ring. It's designed to fit both 3-in. and 4-in. drainpipes and comes with installation hardware. Because there's no wax, this flange can be repositioned during installation, and even reused for later repairs—a nice feature if you ever need to lift the toilet to unclog a drain. At only a couple of dollars more in price, the wax-free gasket is well worth the cost.