How-To
Prep and Glue Plastic Fittings
Avoid these common mistakes with PVC and ABS connections to prevent clogs and leaks from developing.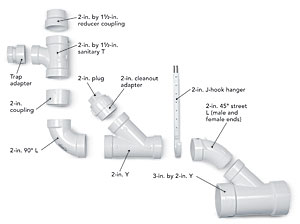 In my nearly 40 years as a plumber, I've seen just about every possible plumbing mistake, but improperly prepared PVC and ABS connections are what I see most often. Failing to ream or chamfer plastic pipe before it's glued to the fitting is the most common error. Sooner or later, the burr left on the pipe results in a clog, usually during a dinner party or some other inopportune time.
Another problem I see regularly is connections that aren't primed or that have insufficient glue. The solution is easy: Follow the directions on the product container and hold the connection for 15 seconds while the glue sets.
Dry-fitting (assembling without glue) is the best way to ensure that your work is professional looking and accurate, but keep in mind that it's tough to seat unglued pipes into fitting sockets fully. The resulting difference in length can affect slope and the fit of the pipe, so limit dry-fitting to about four connections before gluing. Finally, wait an hour before running water through any recently glued connections.
Step by Step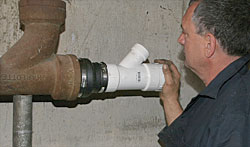 1. Establish a beginning and an end. Determine the heights of drains, sewer connections, or other fixed starting and ending points. Work toward connecting them while maintaining a minimum downward slope of 1⁄4-in. per ft.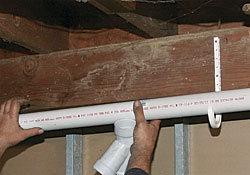 2. Pipes need proper support. If you're connecting to a length of pipe, make sure it's well supported first. Space hangers every 4 ft. to 6 ft.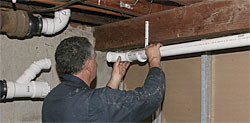 3. Dry-fit first. Dry-fitting ensures that pipes are routed and sloped correctly, but limit dry-fitting to about four connections. After marking the pieces, plan the order of reassembly so that you don't work yourself into a corner.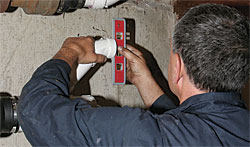 4. Check the slope. A torpedo level is extremely handy for checking that pipes and fittings are sloped for proper drainage. When using the level vertically, make the bubble just touch the line.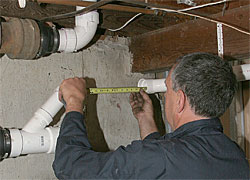 5. Measure the pipe. When it's time to measure for pipe sections, hold a measuring tape between fitting sockets. If necessary, enlist a second set of hands to keep everything in proper position.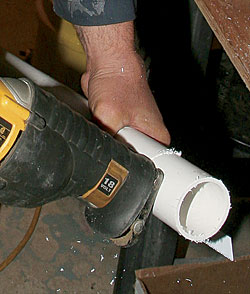 6. Cut the pipe. There are handsaws for cutting plastic pipe, but most plumbers use a reciprocating saw with a plastic-cutting blade. A miter saw with a combination blade also produces smooth, straight cuts. You also can use a wood-cutting handsaw.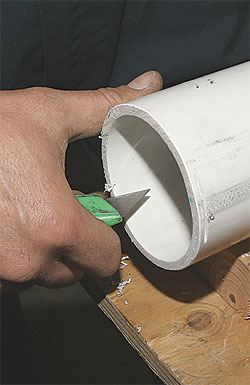 7. Remove burrs. After cutting pipes to length, remove any burrs by scraping around the pipe's circumference with a utility knife. Do this on both the inside and outside edges.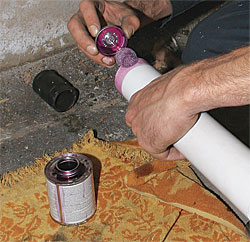 8. Prime first. ABS piping doesn't require primer, but you should prime both male and female sides of any PVC connections. Ensure a neater job by holding the pipe or fitting so that excess primer drips off instead of running down the side.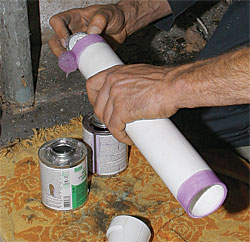 9. Glue both sides. Apply two coats of glue to the male side and a single, light coat to the female side of the connection. Push the parts together with a quarter turn, and hold for 15 seconds while the glue sets
Making transitions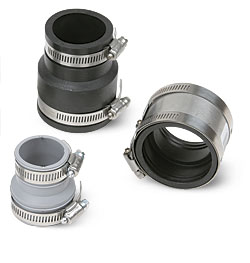 Use flexible couplings to connect virtually any type of drain, waste, and vent pipe with any other type of pipe. These couplings are often referred to by the trade name Fernco, which is one of the largest makers. Because the fitting is made from rubber, these connections can sag over time, creating debris-catching low spots, so make sure the pipes on both sides of the joint are well supported.
Glue and Primer
More accurately called cement, plastic pipe glue is specifically formulated for common types of plastic pipe. ABS doesn't require primer, but PVC cement must be used with PVC primer. Use these solvent-based products in a well-ventilated area, and protect your eyes from drips and spatters with safety glasses. (For more on plumbing cement, see "What's the Difference?" FHB #216 and online at FineHomebuilding.com.)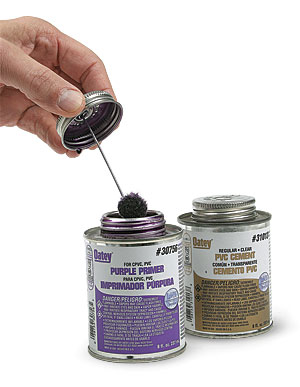 PVC primer, $5.40 per 8-oz. can; PVC cement, $4.44 per 8-oz. can.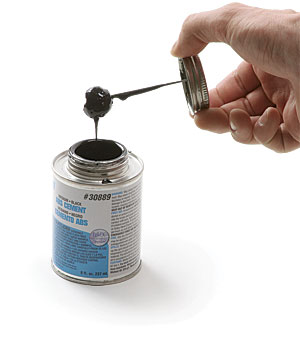 ABS cement, $4.44 p er 8 -oz. can.
Photos: Dan Thornton
Previous:
Step-by-Step Guide for Connecting PEX to Copper
Next:
Cutting and Joining Plastic Pipe