Tools & Materials
Tool Test: 2-1/4-hp Router Combo Kits
Get double duty when you combine an interchangeable motor with both fixed and plunge bases.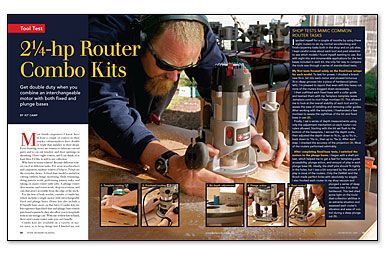 Synopsis: Routers are popular tools for carpenters and woodworkers. With a daunting variety of router styles available, a router combo kit can be a good solution for someone who wants one router that can do many things. Woodworker and finish carpenter Kit Camp offers his take on eight 2-1/4-hp router combo kits, providing comments based both on tests he performed in the shop and on his personal preferences and noting the tight pricing range for this selection of tools. In the end, Camp rated two combo kits — a DeWalt and a Bosch — as best overall and a Hitachi combo kit as best value.
Most finish carpenters I know have at least a couple of routers in their trucks; cabinetmakers have double or triple that number in their shops. Even framing crews use routers to fabricate curved parts and to cut out window and door openings in sheathing. I have eight routers, and I can think of at least three I'd like to add to my collection.
Why have so many routers? Because different routers excel at different tasks. For most woodworkers and carpenters, midsize routers (1 3⁄4 hp to 2 1⁄4 hp) are the everyday choice. A fixed-base model is useful for cutting rabbets, hinge-mortising, flush-trimming, doing pattern work, performing joinery tasks, and taking on many router-table jobs. A plunge router does mortise-and-tenon work, deep excavations, and cuts that aren't accessible from the edge of the stock.
For the best of both worlds, consider a combo kit, which includes a single motor with interchangeable fixed and plunge bases. (Some kits also include a D-handle base; more on that later.) Combo kits are less expensive than fixed-base and plunge-base routers purchased separately; they also allow you to keep both tools in one storage case. With one of these kits in hand, there aren't many router tasks you can't handle.
Combo kits are available in a variety of motor sizes, so to keep things fair, I limited my test to eight kits that all have a variable-speed, soft-start 2 1⁄4-hp motor. Each model accepts both 1⁄4-in. and 1⁄2-in. shank bits, and the proprietary Bosch guide system aside, each base accepts standard Porter-Cable-style template guides. (An adapter is available for the Bosch.) Except for the Ridgid kit, which is stored in a soft-sided bag, all the kits come in plastic cases ranging in size from large to ridiculously huge.
Curious about relative noise levels, I used a decibel meter to measure how loud each tool was at idle and during heavy use. While I found some minor variation, the volume test ended up being a moot point because all the tools were far too loud to be used without hearing protection.
What I found most intriguing about this group of tools was the relatively narrow price range. In many tool reviews, the best of the bunch costs twice as much as the average model. But with six of the eight routers in this review priced within $30 of each other, it felt like a competition where each manufacturer was given $200 and asked to produce the best model it could.
Fessing up to some personal preferences
Not surprisingly, I didn't find any true dogs in this review; each router kit performed admirably. In the end, especially with such a tight price range, it came down to the little things on each tool that added up to make my work easier, and those little things will be different for each user. I hope the standardized tests help to cancel out any of my personal biases so that you can make an informed choice, but I still want to come clean on what I like and dislike about these routers in general.
For more photos and details, click the View PDF button below:
View PDF