How-To
Build a Sturdy Shop Table
A gridded top makes clamping easy and keeps sawdust out of your way.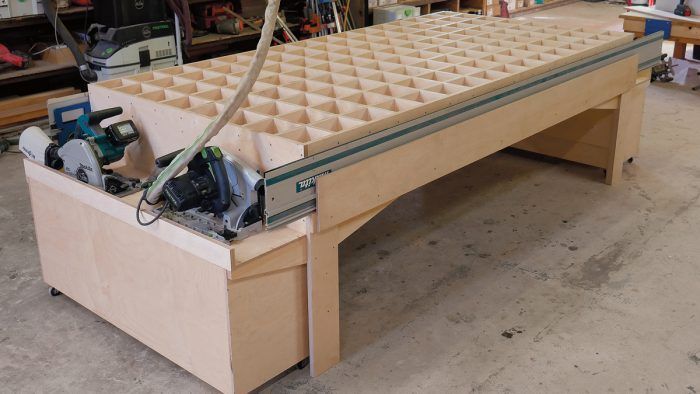 Synopsis: An alternative to sawhorses and workbenches, this shop cut table is made from just four sheets of plywood. Woodworker Peter Polcyn explains how to prep the pieces the most labor-intensive part of the process with a detailed construction drawing (plus a downloadable Sketchup model), and then describes the assembly of the gridded top, apron, dust trays, and legs. The article includes examples of customizable accessories for the table, such as a track-saw guiderail holder and a power strip.
---
As a full-time cabinet and furniture maker, I work with a lot of plywood. I typically break the sheets down using a track saw, and finding the right surface to do this work has been a challenge. Over the years I tried everything from sawhorses to traditional workbenches, but nothing worked exactly like I wanted. I need a flat, stable, well-supported surface that won't collect sawdust and allows me to clamp boards and plywood anywhere. And it can't be too precious to cut into with a track saw.
A homemade grid-top shop table, which I call a "cut table," is my answer. I built my first about a year and a half ago. Because it was made primarily for track-saw use, the design included spots for the saw and tracks. The table worked well, but there were aspects I wanted to improve. This article follows the second iteration of my cut table, which addresses the limitations of the first version.
The biggest problem was that the table sagged a little in the 8-ft. direction, likely because it was only 4 in. thick. The new version has a 12-in.-wide apron to better resist sagging. In the first version, sawdust fell right on the floor. The new version has a sloping bottom that directs saw- dust to collection bins on both ends to keep my work area tidy. Finally, I added enough on-board power to use several corded power tools at once. I'm really happy with the new table and it has greatly improved my shop and my workflow. If you do casework, I strongly recommend this as an option.
Prep the parts
This shop cut table is made from three sheets of 3⁄4-in. 4×8 Baltic- birch plywood and one sheet of 1⁄2-in. 4×8 Baltic-birch plywood for the dust trays. Cutting the parts is the most labor-intensive part of the process—the rest is just screwing the pieces together. start by stacking the 3⁄4-in. plywood flush, and trim one 8-ft. edge straight. then separate the sheets and cut 15 4-in. strips with a track saw or tablesaw—these strips make up the top.
Align the strips. Use a square to line up the plywood strips. Snugged pipe clamps hold the strips in position, but allow them to be moved into alignment with hammer taps. Once the ends are flushed up, use clamps with full-width cauls to align the tops of the strips, tighten the pipe clamps fully, then remove the clamped cauls.
Notches come next. Lay out the half-lap notches for the grid's intersecting pieces 6 in. o.c., starting at the middle and working toward the ends. I use spacing blocks and a knife rather than attempting a precise layout with a tape measure and pencil.
Assemble the top
| | |
| --- | --- |
| | Trim to width. The apron ends are made from 4-ft. pieces of plywood, so the assembly must be trimmed to that dimension. This can be done before glue-up, but trimming after assembly offers one last chance to ensure the sides are perfectly straight. It takes two passes to get through the 4-in. strips. |
Strengthen the legs
A cut table is only as good as it's base, which must be sturdy and resist racking in both directions to keep fasteners from loosening over time. I reinforce the legs with another layer of plywood and stretchers, and then use the nearly completed table to help build the dust bins.
Bolster and close. I attach 3⁄4-in. plywood brackets at the top of each table leg to serve multiple purposes. In addition to providing racking resistance, they also close the sides of the undertable dust trays and reinforce the tool shelves on either end.
Outfit with accessories
How you outfit the table depends on personal preference. Here's a look at how I customized my version.
Power up. A 4-ft.-long heavy-duty power strip with 12 outlets allows me to use a project's worth of corded tools without swapping cords, and means I rarely need an extension cord.
Watch the video of the process: How To Build a Sturdy Shop Table
And download a Sketchup model featuring two variations of Peter Polcyn's custom cutting table
Peter Polcyn is owner of Rail and Stile Custom Woodworks in Seguin,Texas.
Photos by Colin Russell.
To view the entire article, please click the View PDF button below.
More helpful workshop stands, and workbenches:
Simple Workbenches – These site-built benches are easy to make and simplify many jobs.
Portable Three-Legged Sawhorses – This versatile knockdown design sets up quickly and stores flat.
The Knock-Down Shop – A precision shop is set up in less than five minutes using collapsible tables and a salvaged panel door.
View PDF