Podcast 394: Wall Assemblies, Cooling a Historic Cabin, and Building on Piers
Mark, Rob, and Patrick hear from listeners about sawdust stoves and owner-builders before taking listener questions about choosing a wall assembly, cooling a historic cabin, and building on masonry piers.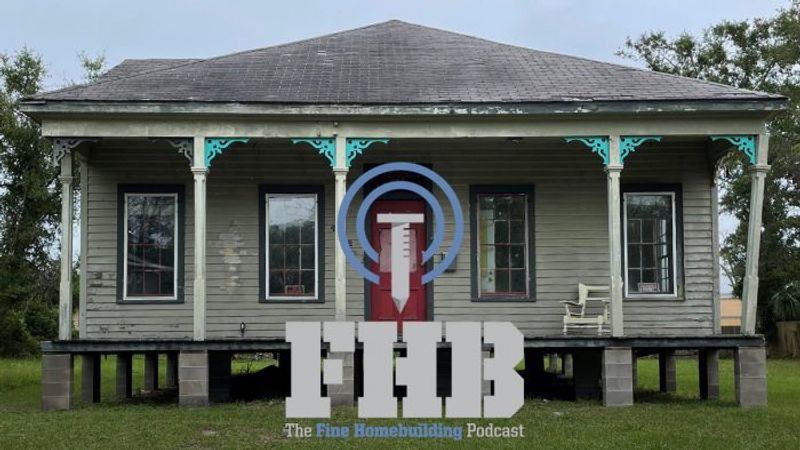 ---
Follow the Fine Homebuilding Podcast on your favorite app. Subscribe now and don't miss an episode:
Help us make better episodes and enter for a chance to win an FHB Podcast T-shirt:
www.finehomebuilding.com/podcastsurvey
Carson shows us a sawdust stove. Jon shares his owner-builder experience. Isaac discusses the satisfaction of his tradework career. Bee asks which wall assembly to use for her new Houston home. Adam asks for suggestions on cooling an open-concept cabin. Derek wants some advice on his new-house build. John wonders why he doesn't see pier foundations on new homes in Florida.
---
Editor Updates:
​
---
Listener Feedback 1:
Carson from Oregon writes: In response to Patrick's question about what to do with chips and sawdust, in Japan they make a sawdust stove. I have yet to see one in the US, and burning sawdust to my knowledge is dangerous, but how great would it be to get rid of all that sawdust and heat my shop in the winter?
---
Listener Feedback 2:
Jon writes: I'm a retired machinist and decided to build a 1120 sq. ft. house. I had help pouring the foundation, setting the trusses, spray in insulation and installing the minisplit system. Other than that, I did all rest of the construction myself, including plumbing and electrical. I spent about 40 hours and about $500 sealing the envelope and got a 1.07 @ 50ACH blower-door test. So for all the DIY people out there, you can do just about anything with a little patience and determination. Also, helpful building inspectors are invaluable. I listen to your show all the time. Have a nice podcast.
Related Links:
---
Listener Feedback 3:
Isaac from St. Paul, MN writes: Hi Patrick and crew, Isaac from St. Paul, MN checking in here. Thanks for all that you do to spread knowledge around craft, carpentry, and air-sealing—it's been an incredible resource over the years. I'm writing to respond to your discussion in episode 390 about feelings of inadequacy and the general undervaluation of trades work in our culture, speaking from my own experience and curiosity about this question at a broader level. I've spent the past five years working at our local Habitat for Humanity affiliate as a supervisor and consider myself lucky to have found a career with a sense of dignity and purpose that lets me be creative, analytical, and excited to show up to work every day. I didn't have a trades background before finding this work and while I don't recall thinking of trades work as 'inadequate,' I don't think it was ever presented as an option to me. It's been a blessing to develop my skills and a privilege to do it in the service of others through working in affordable housing.
I think there are many people in my (millennial) generation that feel similarly and are motivated to work in the trades based on interests in sustainability and environmentalism, solving structural social inequalities, and other areas. My experience has been that this is a conservative, slow-moving industry and that pressures around short-term profits and efficiencies are at odds with developing long-term investments by people with passion and interest for the work.
My questions to you all are: do you think the building-trades industry is equipped to accept an increasingly diverse labor force motivated by interests outside of its traditional returns? Can or should the industry be more welcoming to people who don't fit the traditional profile of tradespeople? I hear a lot of sloganeering around 'Keep Craft Alive' and 'You can make great money in the trades' but I'm not convinced that there's real commitment to the people performing the work behind those phrases, would love to know your thoughts. Sorry for the long message, again many thanks for your lively and informative discussions.
Related Links:
---
Question 1: What is the best way to air seal my brick house in Climate Zone 2?
Bee writes: I appreciate your thoughts on the matter for our house build. With my crazy schedule, I somehow missed listening to Podcast episode 382 until last Saturday, 9/11. It wasn't until I heard Barbara from California (in episode 386) mention my submitted question from episode 382 that I was aware that you guys have actually discussed my dilemma on the podcast! I hurriedly listened to it while driving to celebrate our son's birthday last Saturday. Unfortunately, since my question submission, we have decided on 2×4 studs (16 O.C.) with some sort of exterior rigid insulation, so it has been laid out in the engineering plans already. I failed to mention in my original question that we are using the Zip System for the sheathing (and our continuous air barrier if the subcontractors can pull it off), and that this is going to be a one-story all-brick house. What we had been considering was either of these setups:
a) Zip sheathing with exterior rigid foam insulation (XPS or EPS). The question is how to get the details right so as to achieve the great benefits of adding this extra layer despite being only in Climate zone 2. Any great product if installed wrong would still end up being a bad idea.
b) Zip sheathing with Rockwool – since you mentioned that this might not be the best product for our climate I am inclined to agree with you and disregard this even with its mold resistance, fire resistance, and water resistance features. Plus this product sounds expensive, and the lead time I heard was about 200 days (gah!)
c) Zip-R sheathing (R3) INSTEAD OF regular Zip 7/16 sheathing and call it good. This approach would be the simplest from the subcontractor's perspective as it wouldn't be any different from installing the regular Zip sheathing they are more used to.
d) Regular Zip sheathing and 2×4 (16 O.C.) wall studs with full-fill open spray foam cavity insulation (our builder's standard wall setup is 2×6 (16 O.C.) wall studs with nominal 3.5″ fill open spray foam).
It would be awesome if you could help steer us in the right direction; like what would you choose if this is your own house project. Unfortunately, talking to some framers (and other trades) it seems like the standard practice is NOT geared towards good air sealing and continuous air barriers. My builder says that the HVAC system will take care of the minimal air leaks that will get through the wall (so not a lot of help there). I am hesitant to enforce a setup that the subs would not install right (even if they agree to it) because they are just not used to the details needed to pull it off. We do have the last say, so I am trying my best to do my homework and hopefully get a good outcome and as close to being a "pretty good home" as we can get for our budget.
Related Links:
---
Question 2: Which HVAC system should I choose for my open-concept cabin?
Adam in Avoca, IN writes: I have a cabin that I just purchased and it doesn't have any air conditioning, and for good reason. It's an open concept cabin that is very large, about 3000 sq ft. It has cathedral ceilings and two separate lofts. One loft has a bedroom and bathroom. The other loft is just all open. I am going to section off the open loft and make some rooms. I want to find my best option for HVAC. I believe a conventional system with ducts would be hard to accomplish with not being able to hide any of the ductwork. Minisplits seem like the best option but I want to get your professional opinion. This cabin is going to be a short-term rental and has some really cool history. I attached a picture. Look it up on Realtor.com (8514 W State Road 54, Avoca, IN 47420). If you have any questions please let me know. Thanks
Related Links:
---
Question 3: Are these good choices for the roof assembly of a passive-ish house?

Derek writes: Just joined the site—I'm designing my own passive-ish house and drinking from the firehose on roof assemblies. The upstairs will have a cathedral ceiling and I've come up with the following:
• Closed-cell foam between the rafters
• Zip roof sheathing
• Foil-faced polyiso (foil face up)
• 1×4 battens to create airspace for radiant reflection and attach metal roofing to (similar to Matt Risinger's house)
• Metal roofing
I haven't seen this in any of the articles yet so I assume I've made a fatal error somewhere. Does this make sense?
Also are there any issues using zip roof sheathing on (dormer) walls? My house will be ICF and the dormers will be about the only vertical areas that will need sheathing—figure I could just use scraps from the roof to sheath these walls.
Thanks in advance!
More info: House is in Tennessee (zone 4)—I chose ICFs (for now) because the house will be built into the side of a hill so I'll need concrete walls for the basement anyway. There's only one story on top of that (top level is cathedral / built out attic) so I figured why not continue with ICF. I like the thermal mass, R-value of the assembly and strength. The south face will have some large windows (they're shaded by a large porch) and I think concrete will make it easiest to span those (and not worry about deflection over time).
ICF roofs are not nearly as common so I've opted for I-joist rafters instead. Roof will be sloped at 9:12 to get the optimum angle for solar panels.
Related Links:
---
Question 4: What's a good foundation I can build myself in hurricane country?

John writes: FHB Crew, I'm writing with a question about self-builds. I want to build a small (about 1000 square feet), pretty good house on my property and want to do as much of the work myself as I can. The foundation would be, I think, the most difficult portion of the build unless I were to build it like the foundation in the attached picture. I'm in the panhandle of Florida and you see old houses built like this everywhere but the key word I think is old. New houses seem to all have slabs or are built on stilts if close to the coast. Are these types of DIY-friendly foundations allowed by code any longer? Can they be a more updated form with something like sonotubes? As a former helicopter mechanic, I like the idea of being able to build with maintenance in mind and being able to access the underside seems like a no-brainer and it would be a very appropriate use of Joe Lstiburek's perfect wall. I've heard of using cement boards to line the bottom of a house to keep critters out which also seems like a smart idea with this type of house. What do you guys think? Oh, I'm in hurricane country so maybe this type of foundation along with the screw type of anchors you guys have spoken about before? Thanks for what you guys do. I've listened to every single episode and learned so much in the process.
Related Links:
---
Check out our latest Project Guide: Siding & Exterior Trim!
Check out our new 2021 FHB Houses:
Visit the Taunton Store  •  Magazine Index  •  Online Archive   •  Our First Issues   •  All Access
---
Help us make better episodes and enter for a chance to win an FHB Podcast T-shirt: www.finehomebuilding.com/podcastsurvey
---
If you have any questions you would like us to dig into for a future show, shoot an email our way:

[email protected]

.
If we use your question we'll send you a FHB Podcast sticker!
---
FHB Podcast T-shirts!
Represent your favorite podcast! Available in several styles and colors. Made from 100% cotton. Find the Podcast t-shirt and more cool products in the Fine Homebuilding Store.
---
This episode of the Fine Homebuilding podcast is brought to you by Loctite's TITE FOAM.
The best contractors take weatherization seriously. When they need to seal a gap that's too small for insulation but big enough to create a draft, they reach for Loctite TITE FOAM. With products for everything from small cracks to the biggest gaps, there's a TITE FOAM product for every job, including a low- pressure expansion product designed to seal the rough opening around windows and doors. The high-density foam forms a tenacious bond to most common building materials, stays flexible to prevent cracking when materials move, and keeps air, moisture, and pests out of the house. Contractors who care about energy efficiency, comfort, and durability choose TITE FOAM. Visit Loctiteproducts.com for more information
---
Fine Homebuilding podcast listeners can now get 20% off anything in the Taunton store, including Insulate & Weatherize.
Use the discount code FHBPODCAST to take advantage of this special offer.
---
We hope you will take advantage of a great offer for our podcast listeners: A special 20% off the discounted rate to subscribe to the Fine Homebuilding print magazine. That link goes to finehomebuilding.com/podoffer.
The show is driven by our listeners, so please subscribe and rate us on iTunes or Google Play, and if you have any questions you would like us to dig into for a future show, shoot an email our way: [email protected]. Also, be sure to follow Fine Homebuilding on Instagram, and "like" us on Facebook. Note that you can watch the show above, or on YouTube at the Fine Homebuilding YouTube Channel.
The Fine Homebuilding Podcast embodies Fine Homebuilding magazine's commitment to the preservation of craftsmanship and the advancement of home performance in residential construction. The show is an informal but vigorous conversation about the techniques and principles that allow listeners to master their design and building challenges.
Other related links