How-To
Introduction to Roof Trusses
As part of an engineered system, it's essential to understand how trussed roofs work.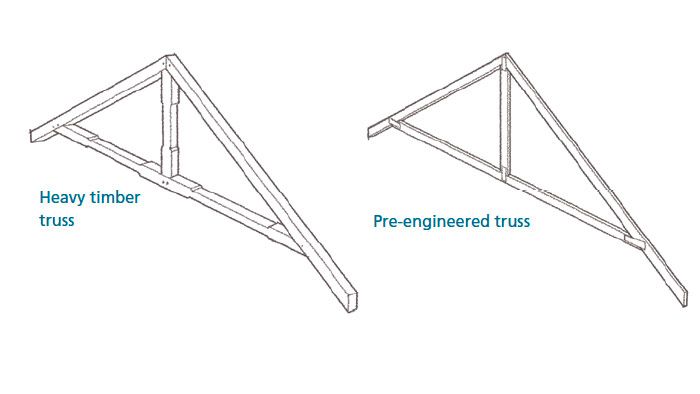 About two-thirds of the residential roofs in America are built with manufactured trusses. In many ways, trusses simplify roof construction. You don't have to calculate lengths or lay out angles, and for the most part cutting is not permitted. Only cutting the tails, which are outside the bearing points, is permitted. Trusses are prefabricated assemblies that you install on common layout intervals. Installation can be very fast; experienced crews can often set the trusses for a house in a few hours.
Yet, it's easy to oversimplify the installation process. Trusses are an engineered lumber product, and, like all engineered lumber products, they are part of an engineered system. It's essential to understand how trussed-roof systems work and why truss designers specify the details of the specific system you're working with. It's also important to understand how to store, move, and handle trusses. Once set and braced, trusses have tremendous strength, but they can be damaged if they aren't properly cared for prior to the installation.
Trusses
Although heavy timber trusses have been around for centuries, modern, pre-engineered trusses, which are made from light dimensional lumber and connected by steel plates, came into being in 1952. In that year, A. Carroll Sanford invented and patented the metal plate–connected engineered wood truss.
Sanford's light manufactured trusses worked well with platform-framed houses. They also helped overcome the problem of a shortage of skilled carpenters following World War II because trusses eliminated the complicated layout required for stick-built roofs. And, unlike the heavy timber-frame trusses that preceded them, these metal plate–connected trusses were light enough to be lifted in place by the framing crew. This was a major advantage in the days before portable cranes and telehandlers were widely available.
The Beauty of a Triangle
A truss is essentially a framework of triangles held together by metal plates. Triangles are inherently rigid; unlike rectangles and other polygons, it's impossible to alter the shape of a triangle without changing the length of one of its sides.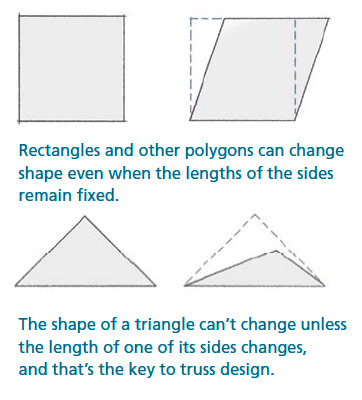 The size and configuration of the triangles, the grade and species of the wood, and the strength of the connecting plates are essential elements of the design. These are the concerns of the companies that design and manufacture the trusses, however. Your job is to store, handle, and install them in a manner that doesn't compromise their structural integrity. This boils down to preserving the strength and rigidity of the triangles that make up the trusses.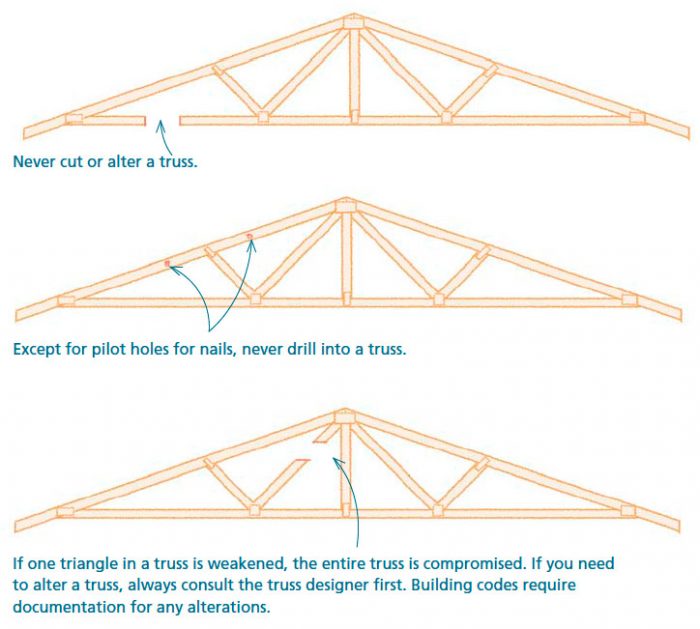 Engineering, Oversight, and Governing Organizations
One of the major benefits of metal plate–connected trusses is quality control. Prior to the invention of the metal plate truss connector, carpenters sometimes built trusses on site using solid wood or plywood gusset plates. The engineering for these trusses consisted of guesswork on the part of the carpenters and, not surprisingly, the connections sometimes failed. Site-built trusses are not permitted in today's building codes.
As the truss industry grew, two governing organizations emerged to provide engineering standards and oversight. These organizations, the Truss Plate Institute (established in 1960) and the Wood Truss Council of America (established in 1983), provide the standards for building trusses throughout America. In addition to guiding and regulating the design and manufacture of trusses, these organizations offer guidance to carpenters who install them.
Previous:
Valley Framing: Calculating the Jack-Rafter Assignment
Next:
Types of Roof Trusses