Podcast 382: Exterior Foam, Metal Connectors, and Painting Cabinets
Matt, Kiley, Brian, Rob, Jeff, and Patrick hear from listeners about exterior foam and septic systems before taking questions on including exterior insulation in a new build, avoiding metal connectors, and refinishing cabinets.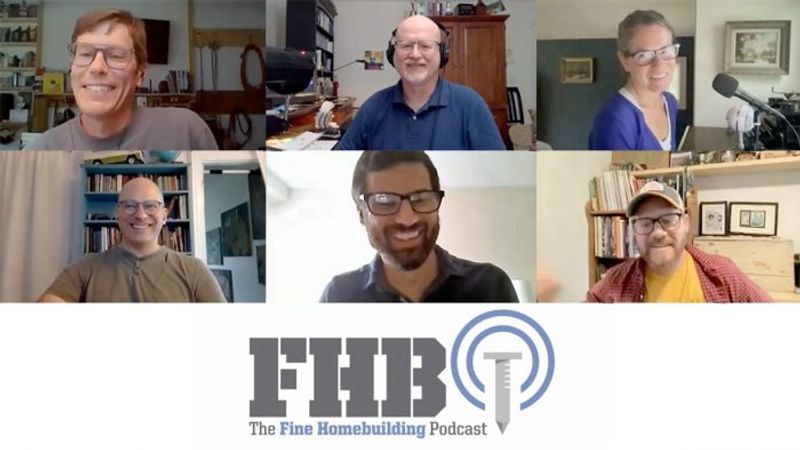 ---
Follow the Fine Homebuilding Podcast on your favorite app. Subscribe now and don't miss an episode:
Help us make better episodes and enter for a chance to win an FHB Podcast T-shirt:
www.finehomebuilding.com/podcastsurvey
Dave describes what it's like to install outsulation on roofs. Barbara shares thoughts on spray foam and septic. Ian writes in with details about septic design and costs with his new home. Bee asks our input on two insulation strategies. Evan asks why some contractors avoid metal connectors. Carina asks about air and vapor barriers. Scott asks if you can refinish kitchen cabinets in place.
---
Editor Updates:
---
Listener Feedback 1:
Dave writes: Hi all! I just listened to episode 374 and am responding to the ask for thoughts and comments on rooftop outsulation. I've done a bunch of them here in VT and have a lot of opinions! First, it's great! It's always an excellent thing to add continuous layers of insulation, be it walls, subslab, roofs, human heads whatever. I'm a fan!
Second, it's brutal work. Done right, it's no less than 2 to several layers of 4×8 sheets of thick rigid insulation layered over each other with staggered seams. Rigid insulation isn't as tough as plywood or OSB so it's significantly more difficult to work on top of and gets banged up pretty easily. Add to that the need to seal the seams for it to be a right and proper air seal – we use 3M 8067 tape for this since other tapes just don't hold up. We are also generally using foil-faced eps foam in this application, though other foam products would work, too. I haven't used mineral board for this yet, as the rooftop version seems just too heavy to use on an older existing home. But I digress… Taping seams over foil faced insulation on a roof isn't for the faint of heart. It's tough to tape and roll on a steep pitch hanging out over slick foam boards, nevermind that it's usually sunny on roof work days. Ever had a sunburn inside your nostrils? I have…
Lastly, hitting rafters through 8″ of foam board with long 12″ Headlok screws is a challenge. We're working on old houses with round pole rafters, generally, which is hard enough. If you're driving the screws even a little off of perfectly perpendicular to the 2x strapping, you're liable to miss your mark. Also, we need to hit every rafter for the roof system to work, which for an older home is some kind of non-layout that almost certainly doesn't work at all for 4×8 sheet goods. So, we have to add in sleepers to create a workable layout which is also hard since the screws have to grab in just 1x sheathing if we're lucky.
The hardest one we did was on a 14/12 roof. I don't know that I would do that again. Unless it was a recession! This work takes a very long time. I keep records of our projects a la David Gerstel's recommendation in Nail Your Numbers (do you think he would be interested in being interviewed for a ProTalk podcast?), and I don't mind sharing that, on average, it takes us between .22 and .35 hours per square foot to pull one of these off (variability depends on lots of factors, like pitch and roof complexity). So, for a 12 square roof, if you're billing out at say, $60 a labor hour, it's $15,840-25,200 for just the labor alone. That will come as a sticker shock for many clients.
All that said, the folks we have done this for have been extremely and effusively pleased with the results! The roof is exceedingly quiet when it rains. The heat stays in the house for a very long time, relative to before the work. They have absolutely no ice dams (sometimes an icicle will form at the south facing gable overhang, but that's a different topic altogether, albeit an interesting one!)
In this climate (zone 6A) it's a costly upgrade to a home, for sure. We need to aim for a 51/49% insulation ratio, outside to inside, according to Martin Holliday, which adds up to a lot of insulation over the roof! It doesn't make economic sense a lot of the time and the payback period is likely longer than most of us are going to live for. For an older home though, it's a good, if not the only, choice if interior space can't be sacrificed for insulation for whatever reason.
Also, I call this type of project an Operation Knit Hat being of northern yankee stock. Our neighbors to the north in Canada might call it an Operation Toque, while our Southern friends might call it an Operation Toboggan. Point being you gotta weave the layers if you wanna be comfortable! I hope this helps! I'd love to talk more about it if you're interested!
PS I read about the plywood satellite you all were talking about and thought to myself, "Well, of course the government would wait for plywood to be over $100/sheet before trying this…."
Related Links:
---
Listener Feedback 2:
Barbara writes: Hello again FHB Podcasters, Greetings from Zone 2, where condensation forms on the outside of our windows in the summer, not on the underside of our roof in the winter. Y'all really came down hard on Casey in Alabama. You build your house with open cell foam under the roof and a tongue and groove pine cathedral ceiling, Casey, and it will be just fine. Don't listen to these guys.
Did you forget one of the biggest appeals of real wood in building science? It's a humidity buffer. A tongue and groove pine ceiling over open cell foam in Alabama is great. Unfinished for preference. The wood will take up excess moisture in the air. And in the few weeks a year when you run a heater the wood will give off extra moisture gradually and keep it from feeling parched inside.
You also seem to assume all spray foam is urethane. Down here they spray icynene foam. The insulation contractor I use doesn't even do urethane foam. Icynene is acceptable for multiple chemical sensitivities, unlike urethane. The fact that it's open cell instead of closed cell is of no consequence. It still air seals really well.
In hot humid land you only need R-8 under a roof to stop condensation. Anything more than that is a luxury. When I had the walls of my house sprayed with icynene I said, hey, could you go ahead and spray the underside of the metal roof too? And they had done it before I had time to run the numbers and see what R-value I was going to get. I was going to use batts in the roof, but they were already here and I started thinking foam would help deaden the noise of rain. They didn't fill all the space between the 2×8 rafters up there and cut off the extra like the walls. It's like a flash and batt job. I couldn't get the kind of batts I wanted in small quantities though, so I left it out. I put 1×6 tongue and groove longleaf pine on all my walls plus the ceiling of my bathroom, right over the open cell foam. The BATHROOM! And I have not had a single moisture problem in 16 years. No cupping, no mold, no condensation. It's definitely not airtight, which is evident when it rains. It's a lot louder in the room with the tongue and groove ceiling compared to the loft with an airtight ceiling. (Where I sleep, I can touch the ceiling. With my foot. It's kind of important to be soundproofed against rain on the roof.)
P.S. After Kiley's septic story I went looking for my receipts because your price estimates for septic work made me incredulous. When I built my house in 2005, the septic permit guy misunderstood what I was building and sized my system for a 3-bedroom house. When he came to inspect the installation and saw the tiny house under construction, he realized he vastly oversized my septic system, but they had already dug the trenches and brought truckload after truckload of drain rock. They even brought an extra half truckload for me to spread out for a place to park my car. I guess septic system installers are doing ok down here if they can just give away rocks for free to people they feel sorry for because their house is so small.
Anyway, I only paid $495 for a 1000-gallon concrete septic tank, installed. They charged me $2.50 per square foot for drain field, 750 square feet total for $1875. Why does it cost an order of magnitude more up there?! What is going on in New England with your backhoe operators and cast concrete companies? Here they make septic tanks locally. Do they not make them there? Why are they pushing plastic ones? Where are those made? Maybe crushed limerock is a lot cheaper here because the whole region was so recently under the sea?
Related Links:
---
Listener Feedback 3:
Ian writes: Hey podcasters, here is the background on FHB House WI's septic system. Out here in the middle we are mound system country. Our county health department sizes mound systems by the bedroom. Even though our house is a 2 bedroom we put in a 3 bedroom mound system. Our excavation contractor is a licensed septic system designer and installer. His price for a 2 bedroom system was $13800 and a 3 bedroom system cost us $15000. I asked him what the difference is and he said the tank is the same size but every bedroom adds about 15 feet of length to the mound.

Related Links:
---
Question 1: Should I build a 2×6 wall full of spray foam insulation or a 2×4 wall with a combination of spray foam and exterior rigid foam for my Zone 2 home?
Bee writes: Hi guys, I hope this email gets to you in time for your next podcast (haha wishful thinking because I can imagine your inbox is jam-packed with questions from people like me) but I am hoping you guys could steer me in the right direction re: our first custom-build home in climate zone 2 (Houston). Anyway, we have some dilemmas going on.
We are to choose between 2×6 studs with full-fill open-cell spray foam insulation on the inside part of the wall versus a combo of 2×4 studs with 3.5″ nominal fill open-cell spray foam PLUS 1″ of some sort of exterior rigid foam insulation (trying to figure out if we want the premium Rockwool Comfortboard 80 or just the Dow Board/Owens Corning pink Foamular XPS board—we have a stiff budget, gulp.
I would be happy with choosing the XPS rigid foam combined with the nominal 3.5″ spray foam on the inside of the exterior wall BUT knowing that XPS foam can have a thermal shift due to shrinkage over time plus the attraction ants and termites have to it makes me want to rethink and choose Rockwool instead, which is more expensive. Unfortunately, I am still working on finding out the price comparison on these products mentioned. If I go with Rockwool it'll probably be the thinnest they have (1.25′) as we are in hot and humid Houston. My builder doesn't think that the open-cell spray foam on the inside of the exterior wall is more than enough for our needs and that it's overkill to try to add to that but with my research it seems like air leakage is a big deal to have to manage besides bulk water management. Good thing is, we as the homeowners have the last say on what ends up in our future home. Can you please help me? I am pretty desperate. Enjoy you guys' friendly candor on your podcast and I've certainly learned a whole lot bingeing on all your episodes.
Related Links:
---
Question 2:  What are the advantages and disadvantages of different types of metal connectors?
Evan from Boone, NC writes: Hey podcast crew, Can we discuss metal connectors? It is my general feeling that brackets such as post bases/caps, rafter hangers, hurricane ties are not used as much as they should. There are still people around here that put their deck posts right into concrete. Should we not by now have more universal integration of structural connectors? I would like to know everyone's thoughts and advice as far as these kinds of products, and for those listeners not already adopting them, how should they.
Then I have an additional question. Do any of you see particular advantages or weaknesses to any style or brand of connectors? The way I run my post bases or anchor bolts is with StrongTie Titen screws. This I picked up from Kyle Stumpenhorst of RRBuildings and more recently of the ProTalk podcast.
However, he has another method of cast-in-place post bases that have 4 rebar rods. Attached is a picture of such product at install. I saw on Instagram a response he made to the many saying that his bases need 90 degree bends. His engineer had certified that the rebars at their length provided enough friction to resist uplift. Could you talk more about how this works?
Related Links:
---
Question 3: How can I make sure condensation has a way to escape with my vapor barrier?

Carina writes: Hi guys! I'm loving the podcast, seriously eye opening and inspiring from where I sit. Real quick, episode 62 about the possibility of AI overtaking trades. Even if that were to gradually happen, it will require actual tradespeople, people who love it and know it, to teach the programmers etc. how to make it happen, right? Granted, it wouldn't take many, but the knowledge and craft still has to be there. I guess I'm also thinking about the amazing history of architecture that was discussed a few more episodes back. Cool stuff.
Ok. I'm building a house. It's really bad timing with high prices and low availability for basically everything being crazy, but I'm hoping with some serious prep (that's our current phase, prep) I'll be able to order everything with enough lead time. I'm in Idaho (where, incidentally, there actually are building codes and people who take it pretty seriously) and until I began actively assimilating information to prepare for this project, I had never heard of or seen a ZIP System, that rain gap that I may need between the siding and the sheathing, and MANY other things. You can be scared for me, I am! (Side note: I grew up "helping" in my dad's construction projects, which are many considering it is not his profession. This whole "build my own house" thing is currently way over my head, as it should be). ZIP seems pretty straight forward for builders to do right despite never working with it.
My question (finally, sorry it took a minute) is about the difference between having a vapor barrier, which if I understand correctly, is something everyone needs in order to have a tight house that has control over air (water vapor) sneaking in, and also having some form of escape for potential condensation? Is the condensation only an issue for spaces with untreated air? Idaho is generally dry and condensation isn't something I've had to deal with but I'd like to make sure things are done correctly.
Just FYI, the house is a big rectangle, slab on grade, gable roof, one main level with upstairs pony walls and a big shed dormer to create a second floor (not even going to try to build it "correctly" according to at least one of your shed dormer articles 😬, it goes right up to the edge of the building, creating basically a two-story wall there). Everywhere will be treated air, even the garage, so I'm hoping the answer is as simple as "Carina, use ZIP sheathing and you will have your water and air barrier taken care of. The end."
Also FYI, walls will be 2×6 studs (seriously considering 24"oc for both lessened thermal bridging and less lumber to buy), probably fiberglass batts inside with the attached paper and a 2" rigid foam on exterior. Still pricing siding and roofing options. Our first choice is metal for both, the siding would be basic corrugated (remember, I'm in Idaho, if this sounds like a barn, that's great. I'm going to add a few traditional "barn" accents so we don't end up with a warehouse). Bonus question! Can I install siding directly onto the rigid foam? I think yes? Probably the screws need to reach past the foam and sheathing and get clear to the studs? Millions more questions but I'll continue to attempt my own research. Thanks again for the great info and perspective!!
PS – my husband is an accountant, so hopefully for our sakes AI doesn't take over for a while!
Related Links:
---
Question 4: Does it make sense to refinish our kitchen cabinets in place?

Scott in Sammamish writes: Hello All, I enjoy listening to the podcast even when you wax poetic about the virtues of air sealing.
We are considering remodeling our kitchen built in the 1980's. We are looking at essentially new cabinets, with the same basic layout, new appliances and maybe the removal of a closet and installation of a small bar sink. We also have to refinish the hardwood floors throughout the main floor of the house. Having received one bid that almost equaled the cost to build the house in 1986, we are now considering Plan B.
What are your thoughts and experience with refinishing the cabinets in place? We would then install new hinges and drawer slides and new countertops. The cabinets are well built plywood boxes, with maple dace frames and solid mable doors and drawer fronts. The current finish is a "pickled" or "whitewash" stain with a varnish topcoat. The varnish has yellowed a bit as predicted when the cabinets were originally installed. I would love to get your thoughts and the benefit of any of your experience on our proposed Plan B. I will note that we live east of Seattle. Remodeling contractors are picky about projects they will even look at and cabinet manufacturers are out 4-5 months for production. Thanks for your thoughts.
Related Links:
---
Check out our latest Project Guide on Tiling!
Check out our new 2021 FHB Houses:
Visit the Taunton Store  •  Magazine Index  •  Online Archive   •  Our First Issues   •  All Access
---
Help us make better episodes and enter for a chance to win an FHB Podcast T-shirt: www.finehomebuilding.com/podcastsurvey
---
If you have any questions you would like us to dig into for a future show, shoot an email our way:

[email protected]

.
If we use your question we'll send you a FHB Podcast sticker!
---
FHB Podcast T-shirts!
Represent your favorite podcast! Available in several styles and colors. Made from 100% cotton. Find the Podcast t-shirt and more cool products in the Fine Homebuilding Store.
---
This episode of the Fine Homebuilding podcast is brought to you by ZIP System roof assembly.
A strong, resilient roof is a home's first line of defense when the roof deck is exposed to weather. ZIP System roof assembly combines ZIP System's revolutionary integrated sheathing and flashing tape or liquid flashing to provide a taped roof deck for protection against moisture intrusion during construction or if high winds strip the roof covering away. Trust ZIP System roof assembly to help fortify your home against the storm. Visit TrustZIPRoof.com to learn more.
Also brought to you by Loctite's PL Premium MAX
Professional builders know the value of a strong, durable and versatile construction adhesive and that's why they choose Loctite PL Premium Max. Equally effective for interior and exterior use, PL Premium Max can be used in extreme weather conditions and bonds to all common building materials. It offers 20 minutes of working time and cures solid in 24 hours, with no air bubbles for maximum durability. Whether you're framing a custom home, upgrading to granite kitchen counters, or adding rigid foam and comfort to an existing basement, PL Premium Max is the right adhesive for the job. Visit Loctiteproducts.com for more information.
---
Fine Homebuilding podcast listeners can now get 20% off anything in the Taunton store, including Insulate & Weatherize.
Use the discount code FHBPODCAST to take advantage of this special offer.
---
We hope you will take advantage of a great offer for our podcast listeners: A special 20% off the discounted rate to subscribe to the Fine Homebuilding print magazine. That link goes to finehomebuilding.com/podoffer.
The show is driven by our listeners, so please subscribe and rate us on iTunes or Google Play, and if you have any questions you would like us to dig into for a future show, shoot an email our way: [email protected]. Also, be sure to follow Fine Homebuilding on Instagram, and "like" us on Facebook. Note that you can watch the show above, or on YouTube at the Fine Homebuilding YouTube Channel.
The Fine Homebuilding Podcast embodies Fine Homebuilding magazine's commitment to the preservation of craftsmanship and the advancement of home performance in residential construction. The show is an informal but vigorous conversation about the techniques and principles that allow listeners to master their design and building challenges.
Other related links