Design
The Kitchen: Designing the Hardest-Working Room in the House
Architect Paul DeGroot presents seven things to consider when planning a kitchen's function and flow.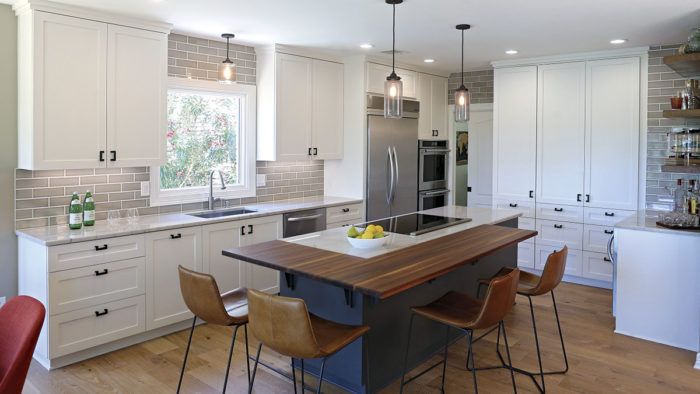 Synopsis: This article covers seven essential design considerations that can help you to create the perfect space for cooking, casual dining, and spending time with your family when remodeling or building a new kitchen. The questions cover how open the kitchen will be, what views will be available, how the traffic flow will be organized, whether an island makes sense, where the pantry will fit, what appliances are needed, and what the kitchen's overall style will be. Floor plans demonstrate the different options for openness and flow.
---
Designing any part of a home requires a multitude of decisions made by the designer and the homeowners. When it comes to the kitchen, arguably the most important and challenging room to get right, the number of options for everything from flooring to faucets can make the design process feel overwhelming. While every fixture and material is important and must be chosen in time, one way to ease the burden and to stay focused is to spend some time answering a few questions that will drive the layout.
These questions are equally helpful for new homes and remodels and are based on how homeowners live or plan to live in their house, how they use their kitchen, and the style they want to achieve. Keep in mind that the order of decisions isn't necessarily linear. Where one kitchen germinates from a desire to have great views, another may center on efficient flow for a busy family. So even when all the questions are answered, there may be some prioritizing and compromising to do.
I use these seven questions to get started on a kitchen design with new clients. Some of them require a lot of input from the homeowners, while others fall more on my shoulders as the designer. Whether you're working with a client or designing your own kitchen, this process will help you begin drawing and refining an informed floor plan. And once you have that dialed in, you can get to the fun work of choosing colors and finishes that bring the layout to life…
To view the entire article, please click the View PDF button below.
EXTRA: To design this kitchen to meet the family's expectations, I asked a handful of questions right off the bat. The answers help me determine exactly how to design the floor plan, and what materials and fixtures to use.
---
Paul DeGroot is an architect in Austin, Texas, and a frequent Fine Homebuilding contributor. Photos by Brian Pontolilo.
Click view pdf below to see the full article
View PDF
Next:
The Open-Plan Kitchen: Is It Right for You?