Podcast 591: Tightening a Shop, Dealing with Popcorn Ceilings, and Problems with Modular Homes
Listeners share their thoughts on storm shutters, LED light solutions, ERVs vs. HRVs, and contractor licensing. The crew takes questions on waterproofing a shop, popcorn ceilings, and common problems with modular homes.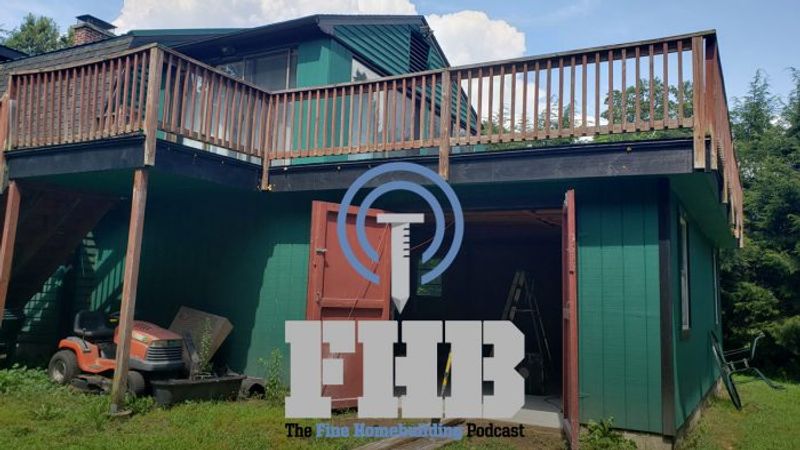 ---
Follow the Fine Homebuilding Podcast on your favorite app. Subscribe now and don't miss an episode:
Help us make better episodes and enter for a chance to win an FHB Podcast T-shirt:
www.finehomebuilding.com/podcastsurvey
James wonders if an ERV is right for his Ontario home. Randy says storm shutters are common in South Florida. Connor describes Oregon's contractor licensing. Doug shares his LED-lighting projects. Ben is upgrading his shop. Perry wonders if he should pull down his popcorn ceiling. Caleb from New York wants to know about problems with modular homes.
---
Editor Updates:
Brian's house updates, roof
Mark's house update
Jeff's sloped lawn
Patrick's: Touch a Trade- Intro to plumbing with Mike Lombardi: Took apart a resistance water heater. Cut a laminate countertop for a new sink with a jigsaw. Mounted a shower valve on a wall. Cut plastic pipe with a Sawzall.
---
Listener Feedback 1:
James writes: Hi podcast crew!
In the ventilation aftershow, Mark said he always used an HRV in northern climates, and ERV in the southern climates… is that a good rule of thumb? I am definitely in a "'northern" climate in Ontario, Canada, and an HRV or ERV is required by code in all new houses.
Builders install mostly HRV units here, but my understanding is that is done just because the HRV units are cheaper than ERVs. Plus, nobody knows what these things are anyway so why pay more? (My parents thought their HRV was just a weak bathroom exhaust fan and never used it until I explained what it did.)
Maybe I'm totally wrong here, but I thought an ERV would always be "better" because it keeps the indoor humidity more even. Our summers are humid and the winters are dry, so without the moisture transfer that happens with an ERV, I thought an HRV would make the house too humid in the summer and too dry in the winter. Both are common complaints from people here, but I'm not sure those complaints are due to HRVs since few people use them properly.
Maybe it's a good topic for a Pro Talk if you can get someone from one of the companies that make HRVs and ERVs!
Thanks,
James
Related Links:
---
Listener Feedback 2:
Handy Randy writes: Thanks for your podcast, which I discovered after finding your magazine at a regional library.
On the subject of shutters: South Florida has many contractors installing storm shutters, although I think the latest trend is to install stronger fixed-in-place windows. I would expect Florida's west coast cities also have similar contractors installing storm shutters. The motorized ones that roll down out of an ugly box are expensive, but some prefer them.
The "Key West" shutters you mentioned are called "Bahama shutters" in South Florida. I think there is something in the legal code of Miami-Dade County that says before you sell your house, you have to show it has hurricane shutters.
**You can do a Google Man on the Street walk down streets in Miami Beach, or one of the islands between Miami Beach and Miami, to find very expensive houses to see what types of shutters they have***You might wonder…after seeing hurricanes tear into places like South Carolina, Wilmington, NC, and even New Jersey/New York…don't those people want hurricane shutters for their homes, or the same type of strong windows that South Florida has?
Related Links:
---
Listener Feedback 3:
Connor writes: Hi Patrick et al.! Greetings from dry, sunny eastern Oregon!
I enjoyed the recent aftershow topic of contractor licensing requirements. Here in Oregon, the state has made getting your contractor's license an affordable, low-barrier process for anyone looking to start their own contracting business.
You must take 16 hours of classes, in person and/or online, and then pass the construction trades exam. A $325 check and proof of bond and insurance will get you started. Renewal every two years requires 8 to 16 hours of continuing education, depending on your endorsements.
The classes and exam focus almost exclusively on best business practices and adhering to the various state laws and regulations regarding contracts, lien laws, warranties, etc. Oregon places a lot of emphasis on protecting the customer's wallet and property, and helping to ensure that new contractors have the necessary information to run a financially successful business.
I've also included a few photos of the A-frame scaffolding I built using Mike Guertin's article. These came in handy during a siding and window replacement job I recently completed. Working off of these scaffold frames meant far fewer trips up and down an extension ladder. I'm not sure why I waited so long to build something so useful, as they say, a craftsman in need of a tool has already paid for it!
Thanks for the great podcast(s), you and the crew keep me company during my workday.
Related Links:
---
Listener Feedback 4:
Doug writes: Hello Patrick,
You talked about LED strip lighting in episode 583. I used the LED tape to illuminate a narrow linen closet by installing a door-operated 120v switch to a receptacle inside the closet, which powered the driver. The tape was fastened to the interior wall adjacent to the door casing—going from the floor, up to the top, across and down the other side. The tape is hidden from view and illuminates every shelf perfectly. It is a solution to a problem that I am particularly pleased with.
Related Links:
---
Question 1: How do I best waterproof my under-deck workshop?
Ben writes: Hey FHB Podcast crew,
Thank you for all the great work you do on the podcast. I really enjoy listening to you all talk about the real issues that pros and homeowners run into and how they deal with them. The witty banter and informative conversations are very entertaining to listen to. I have been an FHB subscriber for about 7 years. I've been basically binge-listening to your podcast over the past two months as I'm renovating my new home. The house is in western Massachusetts. It was built in 1983 and has been modified over the years with varying levels of skill and quality. Without going off the rails and complaining about the poorly done work previously done in the home, I want to ask you all some questions about renovating the area of the structure I plan to build my shop in.
The shop space is roughly 25 ft. x 25 ft. It's a slab-on-grade foundation that is underneath a three-season porch that had a deck built around it at a later time. However, the deck is essentially a slightly or not at all sloped membrane roof with poorly done flashing around where the deck was secured to the house and porch (see attached pictures of the flashing for the membrane roof against the porch). The ceiling is 8 ft. high at its lowest point. The deck/ceiling slopes 2.5 in. over 15 ft. from the porch to rear of the structure. It overhangs the edge of the shop on the sides and rear by 16 in. The shop walls are sheathed with painted plywood T1-11.  There are some issues with water pooling in a few spots on the deck, or running off the deck and splashing onto the siding, which causes some water to bleed through the T1-11 and foundation wall. The water fortunately does not get to the floor, as I am putting down an epoxy floor once I finish all the prep work. I plan to put up gutters around the of the side of the porch and the deck to mitigate as much bulk water as possible. I do not know what to do about the pooling in the one area—maybe another layer bitumen membrane down over slightly sloped plywood or XPS?
My main concerns are where the water pools on the deck and the bad flashing around the porch. I would like to eventually insulate the space and put in a heat pump. I would like your thoughts on water mitigation, insulating, and air-sealing the shop space. Is it worth it to remove the T1-11, add a WRB like Tyvek, and put the T1-11 back up? Or will that be way too much work with a bunch of damaged sheathing anyway? Should I just use a housewrap over the T1-11, add vinyl siding or more T1-11? I was thinking about applying spray foam inside around all the edges of the overhangs to help air-seal it better, and then insulating the walls and ceilings once I run the wiring throughout the space. Right now the shop space is quite hot and humid under the black membrane roof with little ventilation, but there's plenty of spiders to keep me company! Do you have any ideas as to how I could mitigate any of those issues? It would be greatly appreciated.
Thanks again for all the effort you all put forth getting legitimate and useful information to folks. I certainly appreciate it a lot!
Related Links:
---
Question 2: Should I remove my popcorn ceiling?
Perry in Duluth, MN, writes: Hello Patrick,
I plan to completely redo my bathroom this fall, but I don't know what I should do with the ceiling. For some ridiculous reason, it's a popcorn ceiling, so I would prefer to tear it out and completely redo the Sheetrock. The problem is that I have blown-in cellulose above it, so I'm afraid of it all coming down on me.
Would scraping off the popcorn, then attaching another layer of Sheetrock over the original with a vapor barrier sandwiched in between be a good solution? The insulation above was previously fiberglass batts with a very inconsistent vapor barrier.
Related Links:
---
Question 3: What are the pros and cons of a modular home?
Caleb Carpenter, Rad Woodworks, writes: Morning Patrick and the podcast crew,
I wanted to reach out and say hi, it's been a while! Last time I was on ProTalk we talked about my wife's and my search for a home, or more importantly a workshop with living quarters attached! It looks like we finally found a home, and we're very excited. It's by no means exactly what we wanted, but the price is right and we think it will be a good first home for us as well as a potential future income property when we build our forever home. The house is a modular ranch with a full basement and an oversized two-car garage. After years of listening and re-listening to the podcast I thought I knew for sure how I would attack a home when I bought one. But I didn't expect to buy a home built in the last 10 years. I'd love to throw a question at the podcast—where should I start?! I'm seriously considering getting an energy audit before we even move in to see if we may be a good candidate for AeroBarrier. I would love to talk more about all of your thoughts on modular homes—the positives and negatives as well as what we could do with it to make it an energy-efficient, healthy home for us! As always, I love the podcast and always listen at least one time through as soon as it comes out. Many thanks
Related Links:
---
END NOTE:
Podcast 591: Members-only Aftershow — Hidden Costs of Construction
The costs associated with waste removal, permits, unforeseen conditions and additional sitework are among the many things discussed.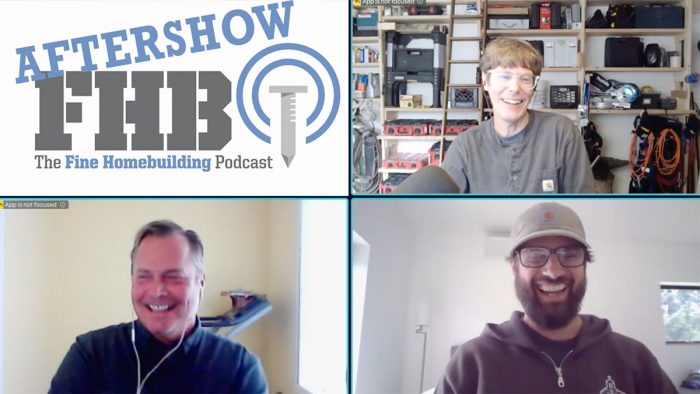 ---

This episode of The Fine Homebuilding Podcast is brought to you by MARVIN
When it comes to performance and lead times, trust is everything. Marvin gets that. Now their Marvin Elevate® and EssentialTM collections have significantly lower lead times. You know these windows and doors for their beautiful designs, durable Ultrex fiberglass, on-trend styles and colorways—well, now you can have them delivered for your project in less time to help keep your timeline intact. Speaking of trust, Marvin's shipping complete and delivered as promised more than 90% of the time across all products and options. So, when you want the right performance, right on time, know Marvin delivers.
---
Check out one of our latest Project Guides: Energy Retrofit!

Check out our FHB Houses:

Visit the Taunton Store  •  Magazine Index  •  Online Archive   •  Our First Issues   •  All Access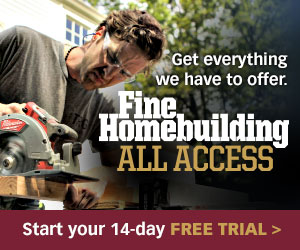 ---
Help us make better episodes and enter for a chance to win an FHB Podcast T-shirt: www.finehomebuilding.com/podcastsurvey
---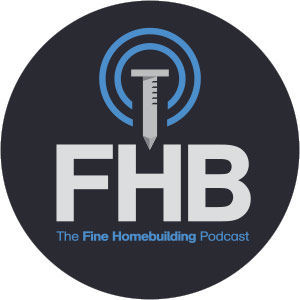 If you have any questions you would like us to dig into for a future show, shoot an email our way: [email protected].
If we use your question we'll send you a FHB Podcast sticker!
---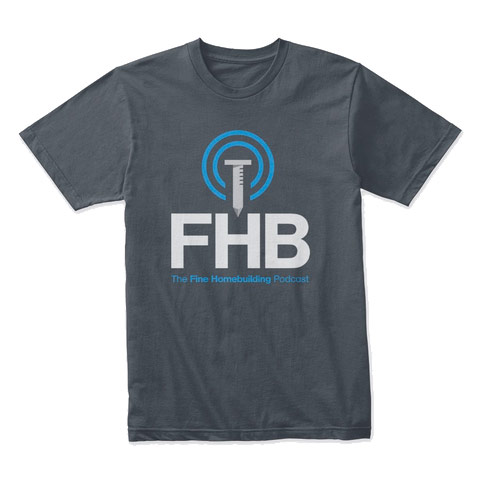 FHB Podcast T-shirts!
Represent your favorite podcast! Available in several styles and colors. Made from 100% cotton. Find the Podcast t-shirt and more cool products in the Fine Homebuilding Store.

---
Fine Homebuilding podcast listeners can now get 20% off anything in the Taunton store, including Pretty Good House.

Use the discount code FHBPODCAST to take advantage of this special offer.

"Finally, knowledgeable people talking about building reasonably-sized, high-performance houses for normal people with real budgets!"
— DanD, VA, 8/19/22, Amazon.com review
---
We hope you will take advantage of a great offer for our podcast listeners: A special 20% off the discounted rate to subscribe to the Fine Homebuilding print magazine. That link goes to finehomebuilding.com/podoffer.
The show is driven by our listeners, so please subscribe and rate us on iTunes or Google Play, and if you have any questions you would like us to dig into for a future show, shoot an email our way: [email protected]. Also, be sure to follow Fine Homebuilding on Instagram, and "like" us on Facebook. Note that you can watch the show above, or on YouTube at the Fine Homebuilding YouTube Channel.
The Fine Homebuilding Podcast embodies Fine Homebuilding magazine's commitment to the preservation of craftsmanship and the advancement of home performance in residential construction. The show is an informal but vigorous conversation about the techniques and principles that allow listeners to master their design and building challenges.
Other related links
All FHB podcast show notes: FineHomebuilding.com/podcast.
#KeepCraftAlive T-shirts and hats support scholarships for building trades students. So order some gear at KeepCraftAlive.org.