How-To
Create a Dry Space Under Your Deck
See 4 options for redirecting rainwater so that you can create storage or living spaces below an elevated porch or deck.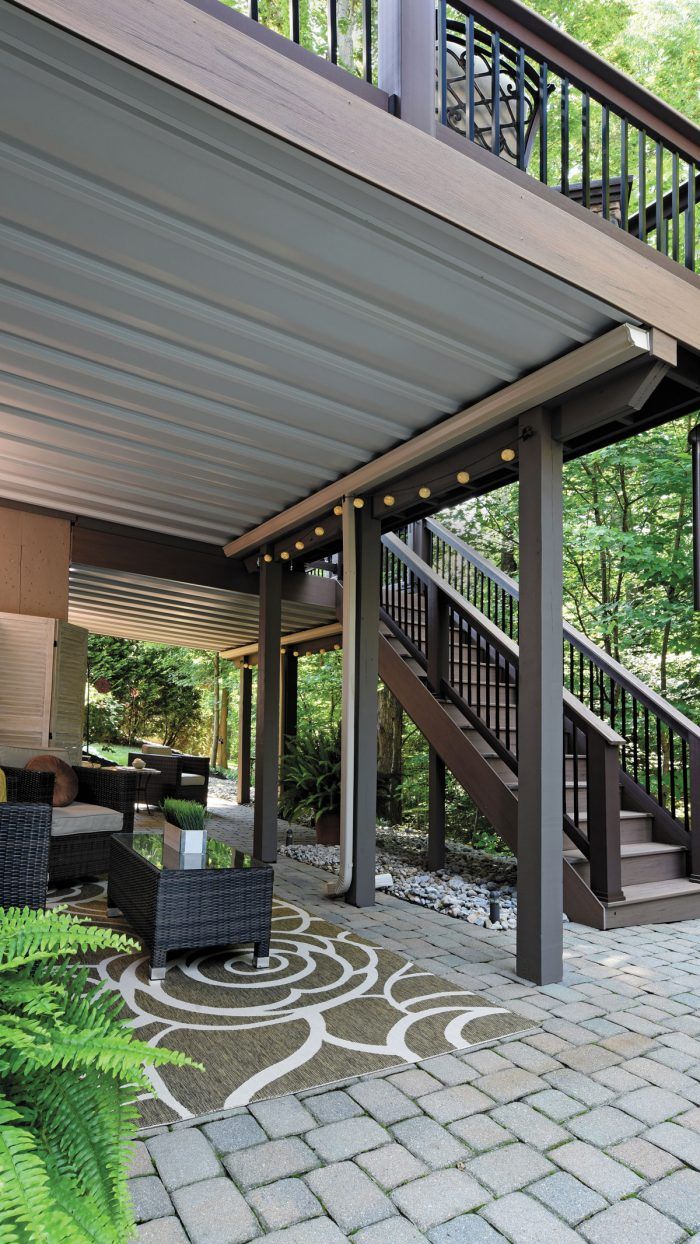 Synopsis: The area under a tall deck can offer valuable living space, but in order to make this work, you need a deck drainage system. There are a variety of options, from undermount systems that create a finished ceiling and a drainage plane, to over-the-joist systems that include waterproof decking or a membrane material to redirect water. This article breaks down the different options and their pros and cons with examples of systems currently on the market.
---
For regions of the country with multiple-story homes or hilly terrain, the dead zone under a tall deck can add valuable living space at far less cost than a traditional addition. The trick to transforming that dark, wet space into an area that's dry and useful is a deck drainage system.
"Think about real-estate value," says Pete Ciaraldi, who remodels exteriors in Salem, N.H. "You're adding another room. It could be an outdoor patio with a fire pit or a finished formal room that's completely closed in, with an outdoor kitchen on the deck above."
Deck drainage can do more than just shield the space below it from the elements; some systems also make it easy to add lights, speakers, heaters, and fans to the ceiling under a deck, adding comfort and value to the space they protect.
While drainage systems are most often added to decks 7 ft. or more above grade, Ciaraldi has added them to decks as low as low as 5 ft. high, creating valuable outdoor storage space—letting a client drive a lawn tractor underneath, for example.
For these reasons and more, deck drainage systems are increasingly popular, driving an expanding—and confusing—marketplace. Systems vary widely, as do the conditions they contend with.
Protecting today's ­vulnerable deck framing
The stakes are high for making a wise choice. Trapped water and debris can cause damaging leaks that are hard to track down and cause the deck framing to rot and fail.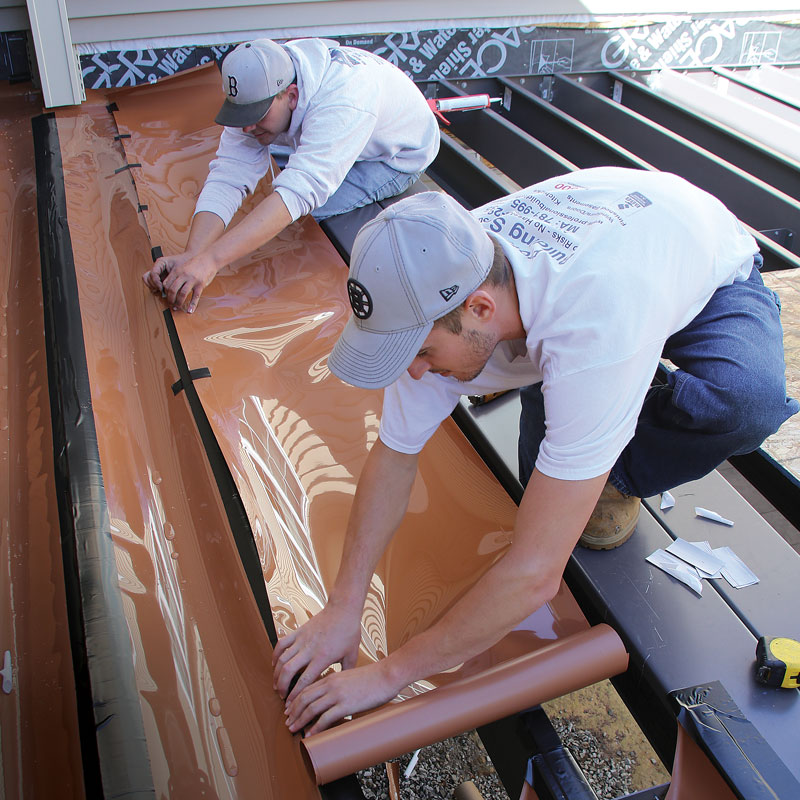 "We've taken failing systems down and found hundreds of pounds of soggy, smelly crud," Ciaraldi says. "Think about what gets caught in a 5-in.-wide gutter. This is like having a big gutter in each bay [between the joists]."
A well-chosen drainage system, on the other hand, installed correctly, will be reliable and easy to maintain, keeping the framing healthy and the space below it dry and comfortable for decades to come.
Contractors across the country agree that pressure-treated deck-framing lumber isn't what it once was, thanks to faster-growing forests, lower grading standards, and less effective preservatives. At the same time, today's decking is more durable than ever, lasting decades with minimal maintenance.
"It's like putting a filet mignon on a paper plate," says Leslie Adkins, VP of marketing for Trex. Experienced contractors agree. This reality makes standing water and rotting leaf mold even more threatening to deck framing, and therefore more important to avoid in the drainage system you choose.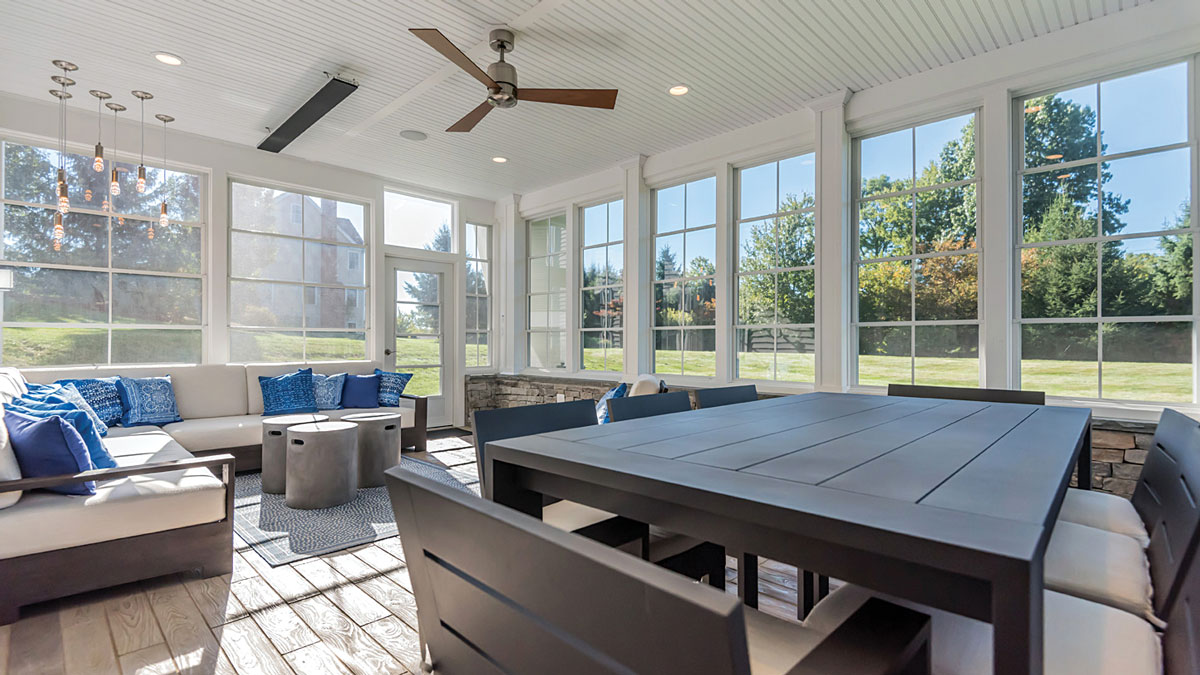 Two main approaches to deck drainage
With one outlying exception, there are two main groupings of deck drainage systems: those installed above the framing and those that attach below it. The undermount type is usually an array of ceiling panels, which act as the drain system and create a ceiling finish at the same time. The big advantages of this type of system is its overall cost and its ability to be added to any type of deck, be it new construction or retrofit.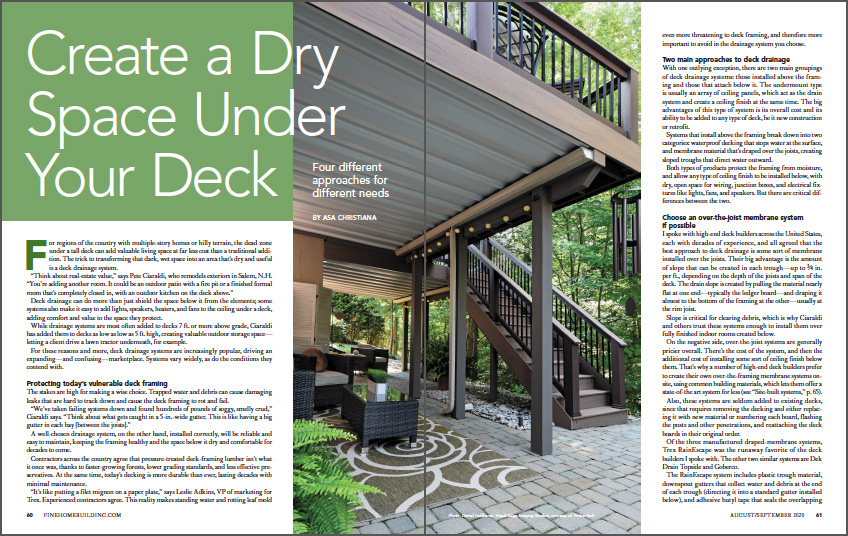 From Fine Homebuilding #293
To view the entire article, please click the View PDF button below.
More about building water-shedding decks
Site-Built Deck Drainage – Mike Geurtin demonstrates his methods for draping EPDM roofing membrane over joists before installing decking to create an affordable system for keeping the space under a deck dry.
Webinar: Site-Built Under-Deck Drainage System – Mike discusses his article on this topic and answers questions about how to make dry living space under a deck.
Decking Over a Roof – Detail the roof correctly, and the decking part of the job is easy.
View PDF
Previous:
Project: Site-Built Under-Deck Drainage System
Next:
Splicing Deck Joists Over a Beam