Tools & Materials
Cement Board and Gypsum-Core Tile Backer
One of these two tile-underlayment options is easier to work with and the other is more durable.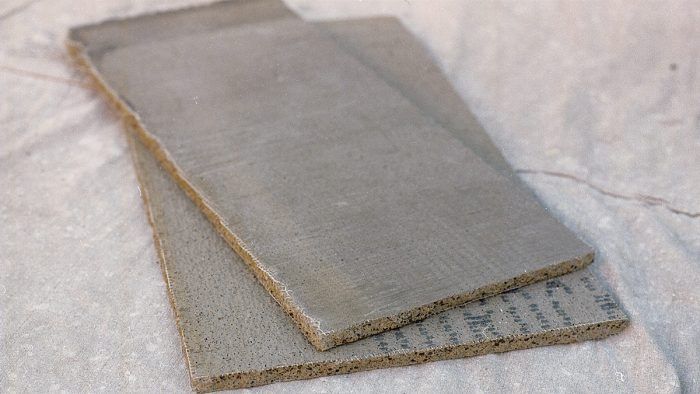 Cement board
Cement board is a high-strength tile backer that serves as a water-durable and mold-resistant base for walls and ceilings. It will not swell, soften, or delaminate when exposed to moisture, but it is not a vapor barrier. Moisture can travel through cement board, so a barrier may be necessary behind the board.
Designed for areas exposed to water or high levels of moisture, cement board is an excellent base for tiled walls and floors and bathtub and shower enclosures. Unlike the materials discussed up to this point, cement board is not a gypsum product; it has a cement core covered with fiberglass mesh. One side is rough, the other is smooth (see the photo below). The rough side, designed for mortar application of tile, increases bonding and decreases tile slippage. The smooth side is designed for mastic application of tile.
WORK SMART: Cement board is a better choice than moisture-resistant drywall for wet areas, like those around tubs and shower enclosures.
Cement board is commonly available in 1⁄4-in. and 1⁄2-in. panels. Standard widths are 32 in., 36 in., and 48 in.; the standard length is 5 ft., although 8-ft. panels are also available. The maximum stud spacing for cement board is 16 in. o.c. Panels should be attached with special screws or galvanized roofing nails, not with drywall screws or nails. (For more on installing cement board, see p. 153) Cement board is quite fragile, so it should be stored flat to prevent warping and handled as carefully as possible.
Dealing with Wet Areas
Use a material that prohibits mold growth and holds together even after getting wet.
Drywall, even moisture/mold-resistant, is not approved for installation in most wet areas.
You still need to try and contain water. There should be no water leaking in through gaps and cracks. Proper maintenance is important.
Installing a waterproof membrane behind the backer board may be necessary.
Be careful not to install double vapor barriers.
Consult the tile contractor or general contractor to make sure the assembly meets his approval.
Gypsum-core tile backer
This type of drywall consists of a silicone-treated core covered with a glass mat on both sides for added strength. The face also has an acrylic coating that provides a water barrier to stop moisture from penetrating into the wall, ceiling, or floor. It acts as a vapor barrier, so be careful not to create a double vapor barrier. These panels, available in 1/2-in. and 5/8-in. thicknesses, are strong, lightweight, and easy to cut, snap, and fasten. Gypsum-core tile backer is recommended for residential and light commercial use as an underlayment for ceramic tile. It is used in many of the same areas as cement board. Although not as durable as cement board, gypsum-core tile backer is easier to work with and is available in larger sizes (4×8 and 5×8). Framing specifications are the same as those for cement board.
Previous:
Is the Paper on Drywall Different by Region?
Next:
Secrets to Smoother Drywall