Tools & Materials
Painless Drywall Mud Mixing
The Mud n' More MixBall simplifies the tedious task of mixing small batches of joint compound or plaster.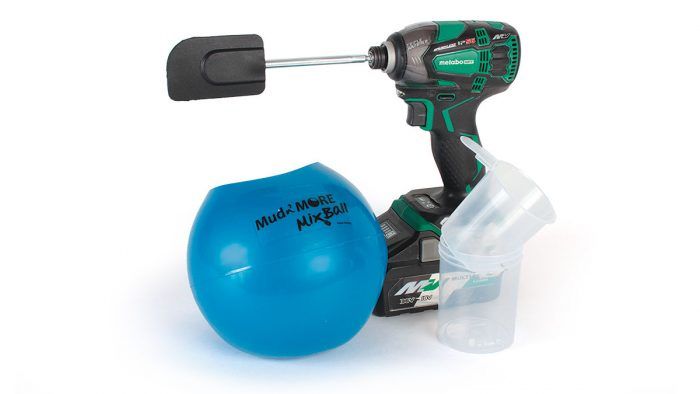 I'm forever mixing small batches of setting-type drywall compound for wall and ceiling patches. If you're taping a few sheets, it makes sense to mix a batch in a bucket with a drill, but if you're only making a small amount, it's hard to find a good container to mix in. I generally use my mud pan, but it's tough to get the compound fully mixed and inevitably you end up with crusty bits and powder that didn't consolidate.
The Mud n' More MixBall ($27) is a promising solution to mixing small batches of joint compound, plaster of Paris, and other mix-with-water materials. You pour the powdered compound and some water into the silicone ball and can either squish the contents together or use the included mixing paddle. Once the mud is mixed you can squeeze it onto a hawk or into a mud pan. And instead of dumping the unused hot mud down the client's drain (don't do this), you can let the leftovers harden in the ball. When the compound dries, simply squeeze the ball and the dried mud flakes off.
Find the Mud n' More MixBall at Amazon.com
P.M.
Photo: Melinda Sonido
From Fine Homebuilding #288
Previous:
What's the Difference: Premixed All-Purpose Joint Compound
Next:
Drywall Sanding Tools and Materials