FHB House: A Hardworking Spare Interior
6 types of specialized drywall in this home address demands for quieter spaces, durable surfaces, and better air quality.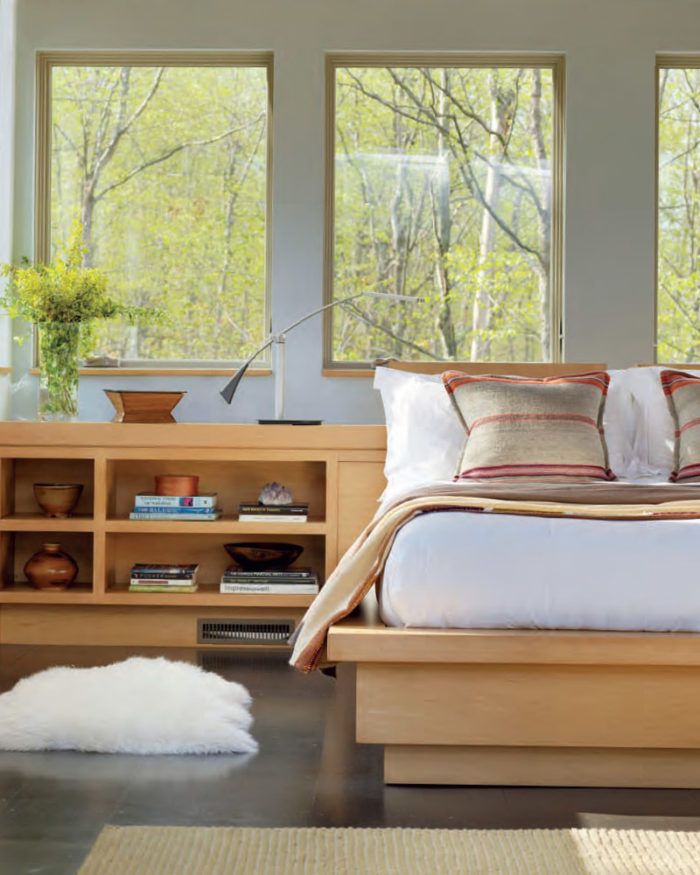 Photo: Susan Teare, design by Mitra Designs, mitradesigns.com
When the framing and the installation of mechanical systems are complete in a new house and work turns to hanging drywall, it can seem as if there are acres of the paper-faced gypsum boards. This drywall is an essential finish in the crisp, clean, and minimalist interior planned for the FHB House. There is no crown molding, and instead of casing, the windows have simple drywall returns, although the deep recesses have wood sills to enhance durability. In those places where there is trim, it's unassuming: The painted, three-panel Shaker-style interior doors are trimmed with the same painted 9/16-in. flat stock used for the baseboard.
There are six types of CertainTeed drywall used in the house. While there are the expected products such as Diamondback GlassRoc as tile underlayment, specialized drywall products were chosen to provide sound control, improve indoor-air quality, and add durability in high-traffic areas.
In a small house with open common spaces, it's important to manage noise in the private, away spaces when occupants want to retreat to a quiet refuge. In the second-floor bedrooms and the first-floor flex room (which shares common walls with the powder room and the living room), Guertin will install a noise-reducing drywall: Silent FX QuickCut. The panels have a viscoelastic polymer in their center to limit sound transmission. Similar types of products frequently have two paper layers in the center surrounding the polymer, and cutting them requires either scoring deeply on each side (slow) or using a handsaw (slow and messy). The Silent FX QuickCut panels are cut by scoring and snapping them, the same as regular drywall.
Wall and ceiling drywall panels in much of the house, including the exterior walls and the ceilings in the rooms with noise-reducing drywall, are Air Renew. The light-blue gypsum core of this drywall product has a unique formulation that sequesters volatile organic compounds (VOCs) such as formaldehyde, which is emitted from the glue used in engineered wood products. In addition to Air Renew Essential, a drywall for "regular" duty, other versions of Air Renew that are mold and moisture resistant, abuse and impact resistant, and fire resistant (Type X) are used throughout the house.
For more photos and information on how to create a minimalist interior, click the View PDF button below. 
View PDF
Previous:
Tough Drywall
Next:
Flexible and Other Specialty Drywall