Tools & Materials
Flexible and Other Specialty Drywall
Drywall for special applications includes panels that can bend, VOC-absorbing drywall, and more.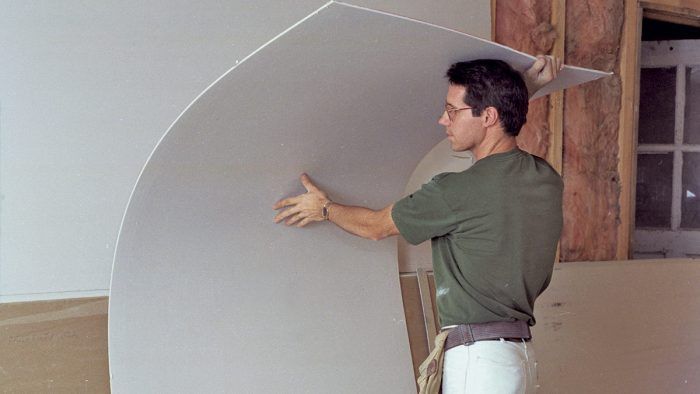 In addition to regular drywall and the various moisture/mold-resistant, fire-resistant, and abuse-resistant types, there are also a few other kinds of drywall with specific applications. We'll look at them here.
Quarter-inch flexible drywall
This drywall is designed for use on curved walls, archways, and stairways. It works well on both concave and convex surfaces. Flexible drywall has a heavier face paper and a stronger liner paper than regular 1/4-in. drywall does, and it is easier to bend and more resistant to cracking caused by structural changes. It is usually applied in double layers, with staggered seams where possible.
Not all curved surfaces have the same radius—some are tighter than others—and they must be treated slightly differently. For curved surfaces with a short radius (32 in. or less), it may be necessary to wet the drywall before trying to attach it. Use a sponge or roller to wet the surface to be compressed; this helps the drywall mold around the curve without breaking.
WORK SMART: One-quarter-in. flexible drywall is worth a little extra per sq. ft. because it bends more uniformly than other types of 1/4-in drywall, which means a smoother finished surface.
Half-inch high-strength ceiling panels
One-half-in. high-strength ceiling panels have a reinforced gypsum core that increases resistance to sagging, a common problem when using regular 1/2-in. drywall on widely spaced framing or when applying water-based textured coatings over drywall. High-strength drywall is rigid enough to hang over 24-in. o.c. joists (rather than 16-in. o.c. joists, as I recommend for regular 1/2-in. drywall) and can be textured without fear of sagging. Half-in. high-strength drywall is available in lengths of 8 ft. and 12 ft. (lengths of up to 16 ft. can be specially ordered).
Foil-backed drywall
This drywall has aluminum foil laminated to the back of the panel. The foil creates an effective vapor barrier and adds to the insulating value of the drywall. It is used mainly in cold climates to help prevent interior moisture from entering wall and ceiling cavities.
Foil-backed drywall can be used over wood and metal framing, over furred masonry, or as the base layer for multilayer applications. It should not be used as a base for tile or highly moisture-resistant wall coverings, such as vinyl wallpaper, because the core could absorb and trap moisture and eventually damage the drywall. Foil-backed drywall is also not recommended for use in hot, humid climates. Panels are available in 3/8-in., 1/2-in., and 5/8-in. thicknesses and in the same lengths as those for regular drywall.
Lightweight drywall
Whether we're looking at a house full of drywall that needs to be hung or contemplating just a few sheets, I'm sure we all have the same thought: We have some hard work ahead of us! In all my years of hanging drywall, my number-one desire has been for someone to make drywall lighter. And now, at last, such a product is available.
A sheet of the new lightweight 1/2-in. drywall weighs in at about 41 lb., compared with 60 lb. for a comparable sheet of regular drywall. That's a big difference. A good hanger can hang about 60, 4×8 sheets a day; if he or she is installing regular drywall, that equals about 9 ton a week. If that can be reduced to 6 ton, I'd say it's a no-brainer.
The lightweight drywall panels have a higher strength-to-weight ratio than regular drywall, which means they are a little tougher and a little stronger, and they are more resistant to sagging. This makes the job of hanging drywall easier. The panels go up into place easier and faster and there is less damage to the edges. (Drywall suppliers also seem to prefer the lightweight drywall because it's easier to handle, causes less wear and tear on their delivery trucks, and is less likely to get damaged in transit.)
Because of the lightweight panels' superior sag resistance, I am now able to hang ceilings that have joists 24 in. on center. Regular 1/2-in. drywall has always been approved for use on 24-in. spacing on ceilings but because I sometimes deal with sagging or heavy insulation, wet ceiling textures, or high-humidity working conditions I typically preferred either a 1/2-in. ceiling board or 5/8-in. drywall. Both are even heavier than the regular drywall. Now I can stick with a 1/2-in. pro-duct throughout the job while using a lighter product as a big bonus.
The lightweight drywall looks, cuts, installs, and finishes the same as regular drywall. It also costs about the same—even less if you consider the increased efficiency, decreased waste, and reduced cost when the waste is taken to the landfill. The panels are available in all the standard lengths, including 8-ft., 10-ft., 12-ft., 14-ft., and 16-ft. panels in 48-in. and 54-in. widths. The 1/2-in.-thick panels are for use in non-fire-rated applications, such as residential construction, remodeling, and repair projects. Lightweight drywall is also available in a non-fire-rated 5/8-in.-thick panel.
VOC-absorbing drywall
Many people spend as much as 90% of their time indoors, so it is important to manage indoor air quality. A drywall that absorbs volatile organic compounds (VOCs) is now on the market to help eliminate indoor air pollution and promote healthier environments.
VOC-absorbing drywall, such as AirRenew, helps to improve indoor air quality by permanently removing specific pollutants (VOCs) from the air and by offering protection against moisture and mold. VOCs circulating in indoor air come into contact with the drywall through typical airflow movement and are absorbed through the surface and into the gypsum core. Once the new compound is formed and captured in the board, it is never released back into the air. This type of drywall absorbs VOCs for up to 75 years.
VOC-absorbing drywall is shipped, handled, installed, and finished like standard gypsum board. It is available in fire-rated and non-fire-rated panels: 5/8-in. AirRenew Type X is comprised of a Type X gypsum core and is UL-classified for fire resistance; the 1/2-in.-thick panels are non-fire-rated. Both types can be painted with primer plus up to seven coats of latex, acrylic, or epoxy paints.
You can use this drywall on the ceiling, and on every wall in the room. Using fewer panels reduces the service life of the material, because its core has a limited absorption capacity. For example, using VOC-absorbing drywall on only one wall of a room could result in a significant reduction in service life—from 75 years to 19 years.
Previous:
FHB House: A Hardworking Spare Interior
Next:
Sheetrock UltraLight Panels