How-To
Taping Outside Corner Beads on Drywall
Myron explains why taping outside corners using a reinforced paper corner bead in joint compound is better than the nail-on method.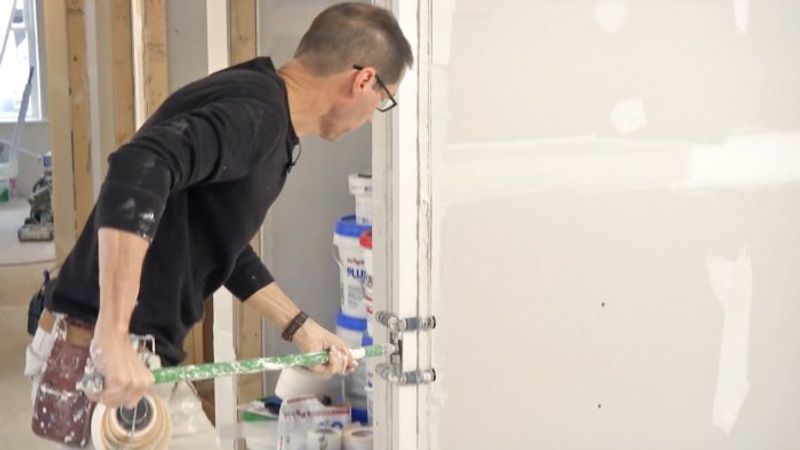 When it comes to taping outside corner beads, I like to use a corner bead that is held in place with joint compound. If you're used to using a corner bead that's metal, this is a nail-on bead usually attached before you do any taping. But with the corner bead that I like to use, you tape all your seams and your inside corners, and then you attach the bead.
I don't put the compound on very thick, probably less than 1/8 in., which is very similar to the amount of compound you would put on when you're embedding tape. Essentially, that's what you're doing here—embedding this corner bead just how you would paper tape.
I place a bead over the corner and then I make sure it's tight up against the ceiling. There's going to be a gap along the floor that doesn't matter because that's where the baseboard is going to be. Then square it up by hand.
There's a couple of ways to embed this. I can use a taping knife or a roller made for embedding this bead. I like to use a roller because I think it does a better job—it helps square it up and it really embeds those edges nicely into the joint compound. So I start out with light pressure just to square it up, and now that I like it, I put more pressure on it, embedding the edges nice and tight. And that's really all I have to do to embed it. If I continued to roll and roll and roll, I'd force too much compound out from behind it. Now that it's embedded, all I have to do is take my taping knife and remove the excess compound. You have to let that dry for 24 hours and then apply your finish coat.
I like this corner bead because it's definitely faster to install than a nail-on corner bead. Also, because it's embedded in the joint compound for it's entire length, I'm a lot less likely to get any edge cracking or loose corner bead.
---
RELATED LINKS
Previous:
Drywall: Finishing an Outside Corner
Next:
Drywall Sanding Overview