Tools & Materials
Infrared Paint Remover
Speedheater Cobra Infrared paint remover softens paint for removal without the high heat of a torch or heatgun.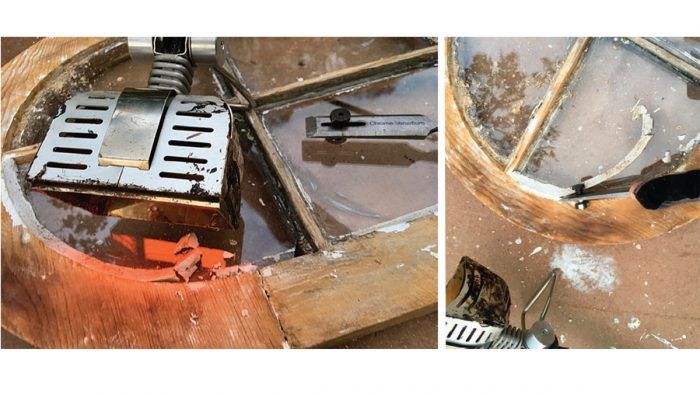 My work as a restoration carpenter means countless hours stripping paint, so when I was offered the chance to try Speedheater's new Cobra, I quickly agreed. Speedheater tools use infrared (IR) radiation to soften multiple layers of paint for removal from the wood substrate. Compared to torches or heat guns, IR paint strippers operate at significantly lower temperatures (200°F to 400° F) so they won't vaporize lead or pose a fire hazard—if used correctly.
Essentially, the Cobra is a slimmed-down makeover of Speedheater's flagship Model 1100. I bought a Model 1100 in 2004, and it's been my go-to for stripping paint from clapboards and baseboards ever since. But it's not so good for softening paint that has built up in corners and crevices, so I was anxious to find out if the Cobra's smaller, shrouded heating element would do the trick.
I tested this tool on a variety of moldings, balusters, and window sashes, all of which were heavily paint encrusted. It proved remarkably effective, softening thick paint in 1 to 3 seconds, but only after I mastered the procedure. What worked for me was to hold the Cobra in one hand (fingertips grasping near the neck, as if it were a pencil) and a sharp, pull-type scraper in the other. I hovered the face of the heating element about an inch over the doomed paint until it bubbled, then moved the heater along to soften the next section while I scraped off the debris from the previous one. With practice, I was able to keep the heater and scraper moving in unison.
When I reached the end of the line, I learned the hard way that it is crucial to have a safe, heat-resistant parking spot for the tool. During one pass, I melted the 6-mil poly I was using for ground cover; on another goround, I melted the insulation on the power cord.
So how did it perform? On broad, flat surfaces, the Cobra couldn't match the speed of the Model 1100, due to its smaller heating element. But it excelled at stripping paint from intricate profiles. And it did its best work on window sashes: The heating element is perfectly sized for stripping the frames in one pass, and it softens rock-hard glazing putty better than anything I've ever tried.
Speedheater Cobra
Head dimensions: 3.75 in. by 3 in.
Weight:  22 oz.
Price:  $499
Tom O'Brien, a carpenter and freelance writer in New Milford, Conn.
Photos: courtesy of Speedheater
From Fine Homebuilding #283
Previous:
The Best Practices for Lead-Safe Remodeling
Next:
Finishing an Exterior Door, Ep. 1: Sanding and Prepping the Door