Tools & Materials
Choosing, Using, and Maintaining Paintbrushes
The right brush for the job and the right technique can make painting go more quickly and give you a better-looking paint job.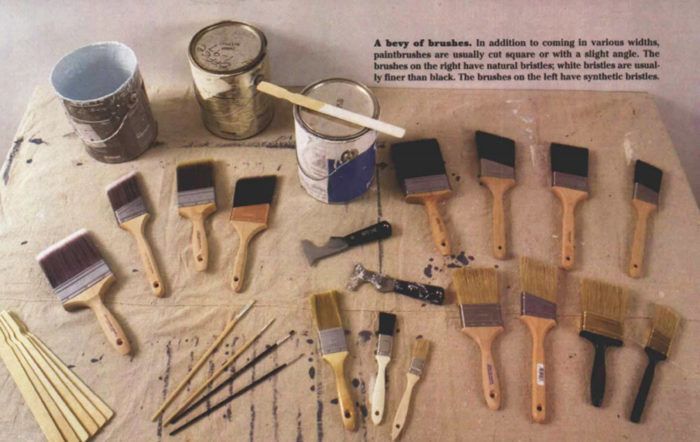 Synopsis: A good paint job calls for a good paint brush, and here the author explains what to look for when buying one. Sidebars in the PDF below describe making a "cut bucket," a special container for paint, and how to get a brush truly clean when the job is over.
---
The first time I met my friend Tom, he was doing the carpentry for a renovation, and I was repainting. I was instantly impressed by Tom's exacting standards and his attention to detail.
But several weeks into the job, I noticed a thin wedge of foam rubber glued to the end of a stick poking out of Tom's toolbox. I couldn't pass up the opportunity.
"Hey Tom. What's this for," I asked.

"That's, um, that's a paintbrush. I use it for back-priming," he replied.

"Isn't that kind of like me banging in nails with a big old rock?" I muttered half under my breath.
After we exchanged idle threats and slurs about our respective trades, I agreed to make amends by bringing in doughnuts and coffee the next morning. I also brought Tom one of my good brushes. The look of enlightenment on his face when he spread that first brushful of paint made my gift well worth it.
A good paint job begins with a good brush
Besides your choice of paint, a key ingredient to every successful paint job is using the right brush. Brushes consist of a handle, a ferrule (the metal band that surrounds the butt end of the bristles) and, of course, the bristles.
Handles are generally wood or plastic, and they come in a variety of lengths and shapes. Long-handled brushes seem to fit my hand better, and the extra length occasionally comes in handy for painting hard-to-reach places. Ferrules are pretty much the same from brush to brush, but ferrules on cheaper brushes are notorious for loosening up and falling off.
Natural bristles from pigs with split ends
In the general scheme of things, handles and ferrules aren't nearly as important as bristles, which make up the business end of every paintbrush. Brushes come with two types of bristles: natural and synthetic.
Most natural-bristle brushes carry the words "Chinese bristle" somewhere on the brush, which means the bristles come from Chinese boars. Natural bristles are either black or white, depending on the color of the animal they came from. According to Berj Martin of the Purdy Corporation, white bristles are typically finer than black bristles, making them more appropriate for fine finishes such as lacquers and varnishes. However, just because a brush has white natural bristles doesn't necessarily make it a good brush. Most cheap so-called disposable brushes with white natural bristles have no place around even a mediocre paint job.
Natural bristles used in paintbrushes are more than simple straight fibers. Bristles grow with a taper that gives body to the brush and lets the brush taper naturally to a sharp painting edge. The best natural bristles also have flagged tips, a condition analogous to split ends in human hair. Flagged tips mean that each bristle has several ends that help the brush to spread the finish more smoothly and evenly.
For more photos and tips on choosing the right paint brush, click the View PDF button below. 
View PDF
Previous:
Paint That Cleans Itself
Next:
What's the Difference: Paintbrushes